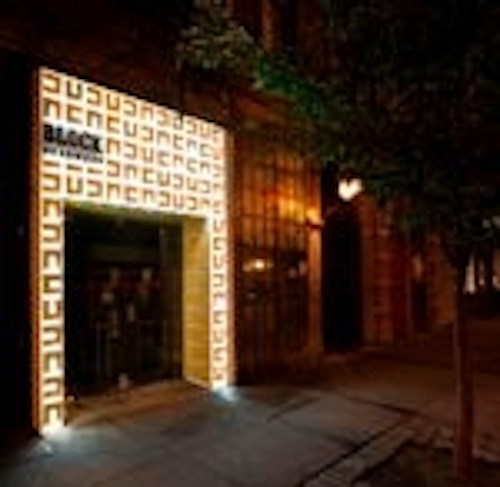 Sergio Mannino Studio used the combination of Block Headwear's logo products and the Bowery setting of the new New York City store for inspiration in creating the LED-lit façade. The 10-ft-wide, 13-ft-high façade was completed this summer in what has become a hip neighborhood on Manhattan's lower east side.
Block Headwear is a specialty hat maker with the name referring to the block of wood around which craftsmen mold a hat. The company logo is also derived from the block of wood. Sergio Mannino said, "Inspiration first came from the brand's products and its logo."
The architect and design studio used PVC panels from Sintra and Azek to form the façade, with the materials able to adapt to the weather elements. The façade uses 73 LED lights for exterior illumination.
The setting of the store on Houston St is also adjacent to the famous Houston/Bovery graffiti wall. "The Houston/Bowery wall was first painted, more than 30 years ago, by Keith Haring and after that a countless amount of artists have put their hands on that piece of urban canvas," said Mannino. "The intersection still tells the story of a New York that doesn't exist anymore but that is still missed by many."
The LEDs and panels create a stylish exterior that the studio says match the "Fashion-forward products sold inside." With trendy clubs and restaurants in the area, the studio sought to deliver a storefront that would grab the attention of visitors to the area and solid-state lighting (SSL) helped them deliver on that goal.