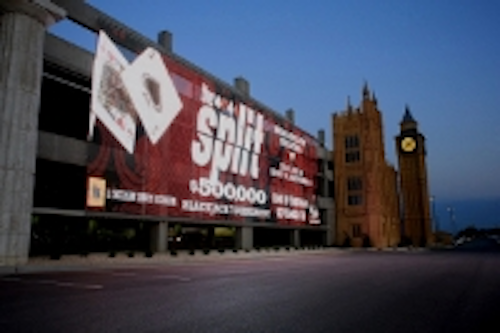 Gebr. Kufferath AG (GKD) has announced that it supplied its Mediamesh media façade technology to the WinStar World Casino on the Chickasaw Nation reservation located in Thackerville, Oklahoma adjacent to Unites States Interstate Highway 35 that runs north and south in the central part of the country. LED-based dynamic media lighting on two walls of the casino's new parking garage now serve up video and other messaging to motorists travelling in either direction.
The casino opened originally in 2004 and has been expanded a number of times — now covering more than 46,000m2. Expansion, including the addition of a hotel and concert arena led to the need for additional parking and construction of the new four-level garage for 1,400 vehicles that hosts the media façades.
The casino façade designed by Stromberg Architectural aligns with the usage of "world" in the casino's name, and includes features mimicking famous architecture from around the world such as London's Big Ben. That concept is continued on the garage walls adjacent to the casino with the new media walls able to extend the concept facing the freeway.
Michael Huff, architectural officer of the Chickasaw Nation, designed the transparent façades using the Mediamesh panels. In total, the casino installed more than 500m2 of the façade using 3.9×10m panels.
The panels utilize six LEDs per pixel — two each of red, green, and blue (RGB) LEDs. Many such face products only use a single blue LED. GKD said that in this installation the six LEDs were critical for the high brightness that is viewable from great distances in full daylight. The display generates 11,000 Nits (cd/m2) of light.
The panels have rows of six-LED pixels spaced at 50 mm as you can see in a nearby photo. The rows are spaced 60 mm apart to achieve what is called V60H50 spacing. The pixel density is sufficient for the casino to display content ranging from static images to rendered graphics to full-motion video.
The mesh-based design also ensures that the garage gets natural light and ventilation, and visitors that park in the garage can see through the façade. GKD said that 59.4% of the space within the façade is open. The mesh design also allows the façade to withstand 235 km/h winds.
There are numerous advantages to the LED approach relative to other billboard technologies including the transparency mentioned before, but power consumptions is an important one. The displays consume around 100 W/m2.
Media façades are a growing trend in settings ranging from commercial buildings to sports venues. For more information on the topic, you can view our archived webcast entitled "LED media integration into the architectural environment."