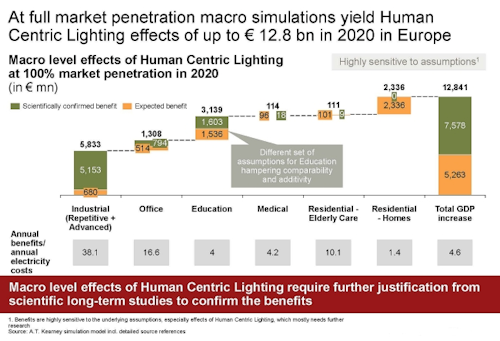 LightingEurope, the German Electrical and Electronic Manufacturers' Association, and AT Kearney publish a joint report entitled "Quantified benefits of human centric lighting."
LightingEurope has announced the release of a new research study focused on human-centric lighting (HCL) that the industry association undertook with the German Electrical and Electronic Manufacturers' Association (ZVEI) and AT Kearney. The new work published in the "Quantified benefits of human centric lighting" report seeks to define the business opportunity that could be associated with widespread deployment of HCL technology. The study finds that business owners stand to gain the best return on investment (ROI) through increased worker productivity.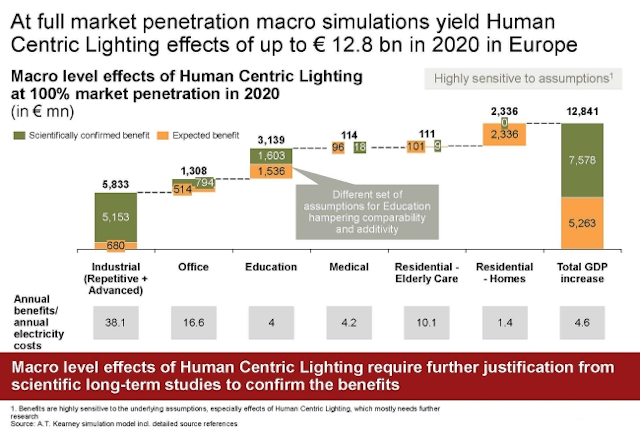 LightingEurope documents monetary benefits of human-centric lighting
The research participants have defined human-centric lighting as "the inclusion of visual and non-visual (biological) needs of humans in the design of lighting applications." LightingEurope had previously developed research entitled "Human centric lighting: Going beyond energy efficiency" that sought to document that LED-based solid-state lighting (SSL) could deliver tangible benefits in terms of human productivity or wellbeing. The new work was intended to quantify the benefits for the parties that would pay for HCL-featured products – typically tunable LED-based products that would sell for a premium beyond general-illumination products.
Learn more about human-centric lighting and how light promotes health and productivity at the 2017 Lighting for Health and Wellbeing conference July 27 in Newport Beach, CA:lightingforhealthandwellbeing.com
The research considered non-visual effects clustered among three general areas – feelings, functioning, and health. Feelings included mood and energy levels. Functioning is centered on performance, alertness, and productivity. Health is focused on the sleep-wake cycle.
The project considered the effects relative to what the researchers termed both micro- and macro-level benefits. A micro-level benefit would include business owners that realize a more productive workforce as the result of an HCL investment. Macro-level benefits would include a healthier society and the primary macro-level beneficiaries might be health insurers or governments and of course the users of HCL products.
As part of the new research, AT Kearney developed mathematical models that allowed the team to quantifiably project the benefits of human-centric lighting. At the macro level in an office, the model projects that a business owner might realize EUR 111,000 ($124,000) annually in productivity increases from a 200-person workforce. There could be further benefits from energy efficiency as well, although those benefits would also be achievable through standard SSL projects.
The research found little health-related benefits at the micro level. At the macro level, medical, elderly care, and wellbeing in homes becomes a major player. The study projects a total possible impact of EUR 12.8 billion ($14.3 billion) in 2020, assuming 100% penetration of human-centric lighting.
Still, human-centric lighting remains an evolving lighting-technology question. The non-visual impacts of light are still not fully understood as we pointed out last year. Some experts, however, believe that the industry has plenty of knowledge to move forward with HCL. We covered some of that ground in a recent webcast.
As for the new LightingEurope research, we will dig deeper into the results in an upcoming feature article on human-centric lighting. Stay tuned. Each new research project adds to our knowledge bases and could yet provide a way to monetize LED-based lighting beyond energy efficiency benefits.