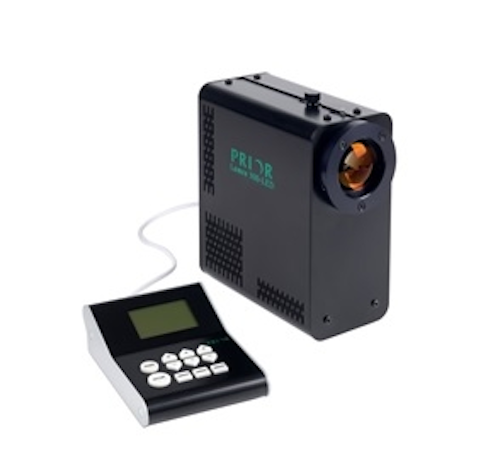 Prior Scientific offers a range of highly reliable, high performance LED sources for illumination in brightfield and fluorescence microscopy applications. The new Lumen 300-LED is the latest addition to Prior's wide range of illumination products for microscopy. The unit is specifically designed to offer broad spectrum LED white light illumination for fluorescence applications. Fitting directly to most microscopes, the scientific LED source is simple to install and use. Controlled by a manual keypad controller, the Lumen 300-LED offers instant on/off operation via TTL, manual 0-100% intensity control in 1% increments and on/off control for each LED. Alternatively, a liquid light guide Lumen 300-LED is available where there is a need to keep the illumination source remote from the microscope. Providing 25,000+ hours of bulb life, the Lumen 300-LED is an environmentally friendly (mercury-free) scientific LED source that requires no special disposal regulations. Prior recommends that excitation filters are used with the Lumen 300-LED. Most existing filter sets will be compatible. Commercially available filters and filter sets can be purchased from Chroma, Omega and Semrock. Please visit the Prior Scientific website for more information on Lumen 300-LED optimised filter sets. In addition an application note is available that demonstrates how the Lumen-300 allows microscope users to combine single and multi-band testing to obtains superior results. Prior Scientific has been manufacturing top quality, high performance equipment and instruments for optical microscopy since 1919. Prior Scientific produces a wide range of motorised stages, system controllers, robotic sample loaders and illumination devices.
Contact:

Prior Scientific Instruments Ltd
+44-1223-881711
E-mail:

Web site:

www.prior-scientific.co.uk

Locate more medical & industrial lighting vendors in the LEDs Magazine Suppliers Directory

Submit new products, case studies/projects, and other press releases at http://www.ledsmagazine.com/content/leds/en/addcontent.html and http://www.ledsmagazine.com/content/leds/en/iif/add.html.
More from Prior Scientific:
Prior Scientific Lumen 100-LED fluorescence illumination system provides incremental lighting control in science applications
Prior Scientific's universal fluorescence microscopy illumination system offers 16 selectable LED wavelengths