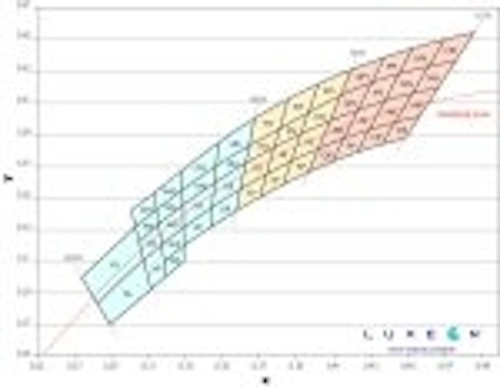 Philips Lumileds has announced immediate availability of warm-white and neutral-white Luxeon K2 emitters, as well as a Luxeon K2 Star part that can be specified with any standard white emitter.
The new white colors have typical correlated color temperatures (CCT) of 3000K for warm-white and 4100K for neutral-white, and a color rendering index (CRI) of 80 and 75 respectively. The CCT range for Luxeon K2 now extends from 2670K to 10,000K.
Unlike most power LEDs that are limited to 700mA, Luxeon K2 warm white and neutral white LEDs can be run up to 1500mA and a junction temperature of 150°C.
At 1500 mA and 25°C, the new warm-white and neutral-white versions can deliver more than 130lm and 140lm respectively.
Also, Lumileds says that its new, finer color bin structure allows for better overall selection for customers (see Binning structure diagram). Essentially, this is the opposite approach to Lexedis, which has introduced single bins at each CCT (see News Item).
"With the increases in light output performance and efficacy, there is expanding demand for power LEDs that deliver the quality of light required for general lighting applications," said Steve Landau, Director of Marketing Communications.
"Designers of residential applications, such as recessed can lights, require uniformity, high color rendering and a warm white color temperature at 3000K. In many retail and commercial applications, a cooler temperature of 4100K is desired. With the new binning and phosphor technologies in Luxeon K2, the needs of lighting designers in both markets can be addressed."
Lumileds says that the new K2 devices address two of the critical "quality of light" factors – namely CRI and CCT – considered by lighting designers. A third factor is color uniformity, and Philips Lumileds believes that its phosphor expertise and technologies ensure the highest degree of color uniformity among white power LEDs.
Luxeon K2 Star
Luxeon K2 Star, like the configuration already available in other Luxeon product families, consists of a white Luxeon K2 emitter mounted onto a metal core pc board (MCPCB). This configuration allows for rapid prototyping and production in a wide range of applications without the need to create custom level 2 boards. Luxeon Star products have been an industry standard for many years and been the configuration of choice for everything from architectural and entertainment lighting to emergency and portable lighting.