Bridgelux introduces LED arrays for solid-state lighting
Multi-chip arrays from Bridgelux are likely to be priced at around $0.02 per lumen in warm white and $0.01 per lumen in cool white.
Jan 28th, 2009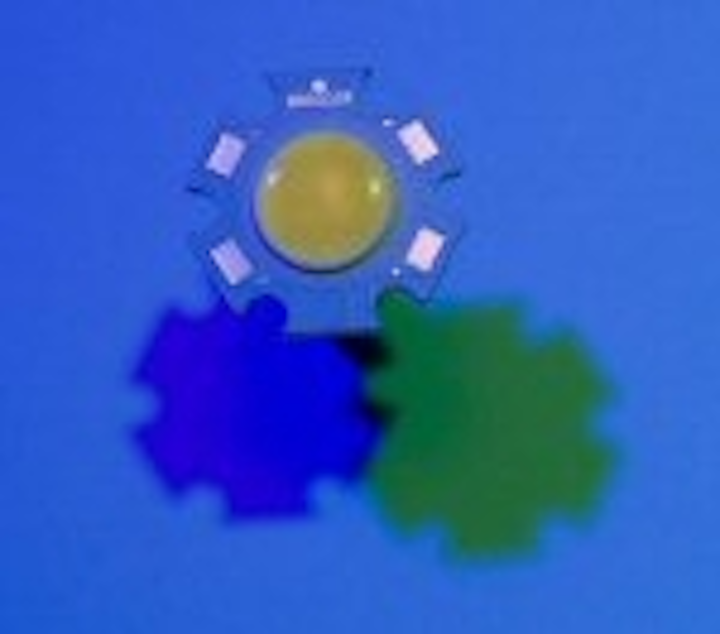 LED manufacturer Bridgelux, Inc. has introduced a new line of multi-chip, white LED arrays in rectangular and hexagonal star packages. The rectangles measure approx. 25 x 22 mm, while the stars are approx. 20 mm across and contain fewer chips. Both packages have a height of 2.4 mm.
The company, based in Sunnyvale, California, said in its
press release
that its new arrays have been "specifically developed to provide lamp and luminaire manufacturers with a solution that will simplify system level integration, further reducing the system cost."
The company told LEDs Magazine that it estimates volume pricing of the LED Arrays to be approximately $0.02 per lumen in warm white and $0.01 per lumen in cool white.
The arrays are rated by luminous flux, with the number of chips per array chosen to achieve the desired lumen output.
The arrays are rated at 400, 800 and 1200 lumens for warm white (3000K and CRI = 82), neutral white (4100K and CRI = 80) and cool white (5600K, CRI = 65). There is also a 2000-lumen part in cool white.
Bridgelux is to be applauded for quoting what it calls "hot lumen performance" – the lumen values indicated above are based on an estimated use condition of 60-70°C heat sink temperature. Usually, pulsed test lumens are quoted, which are measured at a junction temperature of 25°C. Pulsed test lumens will be approximately 10% higher than the "hot lumens."
For example, a rectangular, cool white array rated at 1200 lm (hot lumen performance) has a pulsed test output of 1320 lm at 25 deg.C junction temperature. The test current and forward voltage are 1300 mA and 13.2 V, respectively, corresponding to 17.2 W power consumption, or 77 lm/W efficacy (calculated from the 1320 lm value).
Typical applications include task, accent, spot, track, down light, wide area and security lighting. This global market is currently estimated by the Next Generation Lighting Industry Alliance (NGLIA) to be about $40 billion. Bridgelux estimates the market potential for LED lamps and luminaires, alone, to be approximately $10 billion per year by 2012.
Jason Posselt, Bridgelux director of marketing, says that the new products are designed with the end application in mind. "[They focus] on delivering both the quantity and quality of light required for general lighting applications together with an ability to significantly reduce the cost of light. We believe that the Bridgelux LED Array technology will enable our customers to optimize their overall system design, greatly reducing their SSL manufacturing costs."
The company controls all of the core LED technologies from epitaxy to packaging. Bridgelux recently finalized a licensing and supply agreement with Cree.