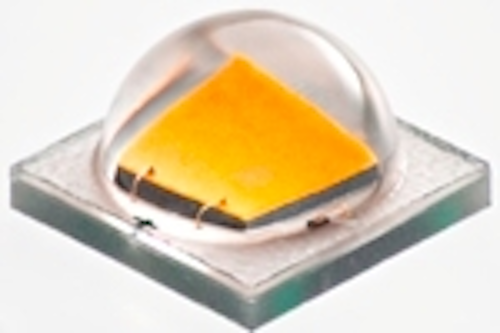 Cree has announced what it says is the brightest single-die packaged LED on the market that maxes out at 1198 lm at 3A of drive current, and that can deliver 186 lm/W efficacy at a lower drive current. The second-generation XLamp XM-L2 targets directional solid-state lighting (SSL) applications ranging from retrofits for directional halogen lamps to street lights.
Cree has made a number of LED-centric announcements this year and while light output and efficacy are part of the story, many have been more focused on attributes such as flexibility in terms of forward voltage or compatibility with specifications such as Zhaga Books. The XM-L2 announcement, however, is primarily performance focused and Cree points out the product delivers on a laboratory efficacy milestone.
In December of 2009, the company announced the achievement of 186 lm/W for a cool-white LED in the lab. The XM-L2 now offers that performance level in a shipping product that's available in a 5×5-mm package and that is based on what Cree calls SC3 (SC cubed) – its third-generation silicon-carbide-based manufacturing platform.
A number of Cree LEDs share the XM-L moniker that is representative of the package itself. The company offers both high-voltage and multi-emitter LEDs in the overall XM-L family. The new XM-L2 is a follow on to the single die XM-L announced in late 2010.
Second-generation benefits
Cree has announced several such second-generation LEDs this year that all offer SSL product developers the option to redesign a product using fewer LEDs, or boost the performance of a product using the same number of LEDs. Moreover, second-generation LEDs only require 3000 hours of LM-80 testing for SSL products that use the components to become Energy Star recognized.
"XM-L2 allows us to boost the performance of our existing XM-L designs without changing optics or drivers," said Jeff Rogers, vice president of sales and marketing at Musco Sports Lighting. Steve Walczak, director of engineering at Sternberg Lighting, added, "The XM-L2 LED efficiently delivers hundreds of lumens per LED, allowing us to significantly reduce the number of LEDs in our designs."
The second generation products offer 10% greater lumen output at a 5700K CCT and 17% better lumen output at 3000K. The products are binned at 85°C and 700-mA drive current, and at 3000K deliver 224 lm and 112 lm/W.
Single-die benefits
Cree emphasized that it's both the single-die design and the performance that enables SSL designers to break new ground. Cree product marketing manager Paul Scheidt said "You can do a 50W MR16 with just a single LED."
Scheidt compared such a theoretical MR16 design based on the XM-L2 with what he characterized as the best performing MR16 SSL lamps on the market for replacing 50W halogen lamps. The comparison lamps delivered 390-525 lm using 7-10W of power. The theoretical Cree design would deliver 369 lm at 5W.
While the lumen output is lower for the theoretical lamp, the beam angle is a tight 9° whereas the other lamps range from 15-25°. The Cree lamp would deliver center beam candle power of 7800 cd –more the double the other lamps on the market. Scheidt said, "Because it's a single die, it's much more efficient at turning lumens to candela." The system efficacy on the theoretical lamp is 75 lm/W.
The new LEDs are available in 2700K to greater than 5000K CCTs. The 2700K and 3000K components have an 80 minimum CRI and are optionally available at 90 CRI. Neutral white LEDs are offered at 80 CRI while the cool-white products are offered in 65 or 75 CRI.