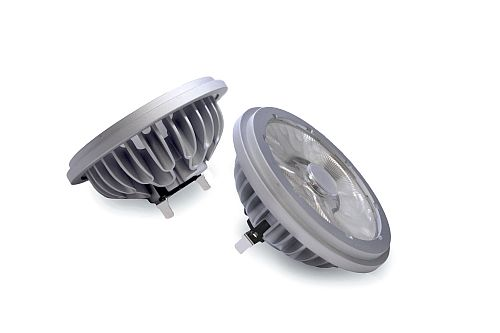 At Strategies in Light (SIL) 2014, Soraa has announced what it calls the Gen3 (third generation) of its gallium-nitride-on-gallium-nitride (GaN-on-GaN) LED family. The company said that the new LEDs will be available next quarter in MR-16 lamps, and in larger PAR and AR form factors with the company's trademark high CRI and improved efficiency.
Soraa first announced its LED technology and accompanying MR16 lamps at SIL two years ago. Then as now, the company claims that the homogenous substrate and epitaxial layers enable greater current density and light output relative to sapphire-based LEDs.
In its announcement, Soraa said that the Gen3 LEDs will deliver a 30% efficacy improvement over its prior generation of components. The only detail about the performance at the LED component level is a claim of wall-plug efficiency of 75% at an 85°C operating temperature. The company asserts that the performance represents a 20% improvement over the nearest competitor.
Because Soraa doesn't commercially sell its LEDs, nor provide detailed specifications, a direct comparison is difficult. But a preliminary look at the performance expected in the new Soraa lamps offers some insight. And the company's advantage appears more in center beam candle power (CBCP) than in efficacy measured in lm/W.
The projected efficacy of Soraa's PAR30 line is in the 55 l/W range. That figure is for a lamp that delivers 95 CRI and an R9 value of 95. Perusing the US Department of Energy Light Facts database, you can find competing PAR30 lamps with 90 or greater CRI. An Osram Sylvania product, for example, ranges from 57 to 59 lm/W based on CCT.
The real Soraa advantage is in both color rendition and CBCP. The Soraa CRI specs are marginally higher, and the CBCP is significantly higher. A 36° Soraa lamp will offer a CBCP of 2840 cd. The Sylvania 40° product comes in at 1700cd. Soraa said it will hit 28,250 cd in an 8° product.
The CBCP advantage is almost assuredly enabled by the Gen3 current density. Soraa said the 75% wall plug efficiency comes at a current density of 35A/cm2. That capability translates to smaller emitters and the ability to more easily control the beam.
"Soraa's Gen3 GaN-on-GaN LED package is a major milestone for the LED industry and a truly disruptive innovation," said CEO Jeff Parker. "We have achieved a 30% lm/W efficiency improvement over our previous generation white LEDs, and what's amazing is that we expect to repeat these significant year-over-year performance gains in the future."
As for actual system efficacy, high CRI always negatively impacts efficacy. Soraa touts its violet emitter and three-phosphor mix as providing full-visual-spectrum light. Still, the end products don't stand apart from other high-CRI products in efficacy. Then again, the company stands almost alone in pushing both CRI and R9 to 95.
At SIL, Soraa is demonstrating the Gen3 performance with prototype lamps. For example, the company announced its entry into the AR111 segment a week ago at the EuroShop event. That product is based on the Gen3 technology and is at SIL.