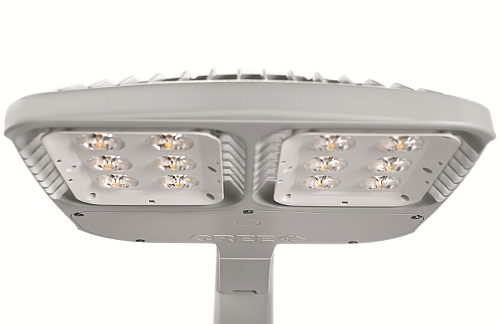 Cree has announced the OSQ Area LED luminaire targeted primarily at parking applications with the capability of replacing up to 750W HID lighting. The new low-profile solid-state lighting (SSL) design features an updated version of the company's NanoOptic technology along with an integral thermal approach to yield the slim 3.8-in.-high form factor and lower prices for area lighting projects.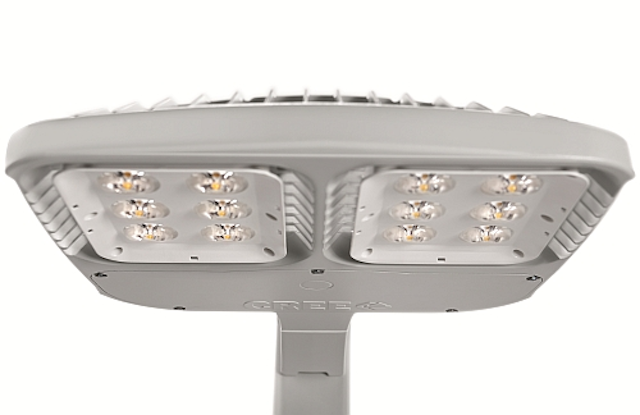 Cree launches thin LED area fixture with new hybrid-TIR optic
In some cases, Cree says that the new OSQ family will enable savings of 75% in energy costs. For example, a 750W HID luminaire tops out at an actual power consumption of 815W with the ballast. Cree said that a 223W OSQ fixture, including the driver, can replace the legacy HID product in applications such as airport, commercial, retail, healthcare, storage yard, and industrial parking and area applications.
The new OSQ design represents a fresh grounds-up start for Cree relative to the company's Edge series of products that serve area and roadway applications. The OSQ design is intended to lower the cost of area lighting and maximize energy savings.
Cree didn't provide precise details on the new optics that are applied to the LEDs in the luminaire, but the product photos would indicate that the company is using larger LED sources along with a hybrid optic that combines total internal reflection (TIR) and refractive properties. We covered such hybrid optics in a recent feature article.

A Cree spokesperson confirmed that the new optic was designed specifically for the OSQ fixture although the company is still using the NanoOptic brand first launched with the XSP fixture in 2012 to promote the technology. The spokesperson said the company had previously used a combination of TIR and refractive principles in its optics. Still, the new design appears to have a more pronounced refractive element. The resulting light engine is just 1.5-in. thick.
The luminaire design also includes a thermal management scheme realized integral with the top of the housing, with fins providing airflow perpendicular to the orientation of the fixture relative to a mounting pole. The optics and thermal features enabled a low-profile design that also delivers the requisite beam control.
Cree also said the design will offer a 40% reduction in area lighting cost compared to the company's own Edge products and to competitive SSL products from other vendors. The result is what Cree says will be a 2.2-year simple payback for most customers.
Cree will offer the new luminaires with a CCT choice of 3000K, 4000K, or 5700K. CRI is 70 in the cooler temperatures but Cree offers 80 CRI with the 3000K version. The fixtures are rated for 100,000 hours of use and come with a ten-year warranty.