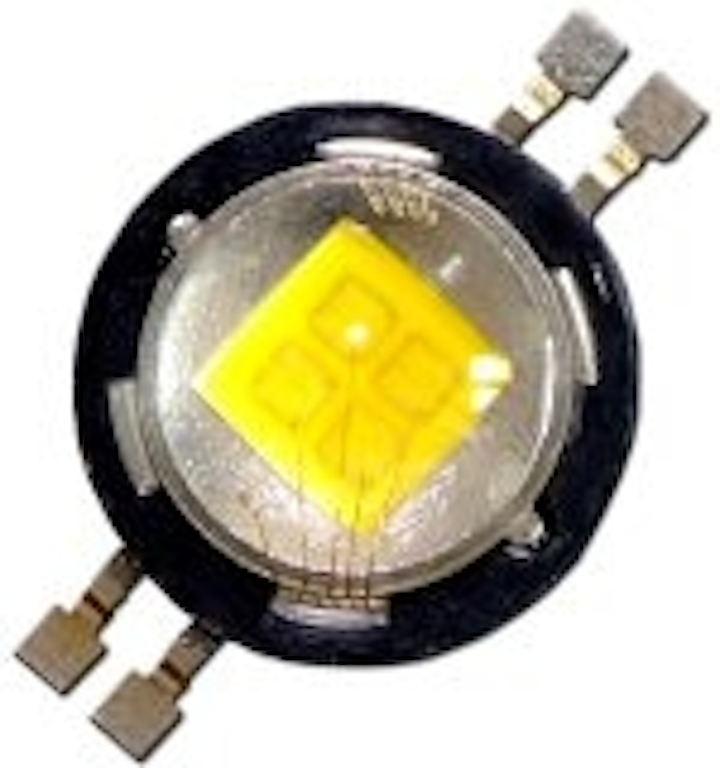 Seoul Semiconductor, the leading LED manufacturer in Korea, has announced the commercial release of its ultra bright Z-Power P7 Series LED, and says that it has started producing the device in volume quantities.
Seoul claims that the Z-Power P7 Series delivers "the world's highest brightness" of 900 lumens at 10 watt (lumens is actually the unit for luminous flux, while brightness is measured in nit or cd/m2 and takes into account the emitting area).
Seoul's data sheet for the P7 shows that the typical flux is 700 lm, while 900 lm is the maximum value. This puts the typical efficacy at around 70 lm/W. The color temperature is 6300K and the color rendering index (Ra) is 70.
Even so, 700 lm from a single P7 package is impressive. A close look at the photo reveals four chips inside the package. The data sheet gives the total current as 2.8 A, with forward voltage of 3.6 V, so we assume each chip is driven at 700 mA (or around 2.5 W).
When the device is driven at 1400 mA (forward voltage = 3.3 V), or 350 mA per chip, the typical output is 400 lm, corresponding to around 86 lm/W.
In comparison with a 60 W incandescent lamp producing 660 lm with an efficacy of 11 lm/W, the 10W P7 single LED package produces a maximum of 900 lm with much higher efficacy of 90 lm/W. Of course, the LED performance data is measured instantaneously at room temperature, while in a real world application the temperature would be higher and the light output lower.
The P7 also performs well in comparison with compact fluorescent lamps (CFLs) that consume typically 15 watts and emit 924 lumens, with an efficacy of 62 lm/W.
Seoul also says that the directionality of light emission from an LED lamp also creates an additional advantage compared with fluorescent and incandescent lamps. The company says that when the ability of an LED system to focus light on an application can result in an even greater efficacy advantage compared with conventional light sources.
Seoul Semiconductor says that its Z-Power P7 Series can be applied in many fields such as general residential lighting, streetlights, a variety of task lights, high-end flashlights for military, police or rugged use, and landscape lighting requiring extremely bright light.
"Development of the 900 lumens, 90 lm/W P7 Series is a milestone achievement that reinforces Seoul Semiconductor's leadership position in the global LED industry," said Hyuk Won Kwon, a general director of Seoul Semiconductor's power LED business department. "We will develop new ultra high power products emitting over 1,000 lumens during the third quarter of this year to consolidate and continue advancing our technology."