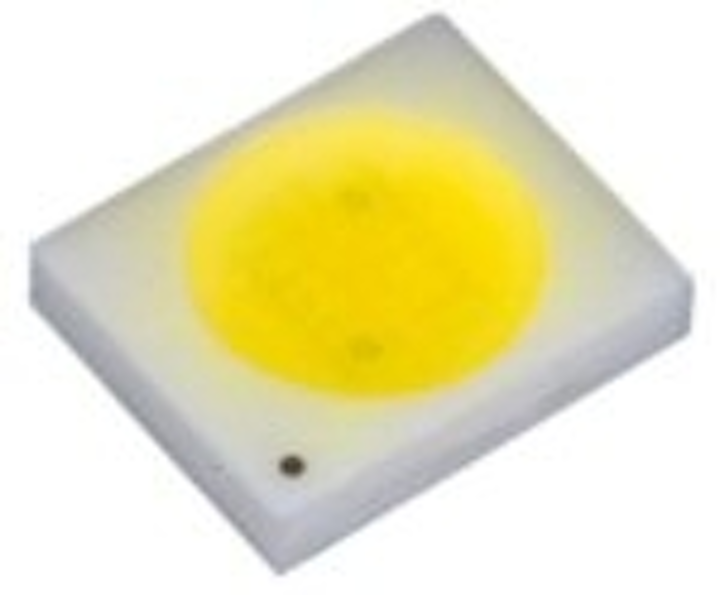 Seoul Semiconductor, a leading Korea-based LED manufacturer, has released an ultra slim Z-power LED series Z1, which is aimed at lighting applications.
When LEDs Magazine saw this device at the recent Electronica tradeshow in Germany, we learnt that the ceramic package contains six LED chips, and measures just 5.0 x 6.0 mm, with a height of only 1.2 mm. The viewing angle is 120 degrees.
There are two versions available; a warm white part (NZ10150) with a color temperature of 3000K and CRI of 80, and a pure white (WZ10150) at 6300K and CRI = 68.
The company's press release quotes an official in charge of Z1 development saying, "Maximum lumens of NZ10150 and WZ10150 are 95 and 120 respectively, the average lumens being 80 and 105 each."
Unusually, however, Seoul has chosen to quote its figures at a current of 400 mA. Most "one watt" class devices quote figures at 350 mA drive current.
So, for the pure white LED, the typical output of 105 lm is achieved at 400 mA with a forward voltage of 4.2 V, corresponding to 1.68 W, with a luminous efficacy of 62.5 lm/W.
The Seoul spokesperson added, "Because the body of Z1 is made of ceramic with high thermal conductivity and equipped with spacious radiation plate, customers can manage heat easily. Because these features enable Z1 to emit bright light much longer in high temperature (in other words, it maintains its reliability longer), it can be quite useful in designing indoor and outdoor lightings, and home appliances."