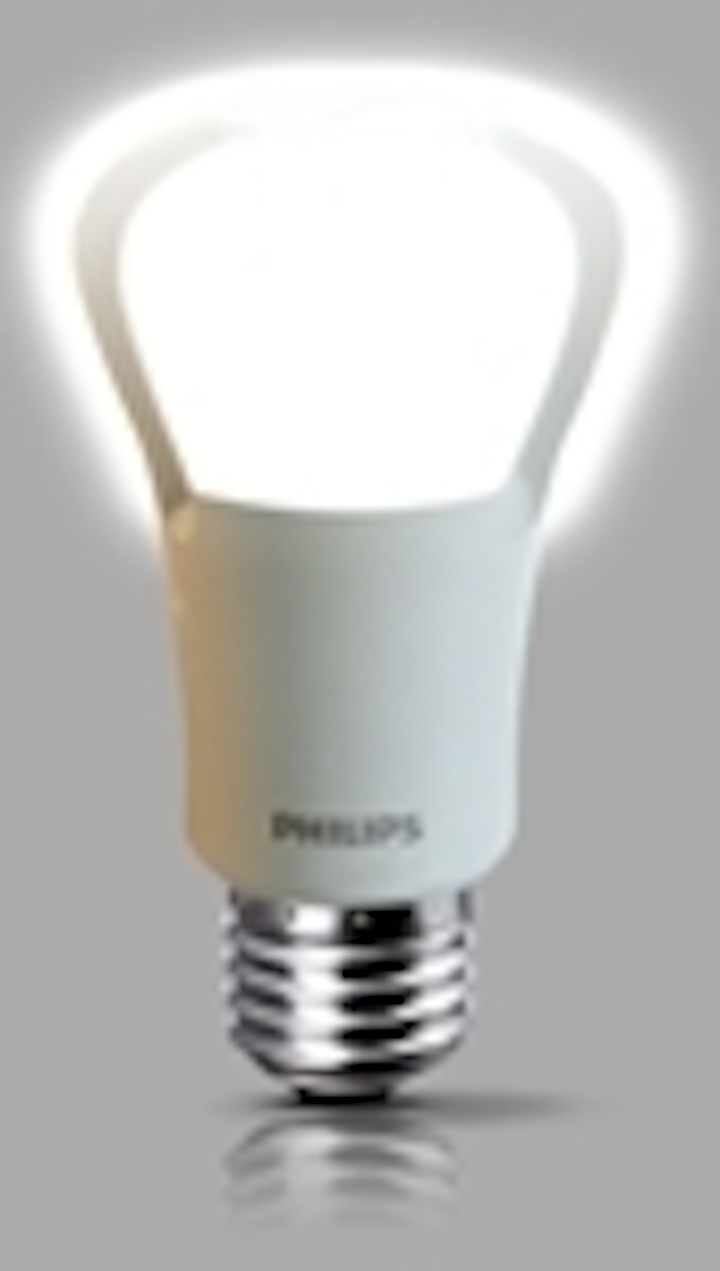 LEDs again stole the show at the annual Lightfair International (LFI) conference and exhibition. While you could find plenty of conventional lighting on the exhibit floor, it was solid-state-lighting (SSL) products that were prominent in most booths, ranging from A-lamp retrofits to decorative and architectural lighting. A number of companies demonstrated new LED-based 75W and 100W A-lamp replacements for incandescent bulbs, as well as offering updated technology roadmaps.
The LED-based retrofit lamp segment is especially hot because manufacturers see it as an application with few barriers to acceptance because consumers or businesses can utilize the A lamps in existing sockets. Of course early products have proven very expensive and some of questionable quality. At LFI, it was apparent that the light quality of the SSL lamps is improving rapidly, although price remains an issue.
Philips 75W equivalent
Philips didn't make the boldest claims at LFI about retrofit lamps but the company's announcement of a 75W-equivalent lamp may carry more credence than some other announcements given Philips' success in the 60W-equivalent space. Philips showed its new EnduraLED A21 lamp that dissipates 17W while delivering 1100 lm. The lamp is rated for 25,000 hours of life and features a 2700K color temperature and a CRI of 80.
The new lamp will be available in the fourth quarter of 2011 at a price of $40 to $45. Philips said that the lamp would soon undergo Energy Star testing and that the lamp is based on a design similar to its 12.5W lamp, the first 60W-equivalent product to win an Energy Star rating.
GE Lighting was first with an Energy-Star-rated A-Lamp retrofit based on LEDs when it formally launched its 40W-equivalent 9W EnergySmart LED lamp in late 2010. At LFI, GE demonstrated a 60W-equivalent lamp based on the same design with a white glass envelope when powered off and omni-directional lighting when powered on. According to James Benson, General Manager of Marketing in GE Lighting's Professional Channel, the 60W equivalent will undergo Energy Star testing as well although the company has not announced a shipping date. But the lamp seems to be on a similar track as the 40W equivalent that debuted at LFI 2010.
Switch Lighting moves quickly
Perhaps the boldest claims on SSL retrofit lamps at LFI came from upstart Switch Lighting. The company announced a 75W-equivalent lamp in April, and announced a 100W equivalent at LFI that the company hopes to bring to market this year in a neutral-white version. The company plans a warm-white version in mid to late 2012.
The Switch lamps were publicly accessible in their LFI booth. The design, based on LEDs that face outward around the equator of the bulb, produces omni-directional light similar to an incandescent lamp. Indeed 100W incandescent and Switch retrofit lamps presented side-by -side behind a screen simulating a light shade were tough to distinguish at full power. However, the Switch lamp did not dim to the low levels that the incandescent lamp could handle.
Ironically the Switch design leaves a noticeable hole in the light pattern above the peak of the bulb globe. Many early LED retrofit lamps have been faulted for only radiating light upwards, but the Switch design includes an internal metal structure that partially blocks light in that direction. The design would not likely be an issue in table lamp usage where light focused upwards is largely wasted, but might be less effective in some directional applications. The lamps are also noticeably heavier than even other LED-based lamps – which in turn are heavier than incandescents and CFLs. The extra weight in the Switch design is due to the inert liquid in the globe used for cooling. But you can't discern the presence of liquid inside the globe.
LSG roadmap
Lighting Science Group (LSG), meanwhile, claims to have the largest number of LED retrofit lamps with Energy Star approval, although it has not received that recognition for its standard A lamps in the Definity product line. But the company privately showed how it expects to evolve LED-retrofit-lamp technology
The company's new 60W-equiavlent lamp delivers 850 lm while consuming 13W. Privately, the company showed a similar design that replaces a passive cooling scheme based on a heat sink with an active scheme based on micro-electro-mechanical systems (MEMS) technology. MEMS devices are manufactured using semiconductor techniques yet the technology enables movement of micron (micrometer)-scale structures that can create air movement and improve cooling. LSG would not reveal its MEMS technology partner but claims MEMS cooling will enable a 880-lm lamp that dissipates 11W and weighs half as much as its current lamps.
LSG plans to follow the MEMS-based design with a subsequent-generation design that is also MEMS based but that utilizes quantum dots (QD) to generate light in place of traditional phosphors. LSG said that such a design could produce 1000 lm at 10W.
Sylvania launches A lamp family
Osram Sylvania also detailed its A-lamp plans at LFI with the introduction of some products due this summer and plans to deliver a 75W-equivalent lamp this fall. The lighting stalwart has offered its Ultra line of SSL products in PAR20, PAR30, PAR38, and MR16 form factors and now is adding omni-directional SSL products to the Ultra line.
Sylvania plans to ship 40W- and 60W-equivalent lamps this summer in dimmable and non-dimmable versions. The lamps will dissipate 8W and 13.5W respectively and offer a 2700K color temperature and a CRI of 85. This fall, the company says it will deliver a 13W 1100-lm lamp for 75W sockets – another example of the constant march forward in luminous efficacy as that fall product will deliver 84 lm/W whereas the nearer-term models are rated at 56-60 lm/W.
Watch our website for more stories on LFI. And we will include comprehensive show coverage in our next issue of LEDs Magazine.