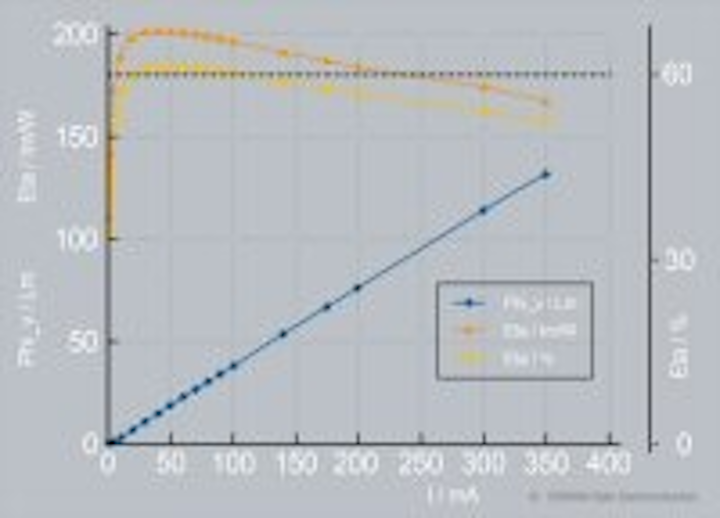 Osram Opto makes red LED with 200 lm/W efficacy
Osram Opto Semiconductors is claiming a record efficacy value for a red LED prototype demonstrated in the company's R&D laboratory. The efficacy was 201 lm/W at an operating current of 40 mA, and 168 lm/W at a typical operating current of 350 mA.
The values were achieved for a 1-mm2 chip housed in a laboratory package and emitting at a wavelength of 609 nm. The red LED's wall-plug efficiency was 61%. The company said that the increase in output was enabled by advances in thin-film technology.
Martin Behringer, of the LED development team at Osram Opto Semiconductors, said, "The results of this project can be extended to all the wavelengths in InGaAlP chip technology, so we anticipate a boost in efficiency in these light colors – even at 660 nm, which is the wavelength needed for plant lighting, for example. Probably we will be introducing the results of this development project across the entire wavelength spectrum into production in about a year's time."
Intematix combines phosphors for CRI of 98
Intematix Corporation, a Fremont, California-based provider of phosphor materials and components, announced that it has demonstrated a phosphor blend that provides a CRI of 98 and R9 value of 99 when applied to a reference LED package. The blend combines three separate phosphor material families, all offered by Intematix. The results have not been confirmed yet by an independent testing laboratory.
CRI is a light-quality measurement that grades how well a light-source renders color on a scale of 1 to 100 with sunlight producing the CRI reference of 100. It is important to note, however, that phosphor-based approaches to very high CRI come at the expense of energy efficiency.
This offering is designed to provide lighting designers with higher-CRI options for applications in retail, hospitality, residential and museum lighting. "This benchmark gives our customers the ability to create the highest quality lighting designs and fixtures," said Yiqun Li, CTO and Executive Vice President at Intematix.