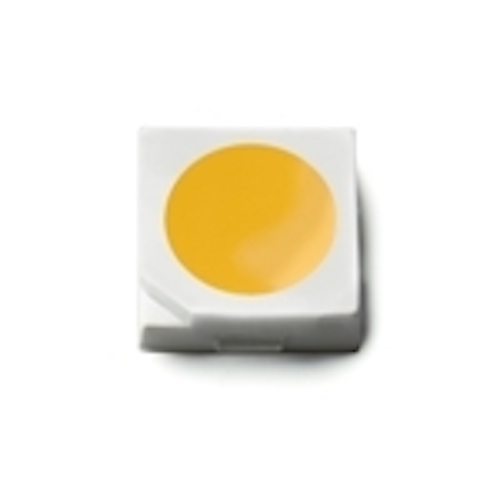 Philips Lumileds has introduced the two-die Luxeon 3535 2D mid-power LEDs that, among other potential usages, can lower component count in retrofit lamp designs. The company also announced its first low-power LED, the Luxeon 4014, that targets linear application such as under-cabinet and cove lighting.
The new mid-power devices deliver efficacy of 140 lm/W at 4000K and 100 mA of driver current – outputting a minimum of 60 lm. You can generally get 75% more lumen output by driving the devices at 200 mA. Lumileds said that maximum output is 130 lm. Efficacy drops by 20% at 200 mA.
"A 50W PAR20 lamp can be achieved using only four LEDs," said Rahul Bammi, vice president of product management. "Alternatively, a 40W A19 lamp that previously required 14 LEDs can now be created using only six."
Lumileds offers the LEDs across a CCT range from 2700K to 6500K. The entire family offers a minimum CRI of 80. Moreover, they all have an R9 rating above 0. The 3535 form factor measures 3.5×3.4 mm.
Lumileds has repeatedly stressed its ability to keep forward voltages to a minimum, thereby helping to boost efficacy. The new mid-power devices with two emitters have a typical forward voltage of 6.1V and a maximum of 6.8V. Lumileds will offer bins with a maximum forward voltage as low as 5.8V.
"This is an exciting breakthrough, because lighting designers can take advantage of a high lumen package with high efficacy while using significantly fewer chips per fixture," said Bammi. Lumileds also said the components will support lamp designs capable of Energy Star qualification with 25,000-hr rated life at 150 mA and 85°C.
Low-power LEDs
The new Luxeon 4014 low-power LEDs have a 4×1.4-mm footprint. Lumileds said that the family offers efficacy of 160 lm/W at 4000K. At 30 mA drive current the efficacy is 138 lm/W and minimum flux output is 10 lm.
For now, 4000K is the only CCT offered. The LEDs have a minimum CRI of 80. Lumileds claims that the LEDs will offer better uniformity than other low-power LEDs, and that makes the LEDs suitable for usage in applications such as linear lighting where the components are packed closely together.