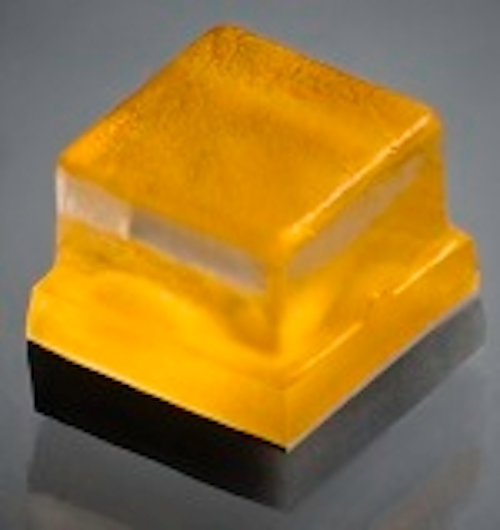 Cree has announced the new XLamp XQ family of mid-power LEDs that are built using the same third-generation silicon-carbide (SC3) manufacturing platform used in most of the company's lighting-class LEDs announced in the past year. Rather than turning to a plastic package and focusing purely on low cost as most mid-power LED makers have done, Cree focused on the performance of the XQ LEDs in terms of both lumen output and efficacy.
The new family includes the XQ-B LEDs that handle a maximum drive current of 300 mA, and the XQ-D LEDs that handle a maximum drive current of 700 mA. Both of the families measure 1.6×1.6-mm square in terms of the package footprint.
It is debatable as to whether the new Cree LEDs should truly be characterized by the mid-power label. As we covered in a feature article on the breadth of packaged LED offerings, Ella Shum of our sister organization Strategies Unlimited classifies mid-power LEDs as those operating between 0.1-0.5W. The Cree LEDs can certainly operate at much higher power levels.
Still the Cree XQ LEDs fulfill a common use case for mid-power LEDs – packing more lower-power LEDs closely together, relative to using fewer higher-power LEDs spread further apart, and in turn delivering more uniform light. Indeed the Cree LEDs are smaller than traditional mid-power LEDs, enabled by the more thermally-efficient ceramic package. If needed the Cree devices could be packed more densely than plastic-packaged devices.
"Unlike other mid-power packages, the XQ LEDs allow lighting manufacturers to meet their light distribution requirements using fewer LEDs without giving up the performance or reliability that they expect from Cree's lighting-class LEDs," said Paul Thieken, Cree director of marketing, LED components. "Once again, Cree is creating innovative solutions to allow our customers to differentiate their products."
Cree used some theoretical reference designs to make their case for the mid-power XQ. In a typical snow-cone style retrofit lamp where the LEDs are mounted on a planar circuit board at the equator of the globe shape, the Cree XQ family will enable a reduction from 27 to 16 LEDs to deliver 810 lm. Moreover, the XQ LEDs would improve light distribution and boost lamp efficacy from 78 lm/W to 83 lm/W. Cree also showed a potential design for a 60W-equivalent omni-directional lamp that uses only 8 XQ-D LEDs and features lamp efficacy of 69 lm/W.
As you might expect, the XQ LEDs are offered similarly to other SC3-based LEDs across a CCT range of 2700K to 6500K. Minimum CRI is 75, although you can get the warmer CCT devices with a CRI of 90, and 80CRI is an option across most of the family.
At the LED level, Cree said the cool-white XQ-B delivers 160 lm/W when operated at 0.18W. The XQ-D operated at 1W delivers 130 lm/W in cool white.
Cree says that the LEDs offer similar reliability and performance as its other lighting-class LEDs, and should exceed plastic-packaged devices in that regard. A customer went on the record supporting that assertion. "The high reliability of the ceramic based XQ-B LED allows us to offer a high quality solution that does not compromise on lifetime," says Martin Hockemeyer, vice chairman of the board of TELEFUNKEN Licht AG. "The unique optical advantage of the XQ-B gives us the opportunity to create the brilliant look that our customers are looking for."