Venice, Italy is one of those historical cities where change is not necessarily welcome, especially if it changes the iconic look and the feel of the place, and the Commission for the Architectural and Landscape Heritage was intent on ensuring that new lighting match the old. But the city, like many, needed to reduce energy consumption attributable to nighttime lighting and turned to Litek to shepherd a retrofit project that took four years of testing. Now Litek has retrofitted 7000 existing fixtures with LEDs, delivering 81.4% energy savings.
Lighting in Venice is especially important to the aesthetics and ambience where pedestrians stroll in the piazzas and along canals and admire the unique architectural structures. For example, famed Piazza San Marco was the heart of the project. "In the evenings or at night, one's perception of the notable architectural structures in the piazza, including the Basilica de San Marco, the Torre dell'Orologio, and the Palazzo Ducale, is keenly affected by the lighting," said Mark van den Berg, director of marketing at Philips Lumileds. "For this reason, it became necessary to maintain the exact light quality that was delivered by the mercury discharge lamps of the past, when they were replaced by energy-efficient LED lamps."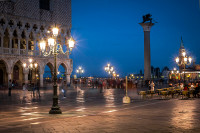 After the extensive testing, Litek used Lumileds Luxeon K LED arrays with custom designed optics to replace the mercury-discharge lamps with solid-state lighting (SSL) modules. That retrofit encompassed 6000 post-top luminaires. The selected LEDs deliver 3000K-CCT, 80-CRI light that matches the prior lighting while eliminating maintenance issues and saving energy. Litek projects that the lighting will last 50,000 hours, equating to almost 12 years based on 11 hours of use each night.
The project also included additional lighting along the Grand Canal, across the Accademia Bridge, and in the Rialto shopping area. In that area halogen lights in a warm CCT had been broadly used. Litek developed and installed retrofit modules for 1000 fixtures in those areas that use Luxeon M LEDs, again at 3000K CCT.
The local utility has documented a reduction of 75 kW of power annually. As the nearby photos document, the Piazza San Marcos retains its classic look despite the introduction of decidedly new technology.