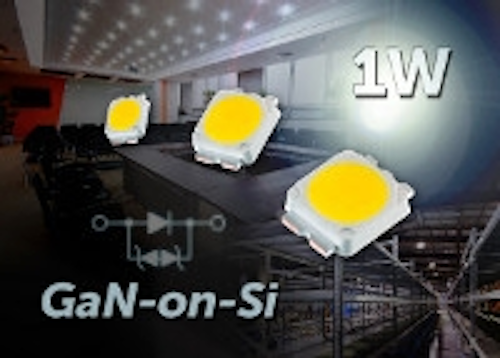 Toshiba Electronics Europe has announced a second-generation of the company's high-power gallium-nitride-on-gallium-nitride (GaN-on-GaN) LEDs that for the first time include 2700K warm-white emitters. Moreover, the new Leteras family of products are specified at efficacy above 100 lm/W even for the warm-white 1W LEDs.
Of course, the big question will be if Toshiba is really ready to ship the products in volume production. Otherwise, the specs matter little. Back in December 2012, Toshiba said the silicon-based TL1F1 family had entered production and subsequently published a detailed datasheet on the LEDs in January 2013. But those earlier LEDs have yet to show up in a commercial product.
Of course, it could be that specs trailing sapphire-based LEDs have limited the customer acceptance of the first-generation products. Some of those LED models have efficacy in the 80-lm/W range and 3000K was the warmest CCT for which Toshiba published a datasheet.
The efficacy on the second-generation TL1F2 LEDs will range from 104 lm/W to 135 lm/W over the 2700K to 5000K CCT range with 70- and 80-CRI models available. The basic product specs are listed in datasheets noted as underdevelopment on the Toshiba Japan website. Neither the datasheets nor press release detail at what temperature the efficacy figures apply.
It was also strange to see the second-generation announcement come out of Toshiba's European operation. In the past, new LED announcements from Toshiba have originated in Japan.
Most recently, Toshiba announced mid-power GaN-on-Si LEDs back in July. Those LEDs still substantially trailed similarly-sized sapphire-based LEDs, and it's not clear that Toshiba has shipped the mid-power LEDs at this time.