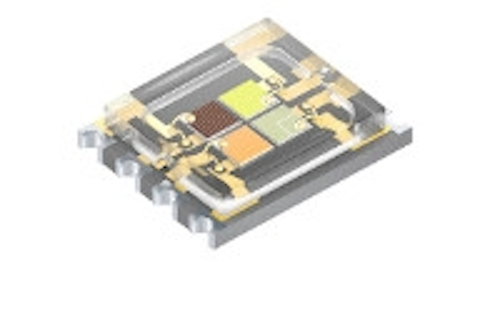 Osram Opto Semiconductors has announced the Osram Ostar Medical LED designed specifically for medical applications. The LED enables high-CRI solid-state lighting (SSL) products along with color-tuning features that can deliver optimal lighting in hospital operating rooms.
In the operating room, precisely-controlled chromaticity and natural color rendering is critical according to Osram. That led to the development of the new LED that includes four separate emitters — warm white, ultra white, green, and amber. The design delivers minimum 95 CRI across a tunable white spectrum from 3700K to 5000K. Osram said that even though the LEDs are optimized for correctly rendering red shades, the overall CRI remains above 95.
The other aspect of the new Ostar Medical LED that's crucial for the medical application is a compact footprint. "Compact luminaires prevail in the modern medical lighting sector and the low height of the new Ostar Medical makes it the ideal product," explained Wolfgang Schnabel, head of marketing the new product at Osram.
The new LEDs measure 5.9×4.8 mm, and stand 1.2 mm tall. Osram said that the new LED is one-quarter the height of the components typically used in such medical applications. To enable the small stature, Osram used a flat antireflex-coated glass cover in place of the more typical domed lens.
Even with the small footprint, the new LED can be used with typical optics and manufacturing techniques. Schnabel added, "The component is standardized, which means that customers can use the commonly available lenses." Moreover, standard soldering processes can be used in product assembly.
The 4000K version of the LED delivers 180 lm; the 5000K version delivers 325 lm. The design is based on Osram's thin-film LED chip technology.