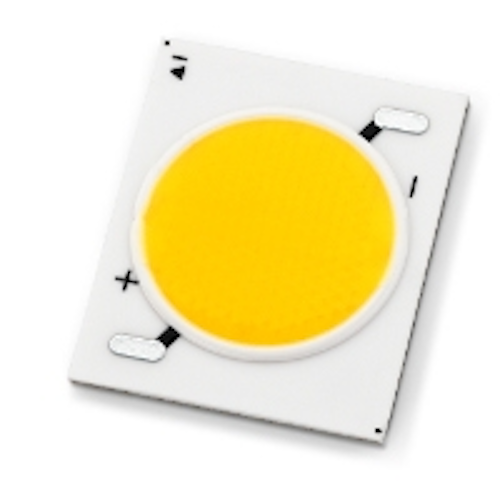 Sharp has introduced its new Mega Zenigata LEDs that are available in 15W, 25W, 35W and 50W versions, and offer luminous efficacy of up to 108 lm/W. Sharp offers the 17-mm chip-on-board (COB) GW6DxxxxNFC LEDs in 2,700K, 3,000K, 3,500K, 4,000K, 5,000K, and 6,000K color temperatures with a CRI of 80 or more depending on the performance class.
The highest-performing 50W LEDs output 4780 lm with a typical drive current of 950 mA, although designs can push the current to 1500 mA to achieve 6930 lm. Typical output of the lower-power products range from 1600-3600 lm, although higher driver currents can produce 2480-460 lm.
The LED come with a minimum CRI of 80, although some of the products are also offered with a CRI of 90 for applications such as retail lighting. The products also offer high R9 values for red colors. And Sharp offers the LEDs within 3-step MacAdam ellipse bins.
The new LEDs are based on a technical ceramics (Aluminium oxide Al2O3) substrate measuring 24×20×1.8 mm, although as mentioned previously the light emitting surface has a diameter of 17 mm. Sharp says that the architecture delivers the performance of a point light source, unlike some multi-emitter arrays. In turn the point source simplifies the integration of optics such as lenses or reflectors.
Mechanically, the new products are compatible with prior Zenigata LEDs offered in the same size. This compatibility enables luminaire designers to use the new arrays in existing designs and realize a gain in brightness or reduction in power consumption.
The new Mega Zenigata LEDs achieve a forward voltage of 50V for the 50W version and 37V for the lower-power products. The use of arrays and higher voltage can improve efficiency because the driver doesn't have to drop the line voltage down to the level that would be required in a parallel-emitter configurations.
The features of the Mega Zenigata LEDs make them well suited for outdoor use as street and property lighting, as well as for indoor use in recessed luminaires and recessed spotlights. For data sheets and details on the Mega Zenigata LED series, visit Sharp here. All of the new LEDs have a lifetime of more than 40,000 hours, and a operating temperature of up to 90 degrees Celsius.