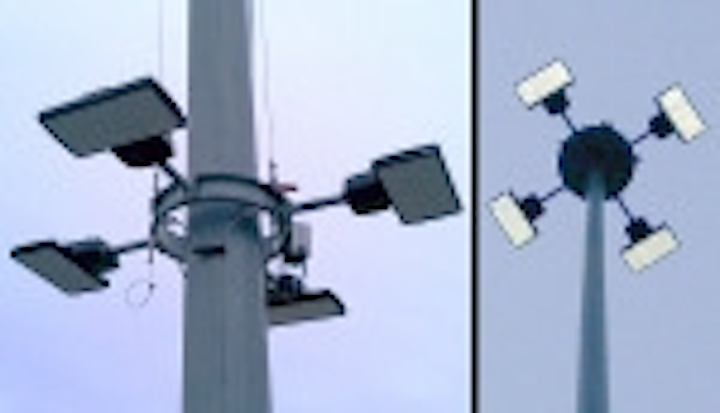 High-mast lighting remains an elusive target for LEDs, but Cooper Lighting has supplied a Chubbuck, ID project with Streetworks Ventus solid-state lighting (SSL) fixtures. The luminaires are installed on 80-ft poles at an interstate freeway interchange, achieving a 39% reduction in energy relative to high-pressure sodium (HPS) lights.
In considering the project, state officials sought to match the CCT of LED lighting on roadways near the interchange, deliver optimum quality light, and minimize energy and maintenance costs. But there is little precedent for LED deployment in high-mast applications. Last June, we covered one such LED high-mast project in Maine.
Given the sparse history of LEDs on high-mast poles, Idaho first created a test installation at a nearby rest area. The site allowed a comparison of 400W HPS lights on 100-ft poles with 285W Cooper Ventus fixtures on the same poles.
High-mast SSL validation
The state concluded that the LED-based luminaires delivered light levels similar to the HPS lights along with SSL-specific benefits. "There are three major benefits realized as a result of this test, said Ethan Griffiths, the principal technician in traffic services for the Idaho Transportation Department. "This includes the reduced power usage while still maintaining similar light levels, a much higher color rendering index and longer time frames between required maintenance."
Specifically, the four LED fixtures clustered on a pole in the test consumed 1140W compared to 1872W for the HPS lights. Meanwhile the light quality is far better with the LEDs. The Ventus fixtures have a CRI of 70 whereas the HPS lights have a CRI of 20. Higher CRI has been shown in tests such as those conducted by the Virginia Tech Transportation Institute to correlate with improved small-object detection.
Of course the LEDs will offer significant maintenance savings. The HPS fixtures were rated for 24,000 hrs and were relamped on a 3-4-yr schedule. The Ventus fixture are rated for 60,000 hrs, meaning maintenance cycles could be stretched to more than 14 yrs.
"The testing shows that our Ventus LED fixtures, when used in both 80-ft as well as 100-ft high-mast applications, are comparable to the legacy HPS technology," said Cooper Lighting president Mark Eubanks. "Additionally, these products offer added savings and energy-efficiency to any application."
Meanwhile, the validation of SSL performance in high-mast applications could open the way for additional deployments. "In addition to satisfying our project requirements, this installation has also proven that LED solutions can, and should be used for high-mast applications," said Griffiths. Because of the high-wattage lights clustered on poles in high-mast applications, the energy savings potential for LED retrofits is substantial even though there are far fewer high-mast poles compared to mainstream roadway light poles in the US and around the globe.