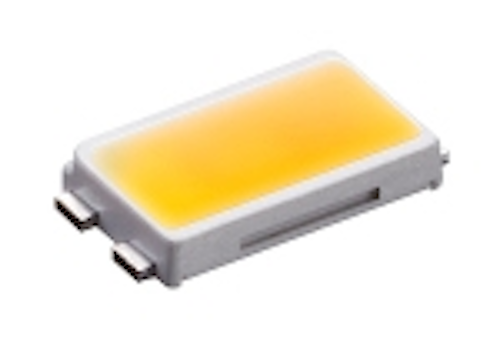 Samsung has reached the 160-lm/W efficacy level in a 5000K CCT mid-power LED. The LM561B-family LED achieved the milestone when driven at 65 mA. The LEDs will target a broad range of solid-state lighting (SSL) applications ranging from LED-based replacements for fluorescent tubes to downlights to A-lamps.
While the efficacy milestone applied to a cool-white LED, Samsung offers the LM561B family across a range of 2700K to 6500K CCTs. The efficacy for the warm-white 2700K LEDs is still above 150 lm/W. And all of the LEDs offer a CRI of 80. Efficacy ranges from 130-145 lm/W across the CCT span when the drive current is increased to 150 mA.
"The Samsung LM561B will provide customers with the highest quality of light in the LED package market today, through its high efficacy and variety in color temperatures," said Jaap Schlejen, senior vice president of LED lighting sales and marketing for Samsung Electronics. "Samsung will continue to improve its product offerings with highly advanced LED package solutions that clearly meet customer needs."
The new LED family offers a 30% gain in efficacy across the board relative to the prior LM561A family. The products come in three different flux output or brightness levels for each CCT, and Samsung offers quarter binning relative to ANSI standards.