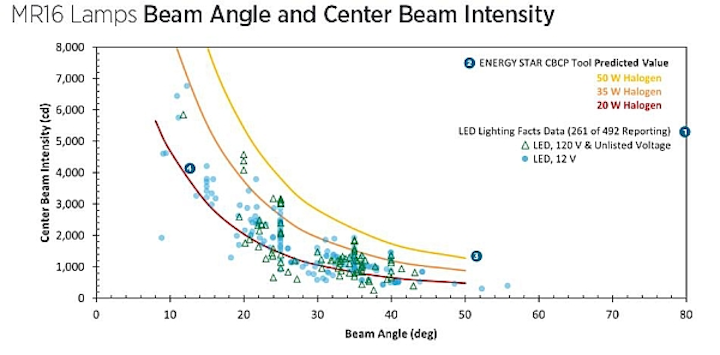 The US Department of Energy has released a new Caliper Snapshot Report covering SSL industry progress in LED-based MR16 lamps, and the agency has published an addendum to its tunable white lighting report.
The US Department of Energy (DOE) has published a Caliper Snapshot report that finds only meager progress in LED-based MR16 lamps over the course of two years since the agency last published a similar report. New products have improved color rendering but generally the solid-state lighting (SSL) alternatives cannot match the performance of 50W halogen lamps. The DOE has also released an addendum to Caliper "Report 23: Photometric testing of white-tunable LED luminaires" that seeks to answer the question of how many CCT test points are required for accurate operational characterization of such products.
Interested in more articles & announcements on LED lighting?
MR16 snapshot
The DOE had previously released an MR16-centric Caliper Snapshot report in January of 2014. That report two years back lamented the fact that lamp manufacturers weren't able to match the performance of 50W halogen products and little has changed. The new report said there are good LED alternatives to 20W and 35W halogens but not for the brighter 50W MR16 lamps. Moreover, the new report said it is the 50W products that are most commonly used.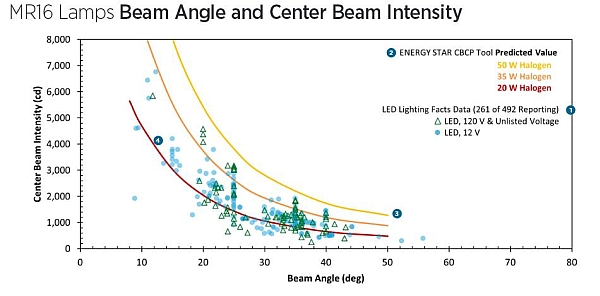 DOE updates LED MR16 lamp report, adds to white-tunable data
Mean efficacy has increased from 54 lm/W to 61 lm/W over the course of two years, but that performance ramp is more shallow than in larger-form-factor directional and omnidirectional lamps. And the DOE said no available products can meet Energy Star requirements for center beam candle power (CBCP) for any given beam angle, although the CCT and CRI specs do comply with Energy Star requirements.
There are a variety of potential reasons for the technology stagnation in MR16 SSL products. As we have mentioned in the past, the small form factor makes integrating the driver, LED sources, thermal elements, and optics a difficult challenge. But the DOE also noted market forces at play. The new report said there is far more incentive for companies to focus on other LED-lamp sectors such as LED-based T8 tubes where the SSL alternative must compete with an energy-efficient fluorescent incumbent. In the MR16 sector, the LED lamps are already delivering considerable energy savings even if CBCP trails the legacy halogen lamps.
The DOE also noted that MR16 lamps are often used in applications such as retail where excellent color rendering is critical. Manufacturers supplying products for such applications may have necessarily focused on optimum CRI rather than on maximum energy savings in the LED alternatives. But the DOE also said that by pushing harder on efficacy, manufacturers would find the small-form-factor and thermal challenges easier to overcome in targeting 50W halogen performance. The entire report is on the DOE SSL website.
Tunable white
The addendum to Report 23 on tunable-white lighting technology follows the original report published in September 2015. That original report had focused on the need for luminaire makers to take detailed electrical and photometric measurements at 11 different CCT set points over the range of CCTs that a luminaire could produce.
While the use of 11 points would provide a comprehensive view into the performance of a tunable product, such a requirement would place a significant burden on luminaire manufacturers that have to perform such tests. The DOE's latest work compares the results from the 11-point tests with tests that relied on only 3, 5, or 6 CCT set points. The agency sought to discover whether such simpler testing would provide lighting specifiers/designers with accurate operational information on a tunable luminaire.
The issue at hand largely comes down to how tunable luminaires are designed and therefore how light output and power consumption vary over the tunable range. With only 3 set points defined, the DOE found that lumen output errors could be as large as 10% relative to the 11-point characterization and the error in specified power draw might be as high as 6%. Those error ranges each drop to 3% when 6 points are tested.
The DOE warned that its tests were performed on a small sample of five products and that other designs could exhibit substantially different characteristics. That said, the 6-point characterization would be sufficiently accurate for many SSL projects. Still, the tests only applied to tunable white lighting products that have generally linear tunable performance and not to dim-to-warm or full-color-tunable products. The complete report with the addendum is available on the DOE website.