Cree develops light-guide based LED fixtures for offices and garages (UPDATED)
WaveMax edge-lit optics deliver lighting in two directions and enable sleek LED-based luminaire designs for high-end office space and optimized parking-garage applications.
Apr 30th, 2015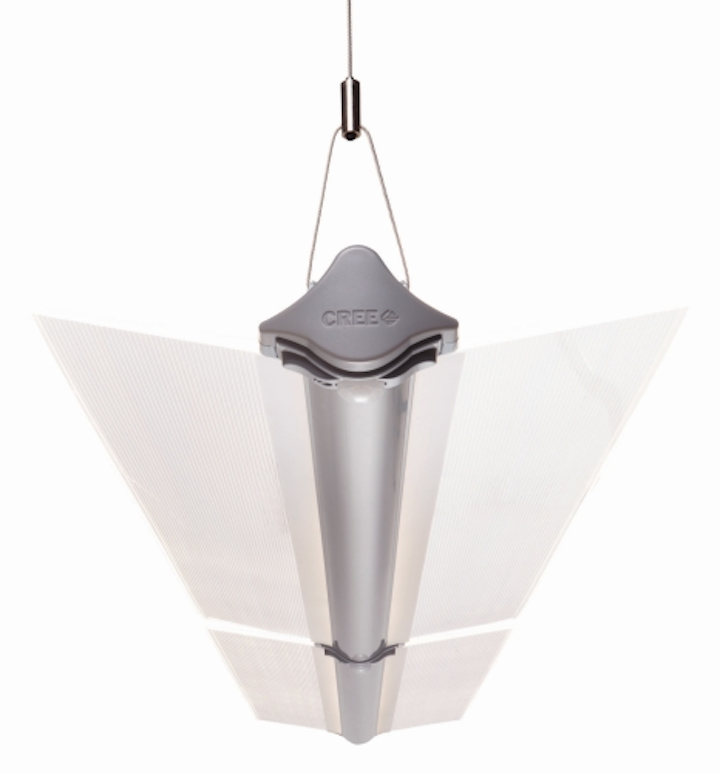 WaveMax edge-lit optics deliver lighting in two directions and enable sleek LED-based luminaire designs for high-end office space and optimized parking-garage applications.
Cree has announced WaveMax technology — an optical light guide platform that enables LED-edge-lit solid-state lighting (SSL) products with stylish sleek looks. Moreover, the company has announced the LN Series suspended linear fixture for use in Class A office space, although Cree says the design will ultimately prove affordable anywhere suspended fluorescent fixtures are used. A new parking garage fixture will follow with a four-sided light guide that evenly distributes light below the fixture and around the perimeter of the beam pattern.
Discussing Cree's LED-based lighting products, vice president of product strategy Gary Trott said, "We've always made light better." But Trott described the WaveMax technology as using Diamond Facet Microlenses embedded in the light guide to control the beam, and said that technology solves the three key roadblocks to optimum lighting — control, uniformity, and efficiency. "We wanted to make lighting better than anyone thought possible," said Trott about the new technology.
Cree, of course, is not the first company to deliver luminaires based on LED edge lighting and planar light guide technology. GE Lighting has a number of luminaires in its Lumination portfolio based on its Intrinsx light guide, and has announced high-profile projects using the technology. Likewise, Eaton's Cooper Lighting has been proliferating luminaires based on its WaveStream light-guide platform.

Both Cooper and GE Lighting licensed the technology behind their light guide from Rambus. Cree, conversely, said that it developed the WaveMax technology in house. An unnamed optics manufacturer is actually making the light guides or lenses for Cree.
LN Series
As you can see in the nearby photo, the LN Series pendant is stunning. The product is designed to deliver 60% of its output upwards for indirect lighting reflected from the ceiling, and 40% of its light directly to the work surface. The light guides are mostly transparent when off, and Trott said, "It looks awesome on or off."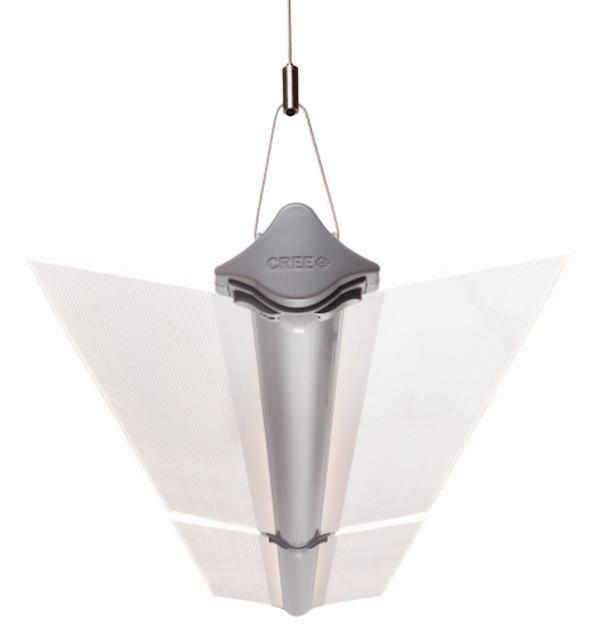 Cree develops light-guide based LED fixtures for offices and garages
Still, the real selling point according to Cree is performance. Trott said that indirect/direct fluorescent fixtures have never delivered efficiency combined with great looks and lighting. Realistically, florescent tubes were intended for use in reflectors. Still about indirect/direct light, Trott said, "When it comes to office or schools, there is no better way to light it."
The LN Series is designed to deliver the best light distribution and to be affordable. Cree has not released prices. But Trott said it will be priced competitively to top fluorescent indirect/direct fixtures and lower than competitive LED-based products.
Cree will sell the LN Series only in 4-ft versions delivering 3400 lm. The products can be cascaded end to end with power passed through the joining mechanism. The company will offer a choice of 3500K or 4000K CCT and CRI of 90. Efficacy is up to 110 lm/W. The product will support 0-10V dimming as a standard feature or can be specified with Cree wireless SmartCast controls. Cree plans to ship the LN Series in July commercially.
IG Series
Further down the production pipe will come the IG Series parking-garage fixture that Cree says it will ship in August. The IG has a truly unique look for a product designed for a garage, with a square design formed by the light guides that extend directly downward. Again, the optics deliver light in two directions. The outer surfaces deliver the uniform, glare-free perimeter pattern and the inner surfaces deliver the uniform light under the fixture.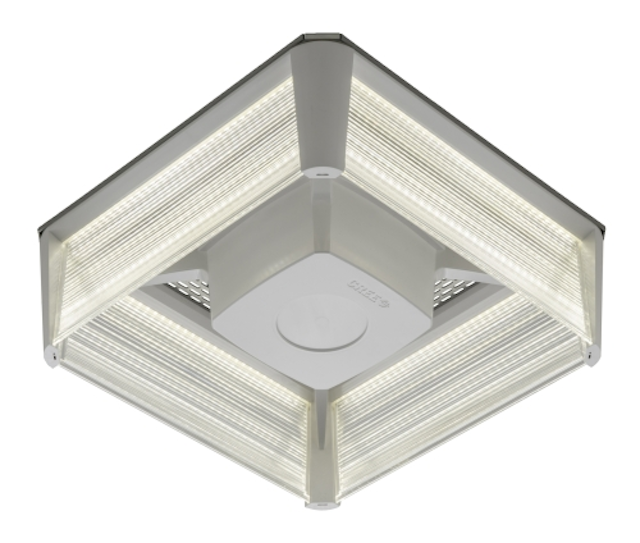 The IG Series follows what Cree calls an extremely successful LED-based fixture in the VG Series announced in 2013 for parking garages. Trott said the company wasn't sure it could innovate further in the use of LEDs for garage lighting. But Trott also said in the case of the IG that "form really follows function on this in a lot of ways."
Cree, however, is again not the first to use a light guide in a parking fixture. Cooper announced a WaveStream-based parking-garage fixture called the McGraw-Edison TopTier in late 2013. Cooper claimed uniform light and low glare among the benefits of the approach.
Still, the Cree design is quite compelling and looks more like a fixture you might see indoors on a ceiling. The only concession to the application is the sensor you can see inside the optics that form the perimeter, and the fact that the industrial design does little to hide the driver resting in the middle of the design.
Cree plans to offer the light-guide-based product in 4000- and 7500-lm versions that operate at 35W and 65W, respectively. Efficacy goes up to 115 lm/W with a drop to 80 CRI. The light will be offered at a choice of 4000K or 5700K CCT.