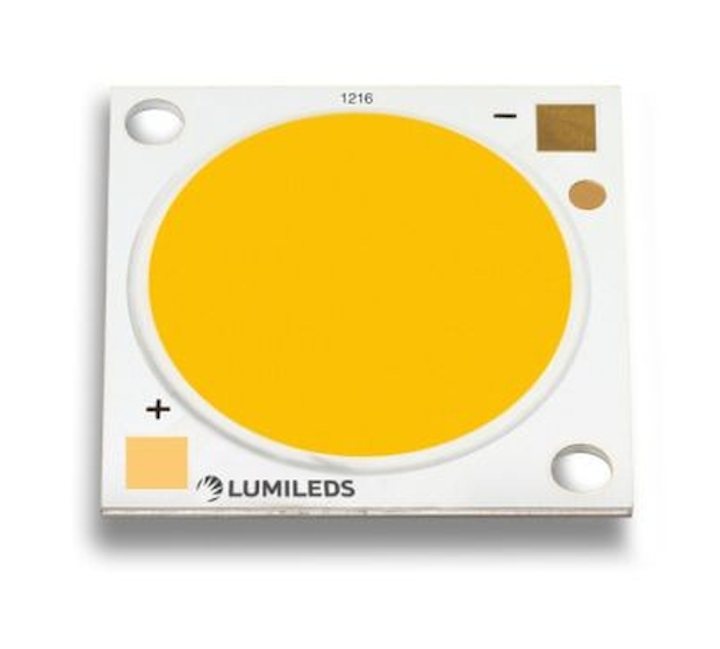 Delivering 15,000 lm, the Gen 2 Luxeon COB 1216 offers 40% better performance than prior components in the same 28×28-mm footprint.
Lumileds has announced the Gen 2 Luxeon COB 1216 LED that delivers 15,000 lm and is available over the range of 2200K to 5700K CCT. The chip-on-board (COB) LED is targeted at applications such as street and area lights and indoor high-bay luminaires with such solid-state lighting (SSL) products being capable of replacing 100W to 150W HID lights.
Interested in more articles & announcements on LEDs & sources?

The new 1216 COB LED is an addition to the Gen 2 Luxeon COB Core range, and as the model name implies, the products are the company's second generation of COB LEDs. Back in the summer, Lumileds announced the first group of Gen 2 LEDs covering light-emitting surface (LES) diameters from 9 to 19 mm.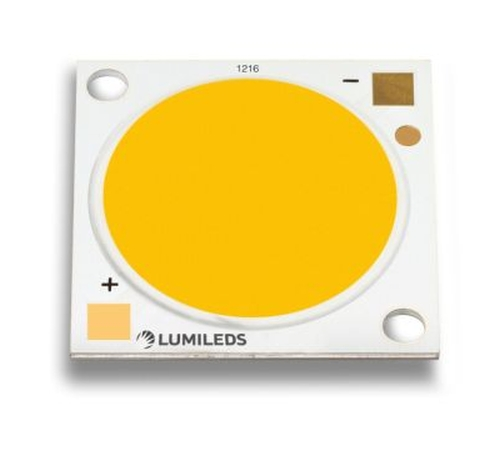 Lumileds adds 23-mm COB LED for street and high-bay lighting
The 1216 COB LED features a 23-mm LES and is packaged in a 28×28-mm footprint. The LED delivers an even greater performance increase of 40% than did the smaller Gen 2 LEDs. Such COB LEDs are increasingly popular because the single electrical, optical, mechanical, and thermal interfaces simplify fixture design with one LED serving as the sole light source in many products. Lumileds said the new LED is compatible with many existing optics and holders.
Still, it's the performance and efficiency that will draw many customers. "We continue to push our chip-on-board technology to higher efficiency, which is important in all applications but particularly in outdoor fixtures," said Eric Senders, product line director for COB LEDs at Lumileds. "With the new line of arrays, customers are achieving 150 lm/W at nominal condition, which, combined with our lowest-in-the-industry thermal resistance, leads to the most cost-efficient systems."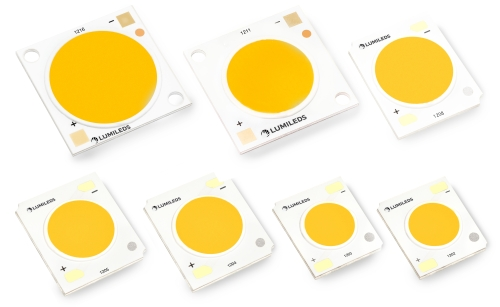 Lumileds will offer the LED across the range of 70 to 90 CRI enabling customers to match color quality to application. Developers will be able to upgrade existing fixture designs for greater output or reduce current drive to deliver even more energy savings.
Lumileds first entered the COB LED space back in 2013. The company added the CrispWhite option in 2014 for better color and white-point rendering. And the Lumileds team responsible for CrispWhite, including Eric Senders, won the Illumineer of the Year award in our LEDs Magazine Sapphire Awards program back in February.