LED-lit Texas plaza demonstrates uniform lighting, no spill (MAGAZINE) - WITH VIDEO
Maury Wright details a parking-area outdoor lighting project in Allen, TX that showcases the beam control enabled by LED sources in terms of uniformity and minimal light spill.
Mar 28th, 2016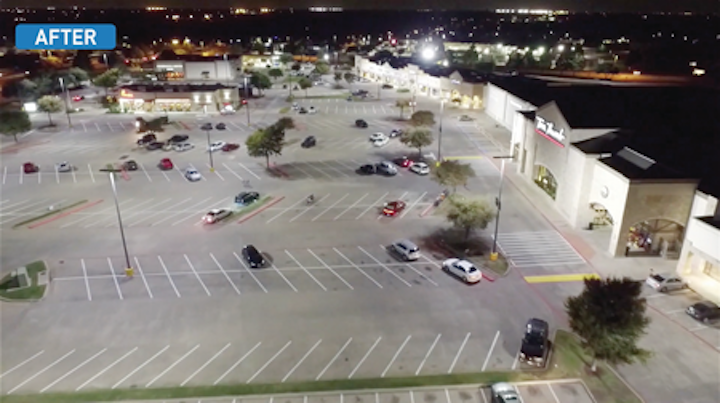 MAURY WRIGHT details a parking-area SSL project in Allen, TX that showcases the beam control enabled by LED sources in terms of uniformity and minimal light spill.
One of the many advantages of LED-based lighting is precise beam control, and that attribute is very important in area-lighting applications such as a recent project completed by US Energy Management in Allen, TX. The Twin Creeks Village shopping plaza underwent a solid-state lighting (SSL) retrofit of its parking lot that has resulted in significant energy savings and - equally important - is delivering much-better-quality lighting. The prior high-pressure sodium (HPS) lighting was replaced by Edge High Output (HO) LED luminaires from Cree.
Interested in more articles & announcements on outdoor LED lighting?

Plano, TX-based US Energy Management and Cree worked in a close partnership on the Twin Creeks project. US Energy Management is essentially an energy services company (ESCO) focused solely on energy-efficient lighting. Company president Brad Hitchcock said the company offers a turnkey service that includes an audit, lighting design, and installation of a project. Cree, meanwhile, has an application engineering team that is available to assist in such projects.
The property owners at Twin Creeks had asked US Energy to propose a one-for-one retrofit of the existing HPS lighting. That prior lighting design had two 1000W fixtures on each pole at a mounting height of 40 ft. The HPS lighting had delivered an average of 3.9 fc at the parking lot surface. But the owners weren't happy with the lack of uniformity that is apparent in Fig. 1 - a depiction of the prior HPS installation. The HPS lighting yielded bright spots under poles and much lower light levels between poles. Fig. 2 depicts the much more uniform LED lighting.
FIG. 1. The high-pressure sodium (HPS) lighting at the Twin Creeks Village shopping plaza in Allen, TX exhibited hot and dark spots and poor color rendering.
Photometric planning
Cree's application team worked with US Energy to develop a photometric layout. The Cree team projected that an installation of one Edge HO LED luminaire per pole could deliver the desired 4 fc on average and the desired uniformity with a sharp cutoff at the property line. But the property owners believed that a dual-luminaire installation on each pole would offer better symmetry and uniformity.
The Edge HO (Fig. 3) product line was announced as an addition to the Edge series back in 2012. The HO product was designed specifically as a replacement for HID fixtures in areas such as high-security lots and automobile dealerships (Fig. 4) that need very high output levels. Cree offers the product in 120- and 240-LED versions, and in each case with the option of 700-mA (standard) or 1A (high-power) drive current. The result is a range of just over 20,000 lm to almost 50,000 lm in output. Cree offers the products at CCTs of 4000K, 5000K, and 5700K.
Ultimately, the Cree and US Energy team settled on the installation of two 120-LED luminaires per pole at a 5000K CCT. The 421W luminaires deliver greater than 50% baseline savings relative to the prior HPS lighting. And as we will discuss shortly, late-night dimming functionality is compounding the savings.
Cutoff and reflectance
About the results, Hitchcock said, "Property ownership was amazed at what was accomplished." The LED lighting is delivering an average of 4.2 fc and, as the aforementioned video demonstrates, excellent uniformity all of the way to the perimeter of the property. What is also evident in the video footage captured by a drone (below) is the sharp cutoff at the edges of the property with little light spill outside the boundaries, and also little to no detectable uplight.
Allen, TX is one of many communities that are moving to adopt Dark Sky ordinances. And many such ordinances are based on the Model Lighting Ordinance (MLO), a specification that was jointly developed by the Illuminating Engineering Society (IES) and the International Dark-Sky Association. Specifically, the MLO defines different classes of lighting zones and BUG (backlight, uplight, and glare) maximums for each zone type.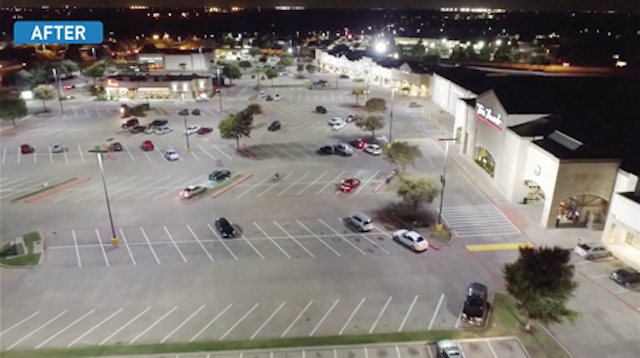 Texas plaza demonstrates uniform outdoor LED lighting, no spill
FIG. 2. Cree Edge HO LED luminaires were used to improve the uniformity of lighting in the lot to the property perimeter while minimizing light spill.
Cree publishes BUG data for the Edge HO product family. Moreover, the company's applications team verified compliance with all IES guidelines on the Twin Creeks project including reflectance of light from the paved parking lot.
CCT choices
We also asked US Energy about the choice of 5000K-CCT lighting and the ongoing push by some communities to move to warmer CCTs in outdoor lighting. As we covered in a recent blog post, some communities want to restrict outdoor lighting, especially street lighting, to 3000K or lower CCTs.
We will have more to offer on the CCT discussion in upcoming blog posts and articles. But the Cree and US Energy team said that 5000K was the best choice for the Twin Creeks project. Hitchcock said, "In our experience, 5000K has become the standard for commercial outdoor lighting."
Hitchcock said the LED installation appears 50% brighter than the prior warmer-CCT lighting despite the fact that the average measured light levels or fc readings are virtually identical. Moreover, the qualitative assessment of the new lighting from Twin Creeks merchants and customers has been almost universally positive. It seems in a commercial setting that perhaps people are more worried about safety and security and welcome the cooler light and what many believe to be better visibility. Those surveyed on the Twin Creeks project felt the lighting provided a safer environment. But some people clearly don't want 5000K lights on their streets.
Of course, the CRI comes into play as well. HPS lighting has a notoriously poor CRI and that makes it much tougher to discern details such as faces or even just to detect objects. We covered object detection relative to a Seattle street trial that demonstrated the advantage of LED-based lighting. The 5000K-CCT version of the Edge HO series delivers an exceptionally high CRI (for outdoor lighting) of 90 and is based on Cree TrueWhite technology.
In fact, that high-CRI rating is worth a bit deeper discussion. Typically, LED-based outdoor area lighting has a CRI in the range of 70, and that level is more than sufficient for most outdoor applications. The 5000K product from Cree, however, was optimized for auto-sales-lot lighting and that is one application where CRI really matters. The company could build 70- and 90-CRI versions of the product, and in fact the 4000K- and 5700K-CCT products have a 70 CRI. But customers that install the 5000K-CCT products get what is truly outstanding color rendering.
Dimming and sensors
Of course, one way to alleviate concerns over bright lights is to dim them. In fact, many outdoor lighting installations are overlit, especially when transitions to cooler-CCT SSL products take place. The regulatory community is playing catchup as the research community attempts to validate theories about better vision under cooler, broader-spectral-power-distribution (SPD), and/or higher-CRI lights. LED lights installed to recommendations developed for HPS sources may indeed be too bright.
In the Twin Creeks case, the property owners like the result of the project in all aspects including the light levels that give patrons a sense of security. At the pavement level, visibility even allowed one of the merchants to host late-night roller hockey games in the parking lot, according to Hitchcock.
Still, the bright light is not generally required late at night when the stores are closed. US Energy contemplated a network-based control system for the plaza, but ultimately determined that a simpler autonomous control scenario was more suitable for the application. Occupancy-sensor-based controls can drop the light level, and energy usage, by 50% when the area around a pole is vacant.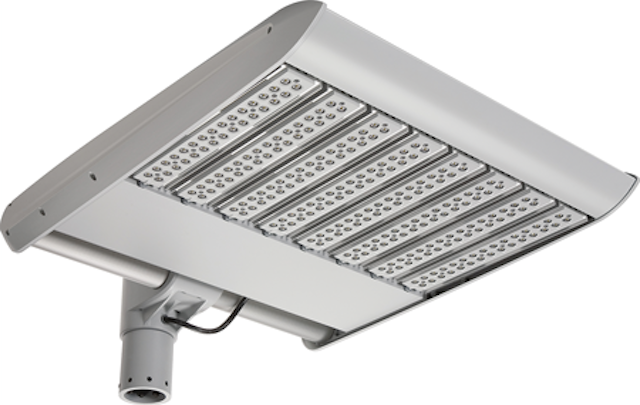 FIG. 3. The Edge HO LED luminaire is specifically designed for high-output lighting applications in which 1000W HID fixtures have been commonly used.
Occupancy- or vacancy-based controls have been somewhat problematic in outdoor settings in the past. Mainly the sensors have registered false positives based on wind-blown trees, debris, or other objects. And the sensors have been said to be especially problematic at mounting heights above 20-30 ft.
FIG. 4. Automotive sales lots are one application in which the Edge HO LED luminaire shines.
Clearly, however, the sensors are improving. Hitchcock said US Energy has used sensors at 40-ft mounting heights with success on several projects. And the Twin Creeks property owners were sufficiently pleased with the vacancy sensors that they have bought the same capability in additional outdoor projects at other plazas. In the Twin Creeks case, Hitchcock said the poles will detect autos moving within 20-30-ft of a pole, and instantly bring the lights back to full brightness.
Networks or sensors?
Still, there are other projects we have covered that suggest alternative reasons that might justify a network-based installation. Princeton University, for instance, determined that it would be best to light several poles adjacent to the one pole that detected occupancy. Of course, that Princeton project involved college residential parking where a single student and auto might have triggered the sensor late at night. The shopping plaza will generally be fully lit during business hours and fully dimmed except for the occasional worker movement during off-business hours.
Ultimately, Twin Creeks is saving an average of 455,000 kWh based on the SSL installation. Tenants and customers are happy with the light levels and dimming. Indeed, Hitchcock again mentioned the late-night roller-hockey game. He said the poles in the immediate vicinity of the hockey rink were at full brightness while the rest of the parking area was dimmed to 50%.