Focus on Luminaires: Next-Generation Luminaires Solid-State Lighting Design Competition 2015 (MAGAZINE)
At LightFair International in New York (May 3-7), the US Department of Energy (DOE), the Illuminating Engineering Society (IES), and the International Association of Lighting Designers (IALD) honored 28 commercial LED indoor and outdoor lighting products for excellence in the seventh annual Next Generation Luminaires (NGL) Solid-State Lighting (SSL) Design Competition.
Jul 21st, 2015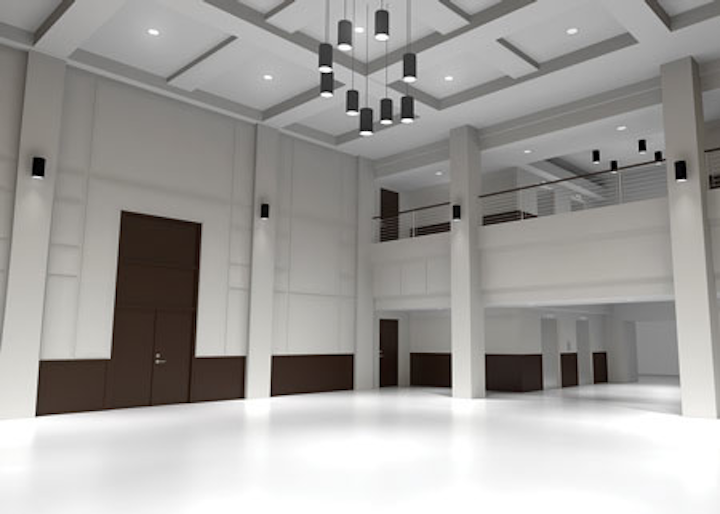 At LightFair International in New York (May 3-7), the US Department of Energy (DOE), the Illuminating Engineering Society (IES), and the International Association of Lighting Designers (IALD) honored 28 commercial LED indoor and outdoor lighting products for excellence in the seventh annual Next Generation Luminaires (NGL) Solid-State Lighting (SSL) Design Competition. As CARRIE MEADOWS notes, the 2015 NGL competitions have taken a departure from previous years to combine indoor and outdoor SSL product announcements, as well as designating 12 of the selected entries as "Outstanding" in one or more evaluation categories instead of the judges assigning "Best in Class" honors as they have done before. The winners were segmented thus: 20 total recognized indoor luminaires, nine designated as Outstanding; and eight total recognized outdoor luminaires, three designated as Outstanding.
The panel of 18 judges, who hail from the architectural lighting community, noted that glare was still a lingering problem with LED luminaires in nearly all categories of the program. Scores were based on color, illuminance, light distribution, serviceability, value, dimming control, and appearance. Judges utilized specification sheets, LM-79 test reports, lumen maintenance projections, warranty statements, and marketing materials, most of which were submitted through LED Lighting Facts.
Outstanding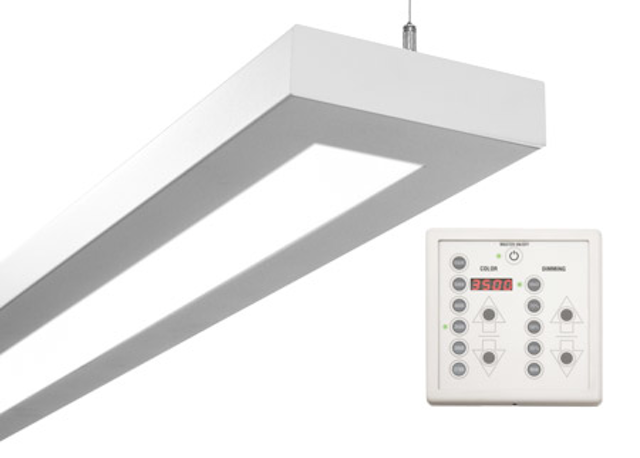 FineTune System
by Finelite, Inc.
The FineTune indoor LED luminaires, available in a range of form factors, nabbed User Interface honors with their plug-and-play DMX controls that offer intuitive options such as presets for dimming and CCT levels. The luminaires achieve dimming from 10% to 100% and color tuning from 2700K to 6500K. Tested models delivered 76 lm/W and 83 lm/W, respectively.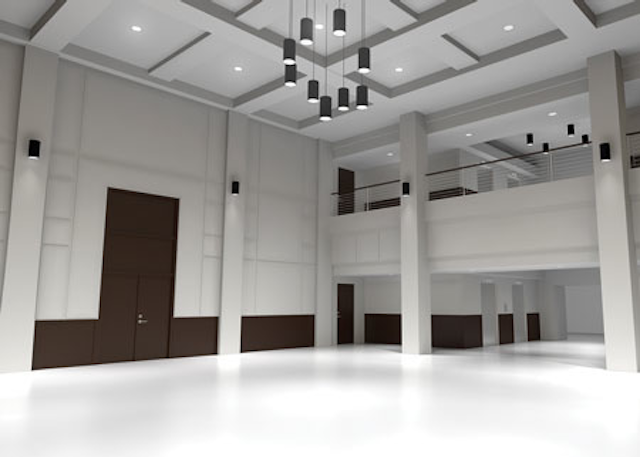 Focus On Luminaires (MAGAZINE)
Gravity Cylinder
by Intense Lighting
The decorative LED pendant luminaire was a high achiever in Efficacy with 99 lm/W from 4211-lm output and 43W input power. The indoor luminaire was praised for its dimming performance; other features include field changeable optics, drivers, reflectors, and passive thermal management.
LP Circle Pendant
by Louis Poulsen
Light distribution of the decorative LED pendant luminaire is softened by an acrylic diffuser, with a perforated cover allowing discreet illumination around the top. The ease of access and replacement of lighting components earned the 88-lm/W pendant a Serviceability distinction.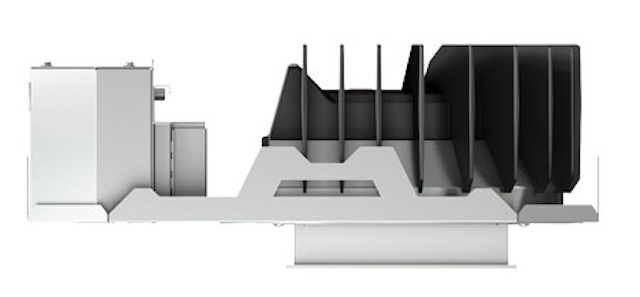 Max Output Warm Glow Dimming
by USAI Lighting
The smooth dimming and warm light output (3000K to 2200K CCT) of the color-tunable luminaire, described as incandescent-like, impressed the judges and earned it high marks in the Dimming category. The 75-lm/W fixture can serve as an incandescent replacement in applications with high ceilings including historic renovations as well as theaters, churches, and residences.

Kju decorative pendant
by Selux Corporation
Smooth dimming without flicker and simple DALI programming are features that earned the Kju its Dimming honors. Multiple mounting options and uniform light distribution were also noted. The LED light engine enables the luminaire to deliver 995 lm of 3034K-CCT light at 10W for 96-lm/W efficacy.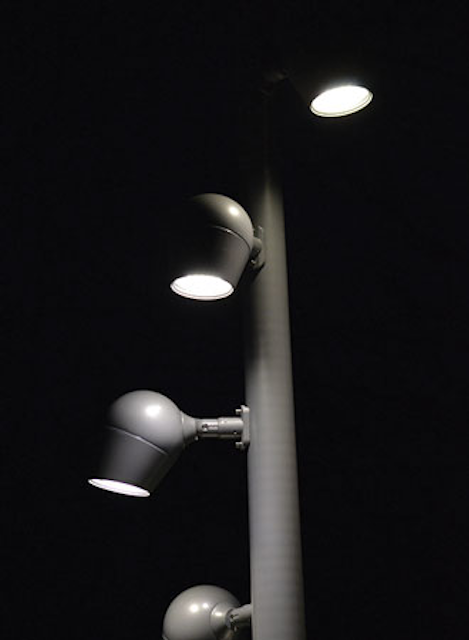 Olivio LED Sistema 2
by Selux Corporation
The panel noted the LED pole-mounted pedestrian-scale luminaire's efficacy of 69 lm/W (3888 lm, 57W) could be improved, but it soared above in the Versatility category. The outdoor luminaire can be used in both small- and large-area installations, features aimable lighting heads, and can be mounted at heights up to 39 ft.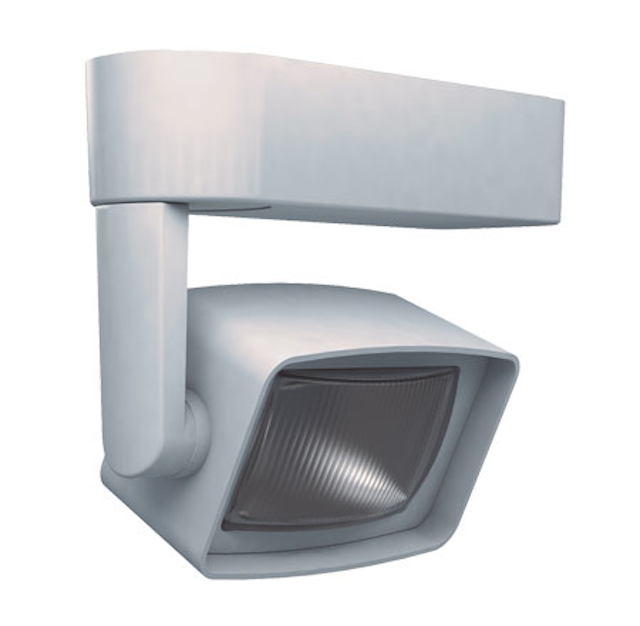 Murro LED Wall Wash
by Amerlux
The indoor wall-washer received an Outstanding designation in the Efficacy evaluation category for its 106-lm/W illumination, and judges said it delivered good dimming performance with a pleasing aesthetic to the luminaire itself. The design helps installers use fewer luminaires while producing plenty of wall light, thus reducing energy consumption.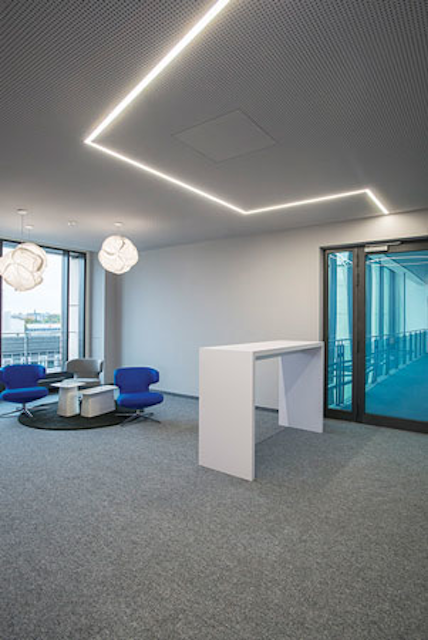 M36 LED My White color-tuning luminaire
by Selux Corporation
Digitally controllable within a CCT range of 2700K to 6500K, My White gained a Serviceability nod for indoor linear lighting applications. Its design flexibility is further enhanced with 2135-lm, 82-CRI (2806K evaluated) light output at 35W (61-lm/W efficacy).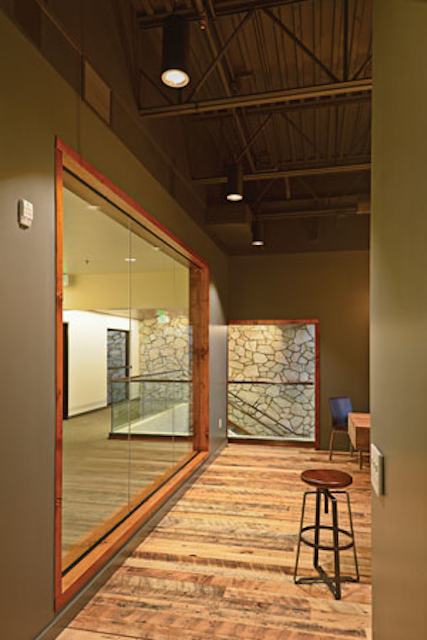 Indy L-Series LED Cylinder
by Juno Lighting Group
The indoor cylinder luminaire achieved Dimming honors, and delivers 3037K-CCT and 80-CRI illumination with 64-lm/W efficacy achieved from 1410 lm at 22W. The availability of hyperbolic or parabolic reflectors and multiple mounting options allow the luminaire to serve in open-ceiling, decorative lighting applications.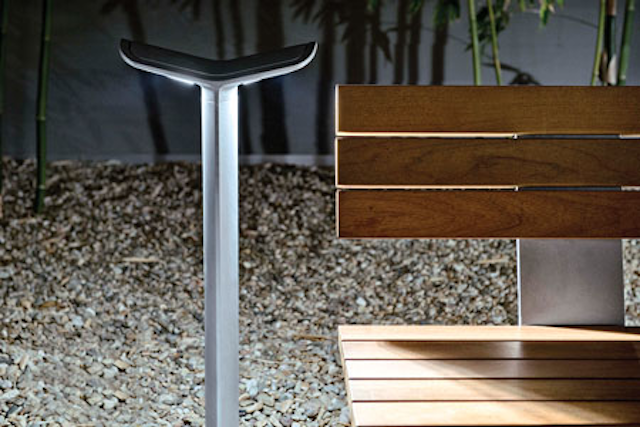 MultipliCITY LED Pathlight bollard
by Landscape Forms, Inc.
Judges praised the outdoor LED path light in the Form Factor category, citing the flexibility of light patterns and illuminance enabled through varying placement and number of LED arrays in the luminaires, which can be specified with Type 4 or Type 5 light distribution. The fixture's 3700K+, 961-lm output at nearly 16W allows it to reach 62-lm/W efficacy.
Recognized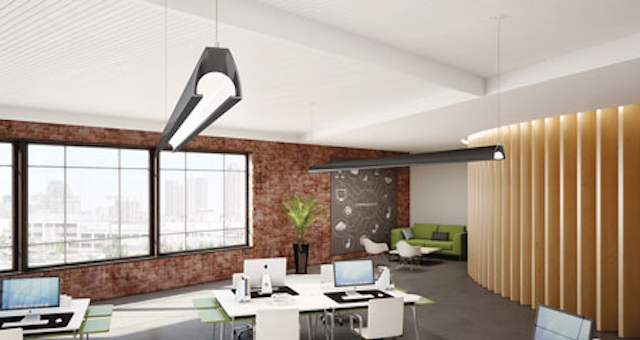 Cava Curve linear LED
by LumenWerx
Concealed and indirect linear arrays are a key feature of the indoor pendant luminaire. It is capable of producing totally direct or segmented direct/indirect light distributions, delivering 3628 lm at 31W for 115- lm/W efficacy. CCT was greater than 3000K with CRI of 83.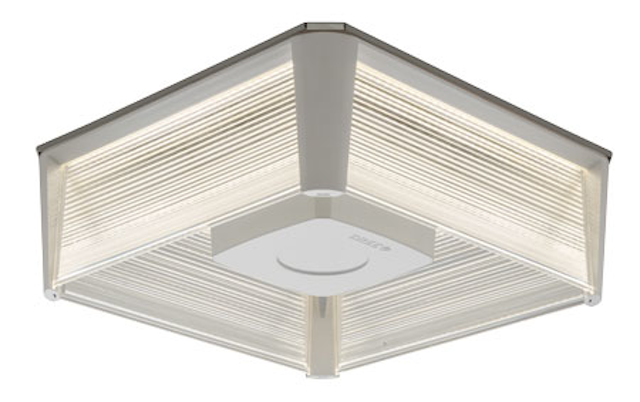 IG Series parking garage luminaires
by Cree
Cree developed the IG Series on its WaveMax platform that uses optical waveguides to produce low-glare illumination, resulting in Innovation honors. Two lumen packages are available for the outdoor luminaire; the evaluation model achieved 114-lm/W efficacy (from 4000 lm at 35W). The luminaire delivers 4000K light with CRI of 80.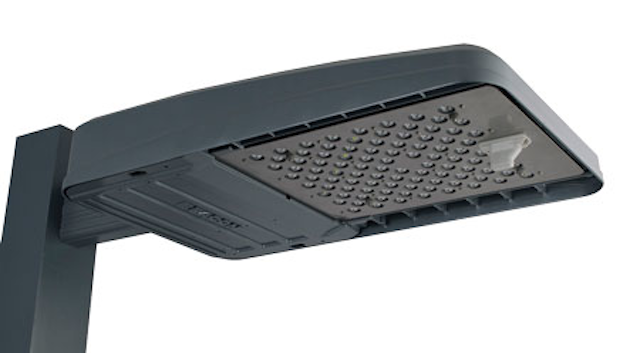 Beacon Products Viper
by Hubbell Lighting
The outdoor area/roadway luminaire features integrated Beaconnect wireless control that operates autonomously after programming. The luminaire can be operated as a mesh system or, with battery backup and a real-time clock, independently. It produces 23,428 lm at 280W for 84-lm/W efficacy.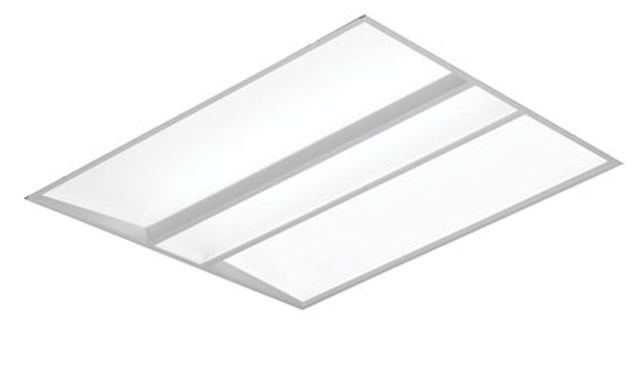 HPR-LED 2x2
by Finelite, Inc.
The drop-down door enabling access to replaceable LED components helped the indoor ceiling troffer to earn a Serviceability distinction. The luminaire offers white color tuning, center door and optics options, and light output of 3342 lm at 44W input power (76-lm/W efficacy).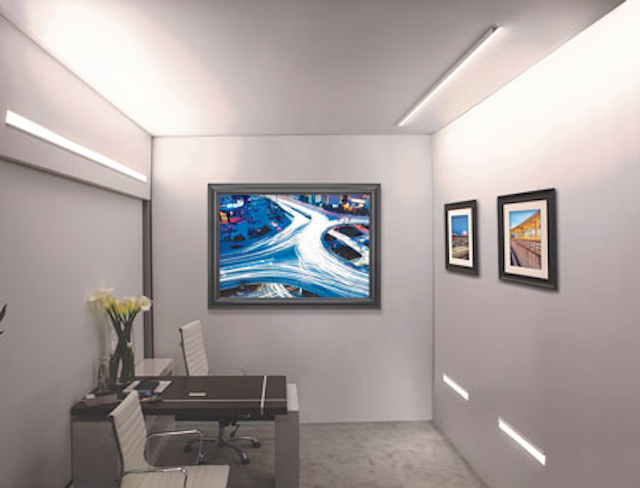 Linea 1.5 linear direct/indirect LED pendant
by Amerlux
The clean design and uplighting effect produced by the linear LED fixture was praised by the panel, which derives its 95-lm/W efficacy from 3560 lm at 37W. The Linea 1.5 can be combined with the Gruv1.5 fixture for indoor recessed and pendant applications and is available in multiple lengths. It delivers CCT around 3400K with CRI of about 82.
RoadFocus LED Cobra Head collector
by Philips Lumec
The cobrahead design of the collector-roadway-targeted luminaire has been enhanced with standalone and connected lighting controls as well as varying optical distributions. The roadway luminaire delivers 4079K-CCT, 74-CRI illumination with 115-lm/W efficacy (12,184-lm output at 106W). Judges were impressed with the glare control and combination of a smaller door and lighter weight for easier installation.
Fino Ceiling wall-washer
by Amerlux
The LED wall-washing luminaire has a shallow, ceiling-mount design for a minimalist appearance in indoor lighting applications. The luminaire's tested 1791-lm output at 24W delivers 76-lm/W efficacy. Specially designed optics deliver more than 630 lm/ft on vertical surfaces.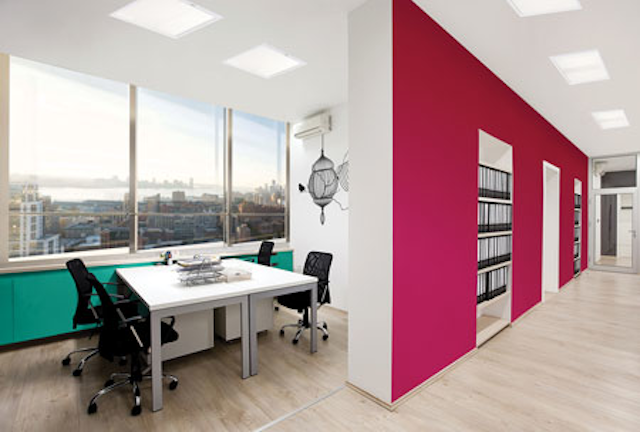 VersaForm recessed LED troffer
by Philips Ledalite
A detachable LED light engine enhances the serviceability of the 98-lm/W indoor troffer, which is available in multiple sizes, configurations, and mounting options. The evaluation unit delivered 3348K-CCT illumination with CRI of 82.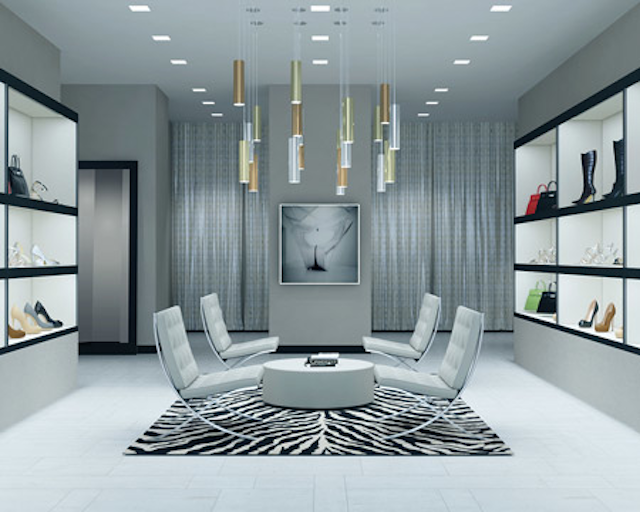 Cylinder series
by USAI Lighting
The architectural look and multiple finish options, in addition to a range of sizes and mounting options, render the LED pendant a standout for decorative indoor lighting in any ceiling type. It also features 2-step color consistency and field-replaceable components. Efficacy of 90 lm/W was achieved with 3199-lm output at about 36W.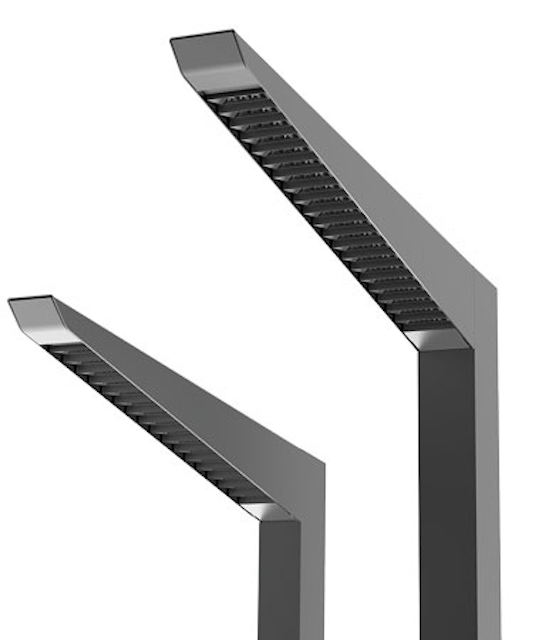 Architectural Area Lighting KicK
by Hubbell Lighting
The outdoor pole-mounted luminaire is intended for pedestrian-scale lighting with a contemporary design that also achieves full light cutoff. It received good marks for serviceability and for its optical design. The luminaire delivers 4000K CCT with 75 CRI, and outputs 5993 lm at 74W (81 lm/W).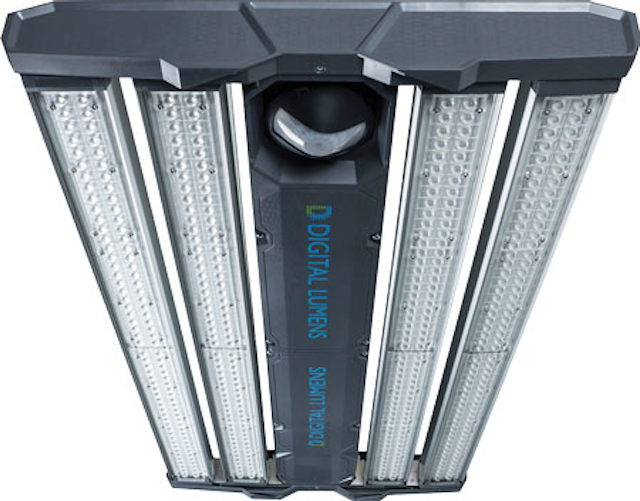 DLE-48 Intelligent LED high-bay
The industrial indoor luminaire, designed with field-adjustable light distribution, outputs 50,680 lm at 486W (104 lm/W). LightRules energy management software enables control and monitoring in applications such as lighting sports venues, warehouses and distribution centers, transportation, and others.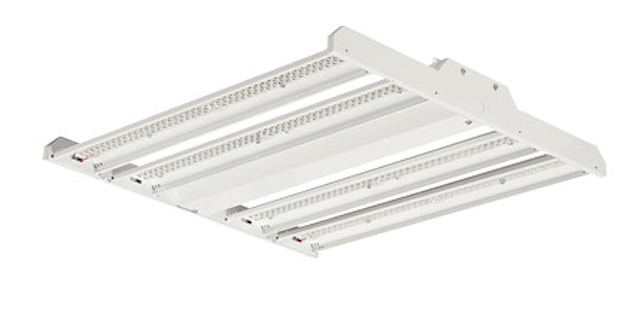 High Bay FBX
by Philips Day-Brite
Engineered for versatility in high-ceiling applications, the industrial LED high bay is available with several lumen packages and optical distributions for indoor environments. Its 22,520-lm output at 197W achieves efficacy of 114 lm/W, with illumination of 4023K CCT and 84 CRI.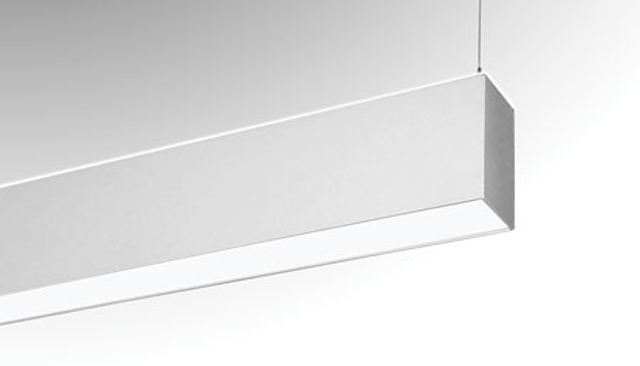 HP-2 Indirect/Direct linear pendant
by Finelite, Inc.
The pendant luminaire is suited for a range of indoor applications with its standard and high-output lumen packages as well as a range of CCTs (3000K, 3500K, and 4000K). Judges noted that the luminaire dimmed well and was a candidate for use with photosensors and daylight harvesting.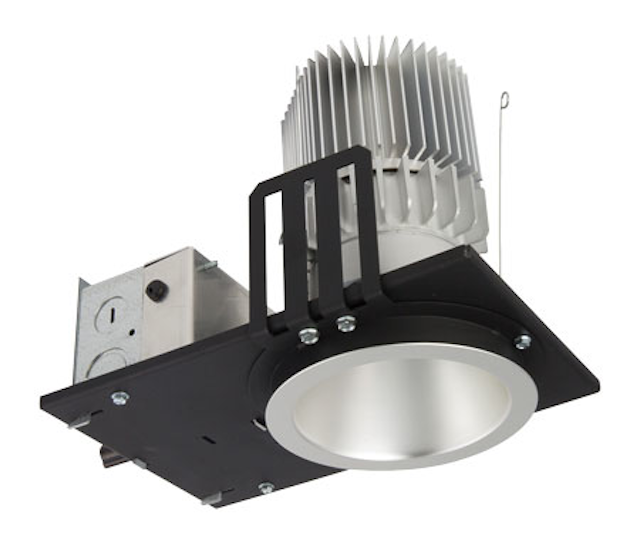 ICO 4 recessed downlight
by Gotham/Acuity Brands
The ICO 4 indoor downlight's digitally addressable driver enables smooth dimming with color consistency. The 4-in.-aperture LED fixture is capable of producing 3500K-CCT, 84-CRI illumination of up to 3000 lm. Efficacy is 67 lm/W (evaluated at 2914 lm and 43W).
gothamlighting.acuitybrands.com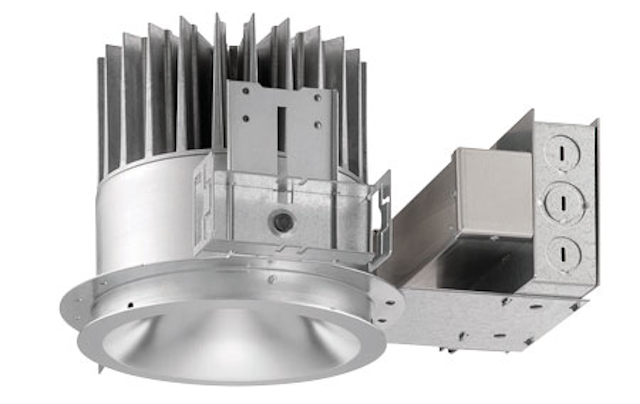 Indy L-Series LED downlight
by Juno Lighting Group
L-Series indoor downlights offer apertures from 4-8 in. and a range of lumen outputs from 800-9000 lm. The tested models achieved efficacy of about 60 lm/W from 1432 lm at nearly 24W. The panel praised the luminaire's appearance, light distribution, and glare control for indoor lighting.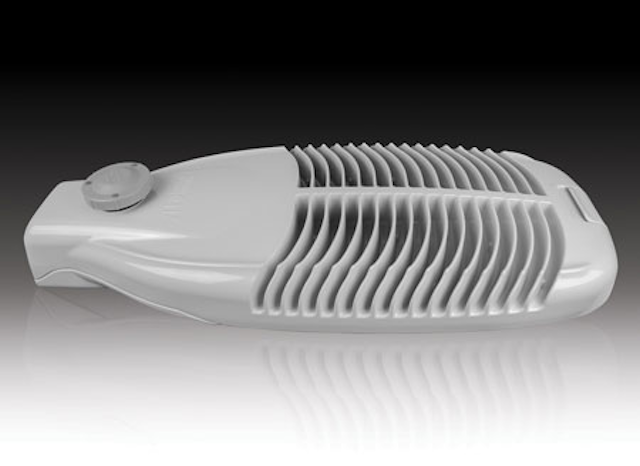 NXT-M collector
Field-serviceability options abound in the outdoor roadway luminaire, with LED engines, power supplies, and surge modules able to be replaced or upgraded without tools. It can also be upgraded in the field for optical distribution and more advanced LEDs. Output of 15,300-lm at 158W helps the roadway luminaire achieve 97-lm/W efficacy while producing light around 3000K CCT and 73 CRI.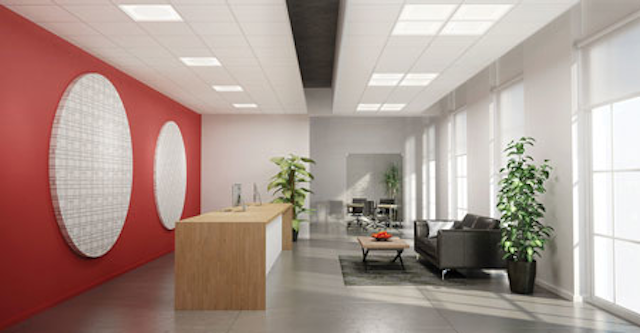 Primo recessed troffer
by LumenWerx
Primo's square-based prism design and concentric micro-optic help the troffer achieve consistent light distribution and visual comfort for indoor lighting. Its recessed design was deemed aesthetically pleasing. The model tested at 96-lm/W efficacy delivers 2068-lm output at nearly 22W.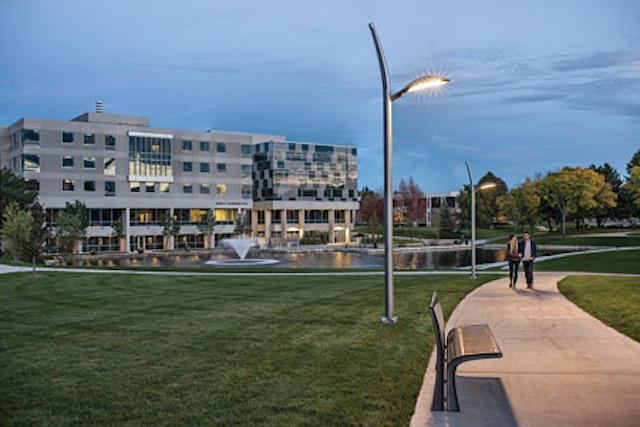 Signal pole-mounted luminaire
by Landscape Forms, Inc.
With its leaf-shaped design, the outdoor pedestrian-scale Signal luminaire has a reduced weight and improved thermal management. It leverages multiple LED circuit boards, with sealed lenses, to achieve various aiming angles with lower energy consumption. Efficacy is 78 lm/W with 3479-lm output at about 45W.