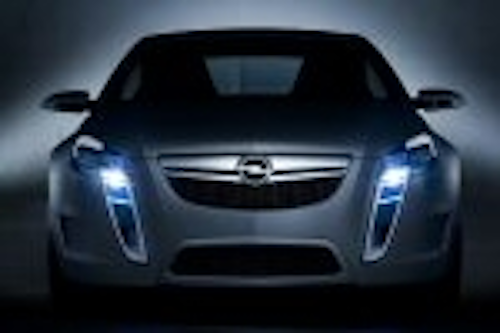 LEDs from Osram Opto Semiconductors have been used for all the exterior lighting on the Opel GTC concept car. Using thin-film LED chip technology, Osram says that its LEDs have received a huge boost in brightness, which reduces the number of devices needed for each specific lighting application.
In each headlight, two Ostar LEDs are used for the dipped beam, with three further OSTAR LEDs providing the high beam.
Parking lights and daylight running lights (DRLs) are provided by Golden Dragon LEDs, and each fog light is equipped with one Ostar LED.
For the interior lighting, red TopLEDs from Osram were featured to backlight the dashboard instruments, accen-tuating and complementing the red design accents on the steering wheel and seats of the sports coupe.
In addition, LEDs are utilized in automobiles to increase road safety. These compact light sources have a quicker response time and are brighter than incandescent lamps, factors which contribute to the safety of passengers, par-ticularly in instances when sudden braking is called for.
LEDs give car designers new freedom to give the front and rear light clusters an eye-catching make-over. The front of the Opel GTC is a good example with its large vertical air intakes and trapezoidal grille giving it a smooth yet aggressive appearance.