Tri-O-Light installs LED lighting in roundabout curbstones
A new way to light roadway features such as roundabouts reduces the number of lampposts and provides a low-maintenance solution.
Oct 12th, 2006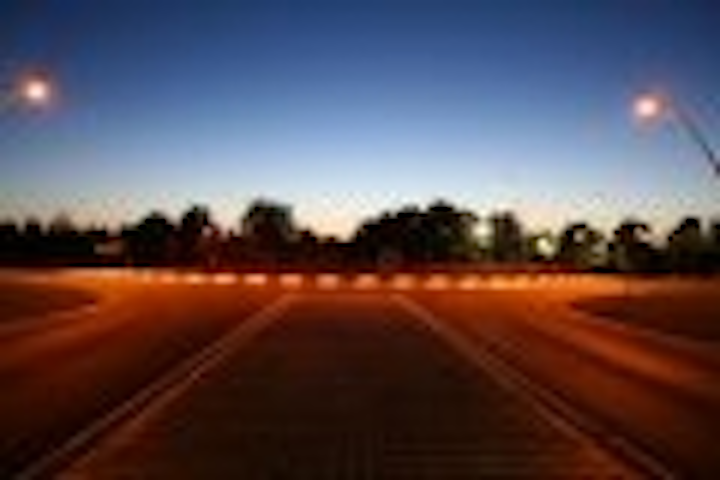 Tri-O-Light, a Netherlands-based manufacturer of LED lighting, has teamed with Noppert Beton, a producer of concrete prefab elements, to create a new product; the LED-based Curbstone.
Curbstone is an independent lighting that increases traffic safety and promotes traffic flow, and is suitable for use in roundabouts, speed ramps, tunnels, dangerous corners, and many other situations.
The first project implementation of Curbstone has taken place in the northern Netherlands province of Friesland. The products were used in roundabouts located around the municipality of Sneek.
The use of LED lighting at close to ground level arose because of discontentment with a large number (8-10) of ugly lampposts normally required around a roundabout to achieve the desired light intensity.
Calculations by Dynamicom, a lighting expert, indicated that 65 Curbstones and 4 lampposts would be required, providing an innovative and stylish solution while also saving energy and maintenance.
Each Curbstone light contains 15 amber-colored Lumileds SuperFlux LEDs, and consumes a total of 5.8 W. Operating from a 220 V AC supply, the lights are switched on at twilight each day.
The LEDs are encased in a new type of polyurethane that is very hard-wearing, shock-resistant and waterproof, as well as vandal proof. Tri-O-Light also says the material is not sensitive to aging by UV light or corrosion.
Two roundabouts have been installed, with a further two to follow. The inhabitants of Sneek believe that the roundabouts make the city more attractive, avoiding the use of traffic lights and additional lampposts and signalling clearly that the driver is entering a main road.