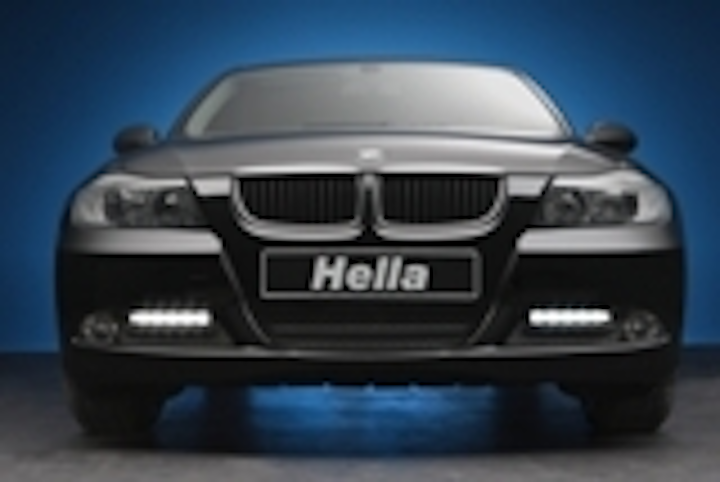 Hella has launched a new, extremely bright, economical and long-life LED daytime running light (DRL) that switches on automatically when the engine is started up. The light can also be used as a position light.
The new LEDayLine DRL is 28 mm high and 220 mm wide. The clear-glass, pattern-free lens provides a view of the one-line matrix structure with five high-sheen vapor-plated individual reflectors. Five high-power LEDs shine their light indirectly from below into these reflectors, which radiate the light forward.
In the 12 V vehicle electrical system, the light consumes only 7 W of power, which means additional consumption is negligible. Also, with a service life of around 10,000 hours, the LEDs will last as long as the vehicle.
The compact, light plastic housing has a design depth of only 90 mm and can be mounted using screw and clipping attachment. A 500 mm cable leading off to the rear with a non-detachable three-pin AMP super-sealed plug is used for connection to the vehicle's electric system.
LEDayLine has a similar design to the standard light Hella uses for original equipment, and thus it fulfils maximum professional demands. The bright white light of the high-power LEDs ensures a highly recognizable vehicle in daylight and gives it a striking front-end design that can also be retained at night. The LEDayLine is also available in a 24 V version.
According to EU Commission plans, DRLs are to be made compulsory for all newly registered vehicles starting in the summer of 2010. Driving with lights on during the day improves safety and goes easy on the environment. This was confirmed by a study undertaken by the Federal Institute for German Roadways (BASt) in August 2005. According to BASt, daytime running lights specifically developed for the purpose are the most suitable. The additional consumption of fuel (maximum 0.02 liters) caused by LED lamps is hardly measurable.