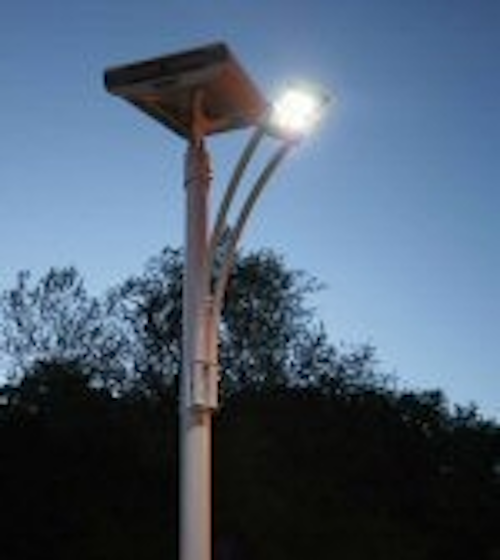 The Government of Canada is investing CAN $500,000 in an outdoor lighting project in Kelowna, British Columbia that uses solar-powered LED lighting.
The one-year project, developed by Carmanah Technologies Corporation of Victoria, BC, will install a network of 100 self-contained solar power systems to light public spaces in Kelowna, including parks, pedestrian and bike trails, accent lighting, and security and safety lighting.
The Government of Canada contributed $500,000 to the project through Natural Resources Canada, including $20,000 of in-kind support from NRCan's CANMET Energy Technology Centre.
"Our Government is pleased to support this innovative solar-powered technology project and its potential to benefit communities across Canada and around the world," said Gary Lunn, Canada's Minister of Natural Resources. "By working in partnership with industry and communities, Canada can lead the way in reducing energy costs, increasing the use of clean energy and creating a healthier environment for Canadians."
The solar-powered lights will illuminate green spaces and other public areas to help enhance convenience, security, and visual appeal throughout the city. With no trenching, cabling or permits required, each area light can be installed in minutes at a fraction of the cost of a wired light source, to provide years of trouble-free operation without the scheduled maintenance or monthly utility bills of traditional electric lights.
"We're thrilled to be a partner in this pilot project that showcases responsible energy management," said Kelowna's Mayor, Sharon Shepherd. "Sunlight is true "local" energy and doesn't have to be explored, mined, extracted, transported, combusted, imported or purchased, making it the ultimate eco-friendly source of power."
Kelowna's topography allows it to receive sunshine during much of the day and in every season. On average, Kelowna receives more than 2,000 hours of sunshine a year, making it an ideal location to demonstrate the potential of Carmanah's EverGEN lighting system.
According to Philippe Favreau, Carmanah's COO, Kelowna's community-wide deployment of solar-powered area lights reflects a global shift towards environmentally friendly lighting alternatives. "We're very pleased to be a part of this exciting solar initiative," said Favreau. "It's great to see such a commitment to renewable energy technology, both on a national level and locally, right here in our home province of British Columbia."
To ensure consistent illumination levels, each light uses Carmanah's built-in Microsource® energy management system to dynamically manage the changing relationship between light output and available energy resources.
The Government of Canada's support for this project is part of a commitment to help Canadians reduce energy costs and be energy-efficient. As part of its comprehensive ecoACTION plan, the government is investing $3.6 billion in ecoENERGY initiatives to help Canadians use energy more efficiently, boost renewable energy supplies and develop cleaner energy technologies.