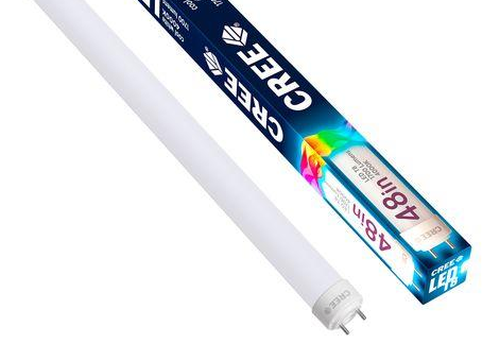 A 2700K-CCT LED T8 from Cree has hit Home Depot, while the company has released a new low-end outdoor fixture with a novel optical design for rural applications in the US.
Cree has announced the TW Series LED T8 tube product in North America with the ballast-compatible solid-state lighting (SSL) products due immediately at retailer Home Depot at just under $22. And on the outdoor front, Cree announced a luminaire designed for the many rural applications in North America including safety and security area lighting on residential property, equipment yards, and private and public roads and drives.
Residential T8 SSL
The LED T8 tube launch marks the first time that Cree has targeted the residential market with a replacement for linear fluorescent products. The company previously announced the T8 Series of ballast-compatible lamps for commercial applications in May 2014. Moreover, the company had also announced LED-based retrofit tubes meant for installation into fluorescent fixtures with sheet metal screws, with the existing ballast replaced by a dedicated driver.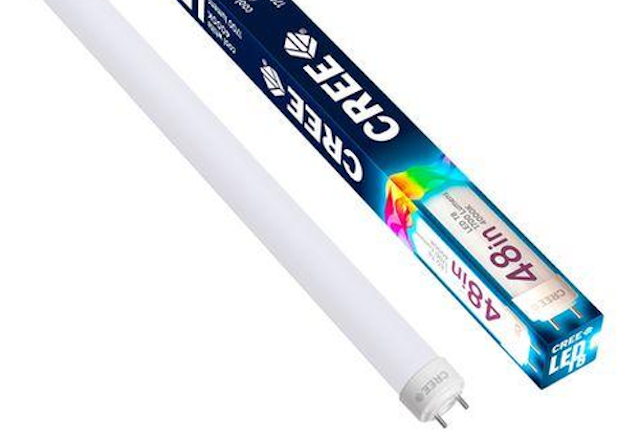 Cree announces residential-targeted LED T8 tube, new rural outdoor fixture
There are clearly different attributes for the new residential-targeted LED T8 tubes and the earlier commercial products, although Cree did little in the product models and names to make differentiation simple. The new residential products come in a warm 2700K CCT, whereas the commercial products are offered at a choice of 3500K or 4000K CCTs – cooler-light options that are widely used in office and factory installations. Cree will also offer a 4000K cool-white version of the consumer product, matching its offering in other retrofit lamps.
Both the consumer and commercial LED T8 tubes offer a CRI of 90 and carry the Cree TrueWhite brand. The new warm-white tubes produce less output at 1700 lm and consume 18.5W. From the same input, the commercial products deliver as much as 2100 lm.
Still, the biggest difference may come in the look of the products. The new tubes look identical to fluorescent tubes with the legacy cylindrical shape. The commercial products have a slightly oblong or elliptical cross-section and were designed to deliver some indirect lighting in certain types of commercial fixtures.
"Consumers can once again continue to look to Cree to achieve the best lighting experience backed by unmatched price and performance for the seamless transition to energy-saving LED technology," said Betty Noonan, Cree chief marketing officer. "With the new TW Series LED T8 tube replacement, we're not only eliminating the need for outdated fluorescent technology in homes – we're delivering a fundamentally better light with an affordable, uncompromising LED T8 tube."
Rural outdoor fixture
Meanwhile, Cree also just announced a rural-targeted outdoor fixture — the LED Rural Utility Light (RUL) Series. Many of the applications for the new RUL fixtures will be on residential property as across North America utilities have long supplied residential customers with pole-mounted outdoor fixtures for safety and security.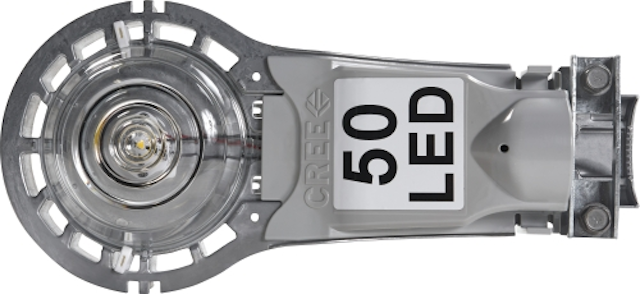 Typically, such rural luminaires are based on high-pressure-sodium (HPS) or mercury-vapor technology with power consumption in the 175W range. The 50W RUL fixture will deliver substantial savings. Cree has not released pricing but has said that payback will be less than one year based on 12 hours of usage per day and electrical cost of $0.11/kWh. Of course, many residential customers for such lighting are accustomed to simply paying the utility a fixed monthly fee for the light that the utility owns.
"The RUL Series exemplifies Cree's commitment to relentless innovation, resulting in another uncompromising LED luminaire that challenges long-established assumptions for what's possible in lighting, while lowering the cost of ownership," said Norbert Hiller, Cree executive vice president of lighting. "By providing unmatched performance and price, the RUL Series improves the value of LED lighting for our customers and enables municipalities and utilities to take advantage of Cree's best-in-class solutions for all of their outdoor lighting needs."
The new design certainly represents a departure for Cree in terms of outdoor luminaire architecture. The company has transitioned from using more and smaller LEDs to fewer larger LEDs in its area and roadway lighting such as in the OSQ family.

The new RUL Series, however, appears to use a single light source along with a large secondary optic with reflective properties. At press time, Cree had not confirmed the type of LED used. It could be a chip-on-board (COB) LED, although the source appears triangular in shape. That appearance, however, could be a distortion by the optic of a circular COB.
In any case, the design marks the first time that Cree has used a single large light-emitting-surface (LES) source in an outdoor luminaire. The company would presumably make that move to reduce the cost in terms of bill of materials (BOM) and manufacturing.
The tradeoff to using such as large source would be inferior beam control. The fixture would not be able to deliver all of the beam patterns required in a roadway luminaire. But a rural-targeted product would not need to support as many patterns. The RUL Series spec sheet indicates that it is available in Type II medium and Type V medium distributions.