COMPANY PROFILE: Alpha-One Electronics Ltd.
Alpha-One Electronics Ltd. offers the closest service to supply the most suitable light source LED in various fields.
Jun 1st, 2009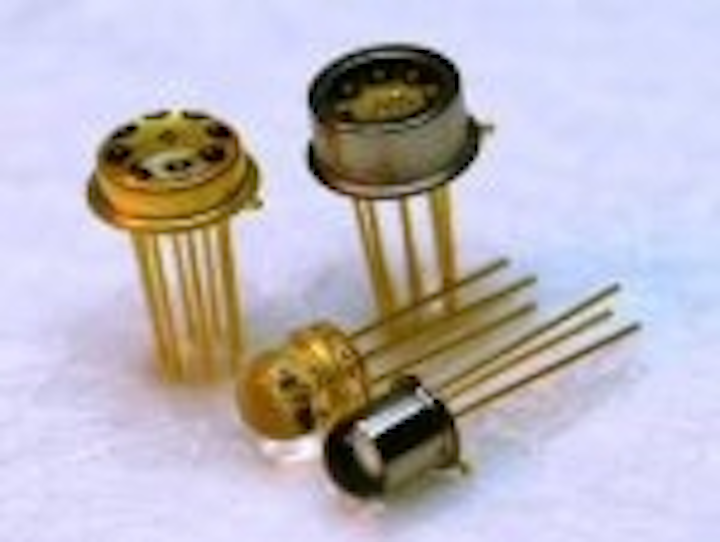 Alpha-One offers the LED with wide-range of unique wavelength from visible to infrared (405nm, 430nm, 470nm, 525nm, 550nm, 570nm, 625nm, 660nm, 680nm, 700nm, 730m, 760nm, 780nm, 800nm, 810nm, 830nm, 850nm, 870nm, 940nm, and more, including 805nm which is equivalent to the peak of laser diode.
Due to its high reliability and excellent performance, their LEDs are widely used not only for illumination purpose, but also for light source in different tasks including:
• Security IR cameras
• Individual identification system
• Image detection
• Medical analyzer
• Blood detector
• Optical transmission
For personal identification:
Security is a must in our society, and various kinds of security system has been developed by utilizing the personal identification by means of finger print, venous pattern, body fluid, iris, etc. In order to detect such components, LED with special wavelength is crucial for the light source in the system. Selecting and sorting service according to the specific output power and the peak-wavelength are acceptable.
For medical analyzer:

The LED with specific peak-wavelength is important to analyze the blood and body fluid components. In recent years, such LED has lately attracted considerable attention to analyze the brain, too. To combine LED with several kinds of peak-wavelength, Multi-chip LED in one package is also available according to the specific customer's requirements.
For CCD Cameras:
Our high intensity infrared LED can be optimum light source for CCD cameras installed in traffic and security system. The reflective Mirror type LED is especially endorsed (for the details, see below).
The visible light detector IC (AC-series) is suitable to control dawn/dusk condition around IR illuminator. The AC-451 is a visible light sensor IC, being RoHS compliant and complete CdS replaceable (same through-hole shape, electricity and optically). It has a unique feature with integrated optical filter for high IR rejection and an excellent linearity from 0lux to 6000lux. The output current can be converted to a voltage by connecting it in series with a resistor. The internal dark current cancellation enables high accuracy over full temperature range, even at low light levels. By using AC-451 in combination with our high radiant intensity LED, the perfect CCD camera system can be realized. The low cost high output version named AC-455 is also available.
Reflective Mirror Type LED
In order to realize the greater performance of LED radiation efficiency, Alpha-One successfully developed a unique LED with reflective mirror inside by using special packaging technology. Infrared LED was originally designed for the light source for CCD cameras and data transmission system. The visible LED is suitable for projector, scanner, and image detector due to its high brightness. The excellent performance of reflective mirror type LED is mentioned below:
Standard Package
Visible LED (IF=20mA)
625nm: 25000mcd
525nm: 60000mcd
470nm: 20000mcd
Infrared LED (IF=50mA)
850nm: 220mW/sr
870nm: 230mW/sr
940nm: 160mW/sr
Large Package
Visible LED (IF=20mA)
625nm: 30000mcd
525nm: 90000mcd
470nm: 35000mcd
Infrared LED (IF=50mA)
850nm: 700mW/sr
870nm: 700mW/sr
950nm: 650mW/sr
High Power type
Visible LED (IF=350mA)
625nm: 100cd
525nm: 220cd
470nm: 140cd

Infrared LED (IF=350mA)
850nm: 1.4W/sr
870nm: 1.0W/sr
In order to make them more convenient for light source in different application such as medical analyzer, blood detector and so forth, Alpha-One can supply LED with various peak-wavelength in addition to the normal RBG and infrared like 505nm, 580nm, 660nm, 680nm, 700nm, 730nm, 760nm, 780nm, 810m, 830nm and more. PCB Assembly service is also available.
IR Spotlight LED Unit with High Power reflective mirror type LED
Infrared Spot Light LED unit has an excellent beam light (±4°) with extremely high radiant intensity. Combining the high power mirror type LED and the Fresnel lens, a long-distance irradiation can be realized.
| λp=850nm | λp=940nm |
| --- | --- |
| IF=650mA: 16W/sr | IF=650mA: 10W/sr |
| IFP=8A: 160W/sr | IFP=14.4A: 20W/sr |
Super high power Infrared LED: AIR-series
It was developed for the application for a long-distance irradiation by utilizing the original and unique optical technology of lens and the heat radiation. The extremely strong and well controlled beam light (±3.5°) can be obtained.
Peak-wavelength
Radiant Intensity
IF=100mA
IF=650mA
850nm
1W/sr
6.5W/sr
850nm
1W/sr
6.5W/sr
940nm
0.8W/sr
5.2W/sr
White Color LED Module for Backlight of Billboard
As a cost-effective solutions as a replacement of fluorescent lamps, Alpha-One offers White Color LED module with original optical design. Features include:
• Long life-time: more than 60,000hrs.
• Compact and Thin signboard can be designed. (Ideal thickness: 50~60mm)
• Energy-saving and low power dissipation (DC5V, 0.5W/pc)
• Perfect emission without uneven light