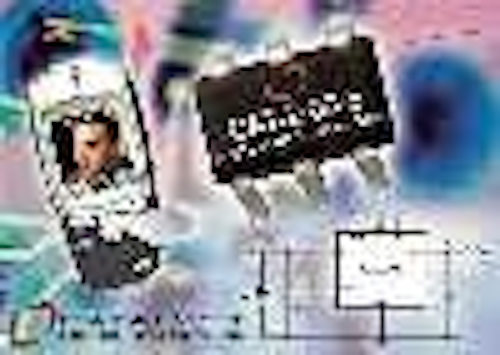 Catalyst Semiconductor has expanded its mixed-signal IC product family with the introduction of the CAT3200-5 and CAT3200 boost power converters. These regulated output charge pumps are designed for very low noise operation implementing a constant switching frequency of 2 MHz that allows the use of small 1-microfarad ceramic capacitors.
The devices are designed to continuously monitor and control the inrush current during power-up, and are ideal for battery-powered applications. A shutdown feature disconnects the load from V
IN
and reduces quiescent current to well under 1 microampere. The devices can survive a continuous short-circuit from V
OUT
to GND.
The CAT3200-5 is a fixed 5V regulated output charge pump power converter, available in a thin SOT23 package. It is a general purpose device for handheld applications that require a regulated, or boosted, voltage higher than the supply voltage. It is designed to address cost critical applications found in wireless and other small handheld devices. Operating from input voltage down to 2.7V, it is well suited for lithium-ion battery powered devices that require a 5V fixed bias for an ASIC, as well as USB peripherals. It provides a solution to drive LEDs in parallel, using ballast resistors to set the current, in LCD backlighting and color indicator applications.
An adjustable output version, the CAT3200, available in an 8-pin MSOP package, is also a general purpose power converter well suited for driving LEDs in parallel, using an external resistor on the feedback pin to set the LED current.
"With the increasing demand for small, low power consumption portable devices, the need for tighter control of the peak battery current is becoming more critical. The CAT3200 provides a 'soft-start' where the charge pump controls in-rush current to an acceptable level, while providing a fully-regulated output voltage that uses a 2MHz charge pump that drives loads up to 100mA," said Barr Karagozlu, Product Marketing Manager.
CAT3200/CAT3200-5 applications

USB Peripherals
Handheld and Battery-Powered Devices
White LED Backlighting
Product Features

Low Noise Operation with 2MHz Constant Switching Frequency
Output Current: 100mA
Fixed 5V Output (CAT3200-5) or Adjustable Output (CAT3200)
VIN Range: 2.7V to 4.5V
Automatic Soft-Start Reduces Inrush Current
Requires Only Small Value Ceramic Capacitors (1 microfarad)
Zero Current in Shutdown Mode
Short Circuit Protection
Under Voltage Lockout
Price and green package availability
The CAT3200-5 is available in a thin, 1mm maximum height, 6-lead SOT23 package; price in 3,000 piece quantities is $0.85. The CAT3200 is available in a space-saving, 8-lead MSOP package; price in 3,000 piece quantities is $0.94. Samples are available now; production quantities are expected to be available in Q3 2004. All packages are available in environment friendly "green" packages that are halogen and lead free.