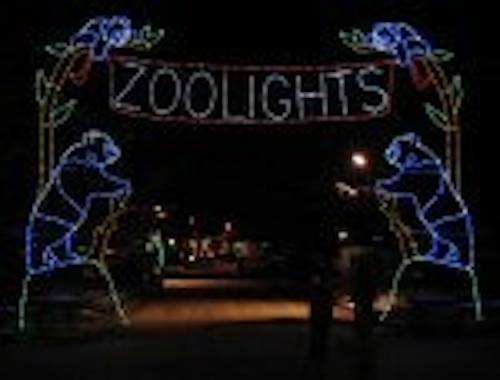 Many holiday lighting systems have switched to LED light sources this year to reduce energy consumption. Going one step further, some installations are using off-grid power sources.
Fuel cell power Zoolights
Carpenter Decorating
is lighting up the Smithsonian National Zoological Park in Washington DC this year with thousands of low-voltage LED lamps. For the
Zoolights
show, Mosca Design decorated the park with Carpenter Decorating displays, 12VDC C-7 E12 screw-base LED lamps and animation systems.
One very interesting aspect of this installation - and almost certainly a first for LED lighting - is that the entry gate is an autonomous, off-grid installation powered by an experimental 12 VDC hydrogen fuel-cell system from Pepco.
A spokesperson for Carpenter Decorating said, "I find it wonderful that the Zoo is aggressively showing support for sustainable energy systems and alternative lighting technologies. We are continually amazed at how rapidly our low voltage LED lighting and animation systems are being adopted in our corner of the lighting industry. We have around 1.5 million LED lamps in the field now."
LED vineyards
A similar green approach has been employed by two vineyards in Temecula, California, this time using solar power to provide LED lighting for the Temeculights Holiday Festival. The organizers, the Green Lights Project, are seeking to educate visitors about California's solar energy incentives, rebates and renewable energy credits. LED lighting has been provided by Four Seasons Lighting, Inc.
Borrego Solar Systems, Inc., a local solar integrator, has used 40 PV panels from Schott Solar, a German photovoltaic manufacturer, to install an LED lighting system at South Coast Winery Resort & Spa. The 1,000 sq.ft. solar-power station will be generating up to 10kW an hour during daylight hours throughout the event. This energy generation will actually be turning the resort's electric meter backwards during the day, offsetting the power usage needed to power over 12 miles of LED light strings every evening from dusk until 9 pm beginning December 6, 2007 through the first week of January 2008.
At Keyways Vineyard and Winery, LED lighting throughout over 2 acres of vineyards will be powered by a Mobile Solar Power Station that has been provided by Akeena Solar for the purpose of public education and the promotion of solar photovoltaic power.
Off-grid trees
Sticking with solar power, UK lighting manufacturer
Brillianz
has used LEDs to build an off-grid Christmas tree. In partnership with Plantscape - providers of urban decorative planters – Brillianz has developed an LED decorative lighting set powered by a small solar panel and battery. The systems complete with artificial tree and base, will grace the lampposts of towns across the UK.
The concept of the "wireless Christmas tree" was conceived by Mark Stone, the MD of Plantscape—as a winter enhancement to the company's summer trade in decorative urban planters and street furniture. Plantscape came to Brillianz to develop a solution allowing them to provide a decorative lit tree which would operate throughout the festive season with no external power connection.
The units consist of two "half trees" that are attached around a lamp-post. The 60 LED lights use only one tenth of the electricity that conventional bulbs would consume, and are powered by a small solar panel sitting on top of the tree like a star.
The BBC reported that the town of Porthcawl in Wales expects that its 88 solar-powered trees could save the community £10,000.