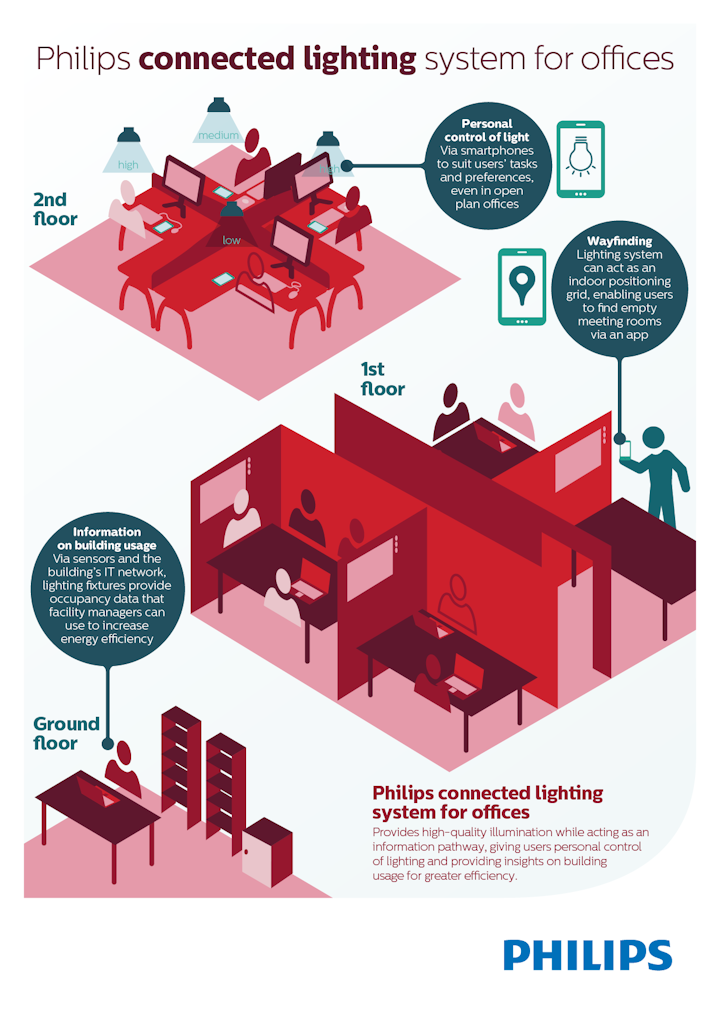 In a Light+Building (L+B) press conference, Philips Lighting CEO Eric Rondolat announced that the company is deploying a Power-over-Ethernet (PoE)-based connected lighting system in a new Amsterdam office building in partnership with financial-consulting firm Deloitte and OVG Real Estate. The system is intended to deliver maximum energy savings through adaptive-control technology and deliver further savings by gathering data and tracking how employees use the space. Meanwhile, the workers in the new building will be able to control their lighting via smartphones and set light levels for maximum comfort and productivity.

The new Philips solid-state lighting (SSL) system, that in reality uses products that have not been formally announced, will attack energy savings from multiple angles. The savings opportunity starts with efficient LEDs, and includes typical dimming or on-off control based on occupancy and ambient natural light. The PoE power distribution scheme delivers DC power to the fixtures and that can save energy by eliminating power conversion stages in the building. And the ability to track user patterns can provide savings and optimum use of the space.
The concept of DC power distribution is one we have covered previously and that holds promise in both increasing efficiency and reducing construction costs. Because the power is carried over low-voltage wiring, an electrician is not required to install the system. Moreover, the Cat-5 cable is far less expensive than the typical AC power wiring and conduit used in commercial spaces.
When we coved the potential of using PoE technology for SSL previously, some questioned whether the Ethernet switches from the IT sector would offer the iron-clad reliability to make sure the lights come on. PoE-capable switches represent a small percentage of the Ethernet equipment being installed in IT data centers, and PoE port prices have not dropped near the levels of standard Ethernet. Clearly, however, Philips believes that the technology is suitable for use beyond the laboratory. Moreover, the inherent Ethernet support allows for two-way communications with each fixture.

Controls and usage data
Philips had Deloitte chief information officer Erik Ubels discuss plans for the new office building that is called "The Edge." He acknowledged that most modern offices include support for occupancy and ambient light sensing, but stressed that the new system will provide far more value. "By adding multiple sensors to the fixtures we are now able to drive our cooling, heating, and airflow in the building, adding even more energy savings, making our building the most sustainable office in the world," said Ubels.
LED-based lighting can in general reduce HVAC costs because the light sources don't generate heat. But the connected lighting can feed back occupancy data to building-management systems to allow for optimal control of HVAC. Jeff Cassis of Philips Lighting said, "The potential savings on a building's operational costs will be significant, given that heating, cooling, and lighting together account for 70% of a building's energy usage."
"With all of the data coming from sensors we are going to learn so much more today about how our people are using the building," said Ubels. He said the company will track when and where employees are present in spaces, noting that in today's world there is no traditional 9:00 AM to 5:00 PM use of office space. He added, "Our offices are becoming a social at work [environment]."
The data mining will both allow better control of energy usage and of office utilization. Indeed, the company could ultimately determine more precisely how much floor-space the operation requires and perhaps free space for other uses. Ubels said, "We get tremendous insight of how the building is being used."
The potential for savings based on the data even leads to unexpected areas. For instance, Ubels said that night-time contracted crews generally clean every area in an office with the same level of service. But he said that data would allow the company to instruct crews to not clean areas that were unused or sparsely used on a given day, thereby saving on fees.
Employee productivity
Meanwhile, the goal also includes a better work environment for the employees and better productivity. And that can be achieved with lower ambient light levels and less energy usage. "The LED lighting alone is 80% more efficient than conventional lighting," said Philips' Cassis. "Personal control of the lighting by employees actually increases efficiency as general lighting levels can be kept lower." Indeed, the smartphone control will allow employees to set levels granularly in their task area.
The implementation will utilize another new technology that Philips had debuted recently to provide GPS-like location services inside a building. The lights can be modulated in a way that is invisible yet that can be detected by mobile-phone cameras to transmit location data.
Philips will ultimately supply apps that further increase the utility of the networked system. The apps can use the location-services to connect with the lighting in the immediate area. Potential uses include finding an available conference room. And the apps could even be used to enable room-level temperature adjustments with the lighting system connected to building-management systems.