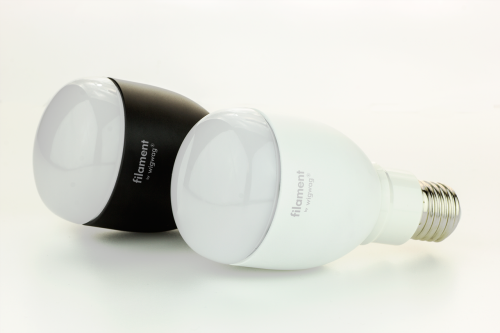 Controllable lamp is based on the 6LoWPAN wireless platform and WigWag supplies a bridge called the WigWag Relay that can also support LED lamps based on other wireless standards such as ZigBee.
Yet another smart-home focused startup has introduced a tunable wireless-enabled LED lamp with WigWag launching the Filament lamp and WigWag Relay wireless bridge that links the lamps to PCs, tablets, and smartphones. Company co-founder and CEO Ed Hemphill said the product targets everyday consumers who find detailed lighting specs confusing and who just want an affordable product that can deliver dramatic lighting effects.
WigWag announces color- and white-point-tunable LED lamp
The Filament product family will presumably ship in the coming months with Hemphill simply promising fall delivery. But it's not clear that the lamp design is finalized, how well WigWag understands the lighting market, or that Filament will be more affordable than other products on the market. The company said the lamps will sell for as low as $25 each with starter sets that include the Relay and a choice of four, eight, or 12 lamps selling for $200, $300, and $400, respectively.
The lamp design supports white-light output over the range of 3000K–6000K CCT, and full color tunability. But the implementation will never match the bill-of-materials (BOM) cost of products such as Philips Hue even if WigWag is able to lower selling prices by taking a smaller margin.
The Hue design does an outstanding job of mixing light from three different sets of color LEDs — red, lime green, and blue. Indeed, the company has said that the lime-green LED was instrumental in the lamp delivering high-CRI white light. The ability to get good color and white performance from the mix equates to optimized utilization of the LEDs that comprise the BOM.
In contrast, WigWag is using two sets of white LEDs at 3000K and 6000K to deliver the white light. And additional sets of red, green, and blue (RGB) LEDs deliver tunable colors. At any given point in time, many of the LEDs in the lamp will be powered off. That fact will not impact energy usage necessarily but will result in an over-priced BOM.
The inexperience of WigWag in the lighting industry was further evident when Hemphill discussed photometric performance. The company has not provided a CRI specification, and indeed Hemphill questioned whether the company's target customer base cared about such specs. The company has said the lamp will deliver 800 lm in white mode, essentially offering 60W incandescent equivalence. As you can see in the nearby photo, the lamp design will not deliver omni-directional light. The LEDs and optics are clearly directional. Hemphill said he expects the lamps to be used extensively in downlight cans.
Controls implementation
Where WigWag's technical expertise stands out is in the controls and networking area. The company is clearly experienced in working with microcontrollers (MCUs) and network stacks, and making various home products work together.
WigWag chose to base the Filament design and the core capabilities of Relay on the 6LoWPAN (IPv6 over Low power Wireless Personal Area Network) standard. For more information on networks, see our feature on networks and controls.

Hemphill said 6LoWPAN offers several advantages over other wireless technologies such as ZigBee. The 6LowPAN stack is inherently IP (Internet Protocol) based, making it compatible with the emerging Internet of Things. Moreover, the stack is a fully open standard with open-source software implementations widely available. WigWag is using an open-source operating system called Contiki in the lamp that includes 6LowPAN support. Relay uses the open-source Linux operating system. Finally, Hemphill said the code footprint for 6LoWPAN is far smaller, equating to lower memory requirements in the lamp and Relay bridge.
Still, WigWag is committed to supporting other network technologies. The Relay product has two USB ports where adapters can be connected for networks such as ZigBee, Z-Wave, and Bluetooth. Hemphill said the company intends to support products including Belkin WeMo devices, Sonos, Nest, Philips Hue, LIFX, and Insteon. And Belkin WeMo support means Osram Sylvania is covered as well with the recent alliance between those companies.

"We wanted all things WigWag to work with all other smart solutions on the market — even those that are not out yet — so consumers would never be limited in what they could do," said Hemphill. "WigWag opens the Internet of Things for consumers, developers, and hobbyists to grow their collection of smart devices and optimize their home or office with all things working together. If a user says 'all lights off,' all the lights, regardless of brand or protocol, simply go off. That's the experience we wanted to provide."
Early on adding ZigBee support will cost in the $50 range. But Hemphill said the company could add Relay products with integrated support for ZigBee or other networks based on consumer demand.