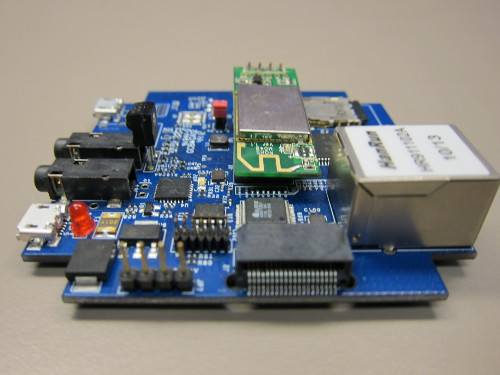 Greenvity Communications has announced a family of control modules for intelligent LED-based lighting systems with support for HomePlug powerline communications and ZigBee wireless networks. Solid-state lighting (SSL) product developers can use the modules to quickly prototype LED-based systems, and to handle early-stage production. Moreover, developers can use the modules as reference designs for high-volume systems that directly integrate Greenvity's microcontroller-based ICs.
The new modules include the GV-Controller, GV-LED, and GV-Sensor products. A GV-Controller serves as the foundation of a smart lighting system and includes Ethernet, Wi-Fi, and Bluetooth support that is bridged to the ZigBee or HomePlug networks. The GV-Controller allows PCs, smartphones, or tablets access to the GV-LED modules that are typically integrated with an LED driver to support on/off control, dimming, and in some cases tunable color. The GV-Sensor is designed to be integrated into a luminaire or into dedicated room sensors and can be used to monitor motion, light levels, and temperature.
All three of the new Greenvity modules are based on the company's Hybrii SOC (system on chip) ICs. Customers can specify the modules with either the GV7011 or GV7013 ICs. Both include an 8-bit Arm9 microcontroller. The former includes support for Ethernet, Wi-Fi, ZigBee, HomePlug, and other networks. The lower-cost GV7013 only includes HomePlug powerline communications support.
HomePlug is a home-networking standard promulgated by the HomePlug Powerline Alliance. The standard allows for data to be transmitted over exiting home AC wiring. The target applications range from networking home PCs to smart-grid and –energy applications.
ZigBee, meanwhile, is becoming a near de facto standard as the wireless network for residential smart lighting systems. For example, the Connected Lighting Alliance has endorsed the use of the ZigBee Light Link standard for home lighting networks.
A number of IC companies are targeting the ZigBee-based lighting segment. For example, Texas Instruments (TI) recently announced a development kit for ZigBee-based lighting including a software stack based on the ZigBee Light Link standard.
The Greenvity module family is targeted at the evolving technology often called the Internet of things in which everyday devices such as appliances are connected and remotely accessible. The company provides customers with basic lighting control and home automation software for free including apps for mobile devices. The customers can add a software layer to customize functionality for the task at hand.