Data center taps Power over Ethernet lighting for extra big energy savings (UPDATED)
mindSHIFT Technologies says the intelligence in the Cisco/Cree PoE system will cut electricity consumption far more than ordinary LEDs would.
May 18th, 2016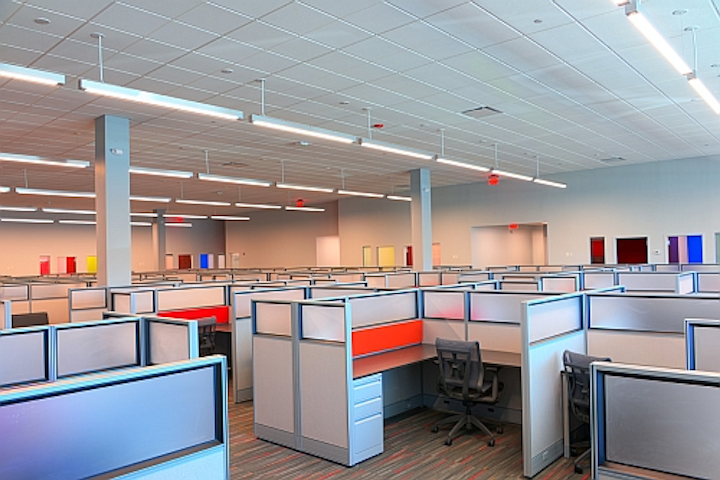 mindSHIFT Technologies says the intelligence in the Cisco/Cree PoE system will cut electricity consumption far more than ordinary LEDs would.
A Long Island data center has installed Power over Ethernet LED lighting at a new 40,000-ft2 facility, where it hopes the technology leads to 70% less energy consumption than "conventional" low-energy LED lighting would.
Interested in more articles & announcements on Power over Ethernet?
mindSHIFT Technologies is running both electricity and operating instructions via Ethernet cable to 452 new Cree LED light fixtures at the building in Commack, NY.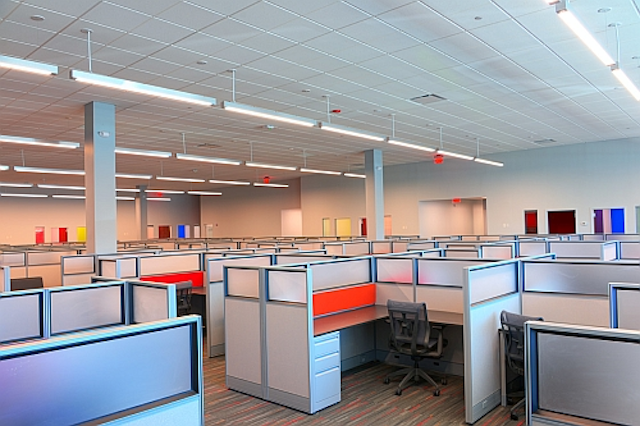 Data center taps Power over Ethernet lighting for extra big energy savings
The $160,000 implementation is part of Cree's new Power over Ethernet (PoE) partnership with Ethernet networking giant Cisco, and included systems integration work by Bay Shore, NY-based A+ Technology and Security Solutions.
"We were looking for a lighting system with IT integration that would help us meet aggressive energy savings goals while enabling us to take advantage of additional intelligence benefits, such as control, data collection, and analytics, well into the future," said Tim March, mindSHIFT vice president, data center operations.
PoE lighting vendors say the technology saves a lot of money in new construction costs because it eliminates the need for conventional electrical wiring and electricians. Because low-energy LED lighting is low voltage, Ethernet cable can handle the power.
The Ethernet system, including cable and boxes known as switches, provides the added benefit of routing instructions and other data to and from the troffers.
mindSHIFT is using the PoE to control lighting levels in server rooms and offices, and to collect data on lighting usage. The controls and the data include on/off, brightness, color, and color temperature.
The intelligent, networked system will provide a lot more energy savings compared with non-PoE LED lighting because it will give mindSHIFT much greater awareness over how much lighting it is using and how much it needs to use. It will also allow more granular control of lighting across different sections of the building. For example, the system includes occupancy detection that turns lights off in an empty room, and can dim task lighting when lower light levels suffice.
In addition, "An energy savings dashboard allows you to visualize energy savings deployment-wide or in specific areas to uncover additional ways to save," mindSHIFT director of marketing Richard Young told LEDs Magazine. "Operators can also configure the application to collect historic energy savings data then export that data for further trend analysis, measurement, and verification."
PoE lighting can also be used in combination with luminaire-embedded sensors to note things such as occupancy and climate, and can thus help control heating and cooling and other building operations in addition to lighting. Occupancy information, for example, can help facilities manager decide how to re-assign room and floor use and layouts.
Some early PoE lighting adopters have described difficulty with setup, since tying lighting into existing networks can be tricky, as can distinguishing the control of one lighting area versus another.
mindSHIFT's Young said the Cree system, which consists of the Cree SmartCast PoE and SmartCast Manager Application, simplifies the process.
mindSHIFT is a Sterling, VA-based provider of data outsourcing and cloud computing services. It is a subsidiary of Tokyo-based document management company Ricoh Group.
Cree joined Cisco's digital ceiling initiative in February, when it announced a PoE installation with Mobile County Public Schools in Alabama.
Cisco's digital ceiling program includes 15 lighting companies, with Cree, Philips, Molex, NuLEDs, Innovative Lighting, Platformatics, Eaton, and others among them.
It's not the only large IT networking company moving into connected lighting. In one recent example, networking giant Huawei Technologies teamed with China's largest LED lighting company, Opple, to offer intelligent LED systems for the home market.
MARK HALPERis a contributing editor for LEDs Magazine, and an energy, technology, and business journalist (markhalper@aol.com).