LEDvance is still part of Osram for now, but is officially a separate entity from the chips, smart lighting, and automotive portion of the technology company.
The knife dulled toward the end of the process, but after a minor delay, German lighting and LED giant Osram has now finalized the formal carve-out of its LEDvance lamps division, about a week after its initial target date of July 1.
"The legal carve-out has been completed," an Osram spokesperson told LEDs Magazine this afternoon.
Interested in articles & announcements on LED lighting & applications?
That wasn't the case earlier in the day when, after LEDs Magazine inquired whether Osram had wrapped up the split, the spokesperson said that everything was in place except for the separation of the two entities' information technology systems. Once that occurred, the carve-out would be complete, the spokesperson said.
By a few hours later, the job was done.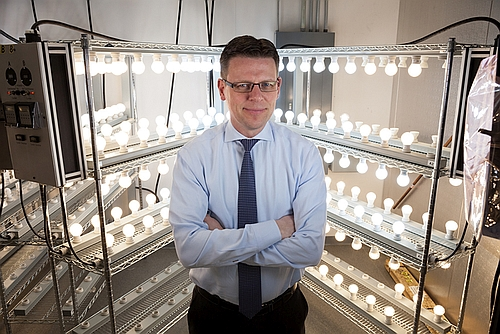 After a small hiccup, Osram completes legal carve-out of LEDvance lamps group
Jes Munk Hansen leads the way for LEDvance as CEO of the newly separated entity.
LEDvance sells bulbs for general lighting under the LEDvance, Osram, Sylvania, and Siteco brands. It has been operating since the spring with its own dedicated staff and about 10,000 employees headed by CEO Jes Munk Hansen, although it has not been considered a separate legal entity until now.
Although LEDvance has now formalized its split from other Osram operations, it is still owned by Osram, which has been seeking a buyer for it. The breakup from the other Osram groups is more akin to a marital separation, with the divorce still to come.
Meanwhile, the Osram-branded portion of Osram continues to position itself as a technology company. It is moving out of profit-challenged lamps to concentrate on its LED chip business, on specialty lighting such as for automobiles, and on smart lighting products and services.
Like other lighting companies, Osram is trying to leverage the digital aspect of LEDs to sell lighting as a service, tying it into the Internet to vastly improve users' ability to control brightness, on/off control, and colors, and to make it an integral part of information networks that collect data and help drive non-lighting systems and operations.
With the focus on chips, specialty lighting, and smart luminaires and services, "Osram positions itself even more strongly as a technology company," CEO Olaf Berlien said at the company's annual general meeting in Munich in February.
To help push its new technology ethos, the company created a new chief technology officer role on its management board, a post which former Bosch executive Stefan Kampmann took up on July 1.
Ironically, as the company polishes its technology ethos, internal technology challenges appear to have caused a minor hiccup in LEDvance's legal separation. But Osram can now celebrate the split, a mere six days after originally planned.
MARK HALPERis a contributing editor for LEDs Magazine, and an energy, technology, and business journalist (markhalper@aol.com).