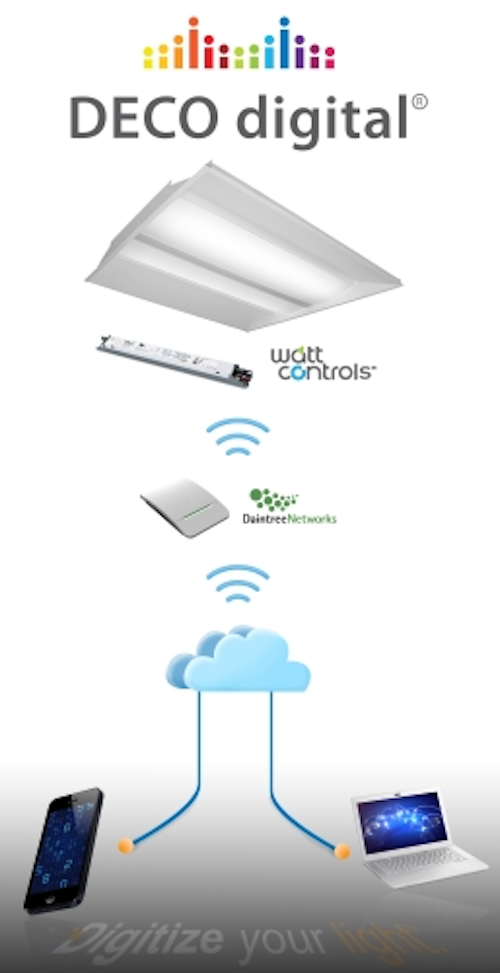 For the second time in recent weeks Daintree Networks has partnered with a manufacturer seeking to add wireless ZigBee support to its product line, and Deco will initially offer wireless functionality in its troffer products.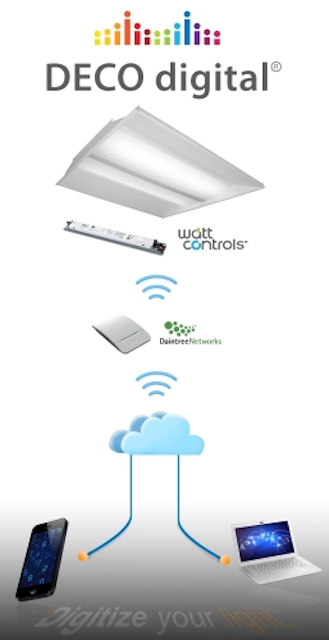 Deco Lighting offers ZigBee-based LED driver for its troffer fixturesDeco Lighting has announced a new ZigBee-based, wireless-enabled LED driver that it developed in collaboration with Daintree Networks for use in ceiling troffer applications. The Watt Controlss driver will allow Deco to supply ZigBee-enabled luminaires without having to integrate separate LED driver and ZigBee modules in a fixture, thereby lowering the bill-of-materials cost of wireless functionality.
The Deco announcement marks the second time in recent weeks that Daintree has been involved in a ZigBee driver announcement. Most recently, LG Innotek announced an LED driver for troffers that it intends to sell as a commercial driver product.

Daintree has been involved as a partner in these developments due to its long experience working with ZigBee, having supplied modular ZigBee products to companies such as Philips Lighting. Moreover, Daintree can ensure that such products achieve official ZigBee compliance and work with Daintree's ControlScope network management platform.
Related article: Daintree and LG Electronics partner on LED lighting and controls
"Our collaboration with Deco Lighting addresses the changing environment and requests from customers for integrated, out-of-the-box wireless control solutions to help them meet their energy efficiency goals," said Danny Yu, CEO of Daintree Networks. "By working with valued partners like Deco Lighting, Daintree Networks is delivering on the promise of open standards to provide increased value to building owners, operators, and occupants."
At first glance, the Deco LED driver looks almost identical to the LG Innotek driver, leading us to question whether it was simply a private-labeled LG product. But Deco president Ben Pouladian said the company designed the driver and went to a contract manufacturer to have it made. He said that early on in the solid-state lighting (SSL) transition that Deco bought some off-the-shelf drivers but now the company "designs drivers around each luminaire specification."
The 35W LED driver is intended for troffer applications up to 2×4 ft and specifically for use with the Deco Cloud troffer luminaires. Pouladian said features such as 10-kV protection set its driver apart from others on the market and offer the advantage that the LED light engine does not have to be isolated. Moreover, Pouladian said that Deco designs its drivers for 100,000 hours of operation, although the datasheet for the Watt Controls product does not specify such a rated lifetime.
The Watt Controls LED driver measures 14.17×1.18×1.02 in. Power factor is greater than 0.9. The product can work with 0–10V dimming controls. And Pouladian said Deco would ultimately support other wireless options such as mesh versions of Bluetooth that industry groups are pursuing.
"At Deco Lighting, we are adamantly committed to delivering intelligence to the entire building envelope, and we're excited about instituting the enterprise Internet of Things [IoT] with our smart lighting products," said Pouladian. "We do not see light as a binary function device anymore, but as a node for data communication that can help facility managers and building owners learn more about their energy usage."