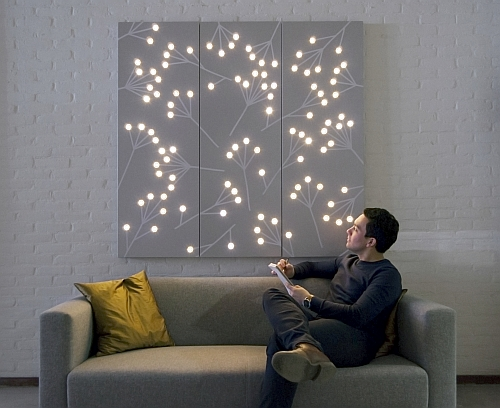 LED panels can be integrated into various designs in the built environment, while new Philips partners add colorful relationships with Hue and additional connected lighting.
Philips Lighting has announced the Luminous Patterns customizable LED-lighting panels that allow lighting designers/specifiers to mix functional light and artistic elements in way that blends into the fabric of spaces such as office lobbies, restaurants, and retail stores. In separate news, Philips has announced new partners in the Friends of Hue program including Bosch, Logitech, and Samsung, and in a different partnership joined with Xiaomi in China to deliver a connected desk lamp that is automatically adjusted via smartphones, sensors, and an app.
Interested in more articles & announcements on LED lighting & applications?

SSL as a canvas
We've long heard that LED lighting would be integrated into the built environment. For example, Brad Koerner, venture manager for Luminous Patterns, made just such a presentation at Strategies in Light 2013. And now Koerner finds himself leading Philips' effort to develop and commercialize such a product.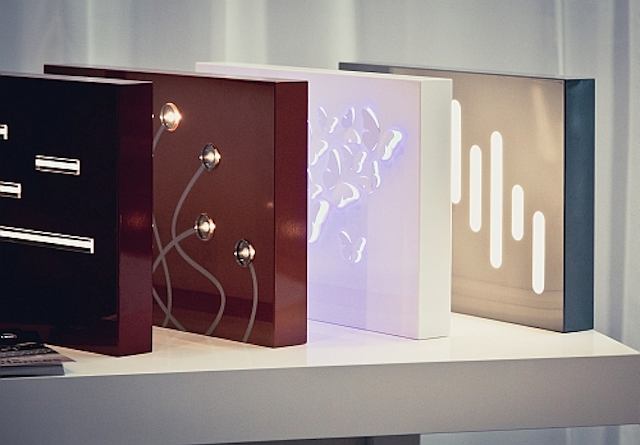 "These embedded LED light patterns bring brilliance, warmth, and sparkle into traditionally mute architectural surfaces," said Koerner. "Designers have until now felt that integrating lighting features in architectural surfaces have been difficult to specify, costly to manufacture, and risky to install. With Philips Luminous Patterns, designers can now embed innovative and eye-catching lighting features into their designs in a straightforward and cost-effective manner."
Koerner describe the specification process for the new products as enabling "mass customization." The company has four baseline light effects — 3D Graphics, 2D Graphics, Round Sparkle, and Linear Sparkle. Any of those effects can be customized with different patterns from a large portfolio. For example, a butterfly pattern combined with 3D Graphics makes the butterfly shapes appear to have depth and allows light to filter through the area around each butterfly. There is a YouTube video that demonstrates the result.
The system is also designed to be used with controls with each light point in a panel being individually addressable. An entire LED panel, meanwhile, can operate on the same power as a 60W incandescent lamp.
We asked Koerner about the cost of the panels and he said it depends on many factors including size, the number of light nodes, finish, and other factors. But he said one wall assembly that measured 3m wide by 2m high would be less than EUR 15,000 ($16,400) including installation costs.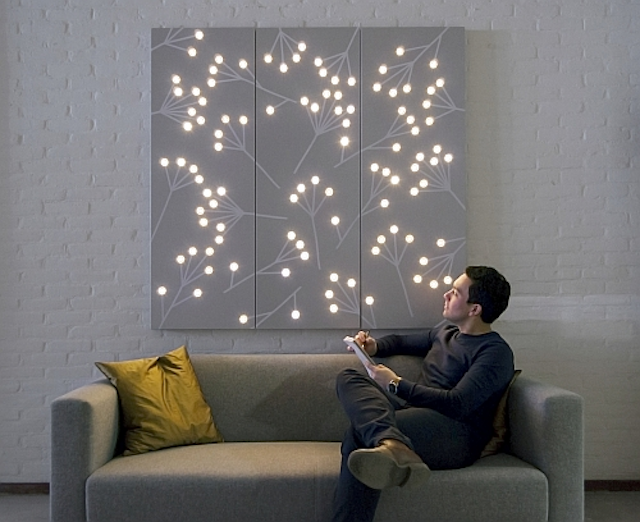 Philips Lighting delivers LED art/light panels, adds SSL partners
Friends of Hue
The Friends of Hue initiative, meanwhile, is intended to ensure seamless integration of networked Hue lighting with home systems from partner companies. Bosch and Samsung will support Hue products with their home automation and security systems. Logitech will add Hue control capabilities to its Harmony remote control platform. Philips first announced the Friends of Hue program in 2013.

"We are pleased to announce our new partners," said Sridhar Kumaraswamy, business leader for connected home systems at Philips. "We have already teamed up with the likes of Apple and Nest; all of these Friends of Hue partnerships strengthen the impact of lighting to help realize the Internet of Things for homes. By integrating our lights with innovations from our partners, we can deliver new lighting experiences today and far into the future, unlocking the value of light beyond illumination."
Connected desk lamp
The final recent announcement from Philips focuses on the EyeCare connected desk lamp, that initially at least is targeted at the China market. As the name implies, the design is meant to adjust the lamp for an optimum and safe work environment with minimum strain on the eyes. A smartphone can monitor light levels and automatically adjust the desk lamp for the usage scenario at hand.
Xiaomi is a China-based smartphone-centric company that is pursuing smart home opportunities. The desk lamp will be sold on the Xiaomi online store called Mi Store beginning in January 2016.
"We have teamed up with Xiaomi, China's largest and one of the world's top five manufacturers of smartphones, to deliver this exciting innovation," said Olivia Qiu, head of innovation at Philips. "Philips recognizes the benefit of combining expertise and skills to deliver country-specific innovations that really impact people's lives. The Philips EyeCare connected desk lamp is a great example of this in China."