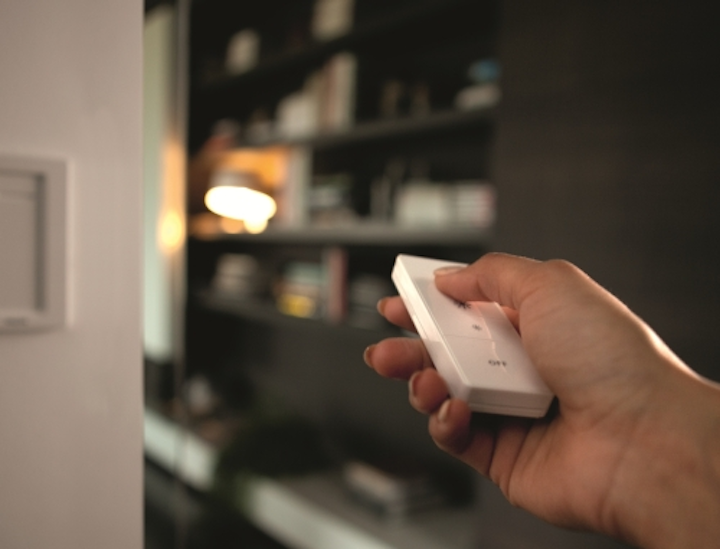 Four-button control can be wall mounted or handheld to simply control as many as 10 Hue LED lamps configured as a group or zone, and the new kit includes a warm-white dimmable LED bulb.
Philips Lighting has announced the Hue wireless dimming kit that includes a new four-button switch/control and one Hue warm-white, dimmable LED lamp. The controller can be handheld, or magnetically held in place in a wall-mounted plate that enables on/off and dimming control with a more traditional feel, even without a ZigBee wireless bridge in a home. The new control can also work alongside the more typical smartphone controls in Hue applications that include the bridge, and the dimmer can be linked directly with a group of as many as ten LED lamps that are virtually grouped together.
Interested in more articles on networks & control?
The new wireless dimmer marks the second time that Philips has introduced a Hue control product that provides more traditional on/off and dimming functionality as opposed to depending on tablets, phones, or PCs for control. At Light+Building (L+B) in the spring of 2014, Philips introduced the tabletop-intended Tap product that was battery free and used an energy-harvesting switch to send a wireless message to one or more Hue lamps. The new wireless controller is based on a CR2450 coin-cell-type battery.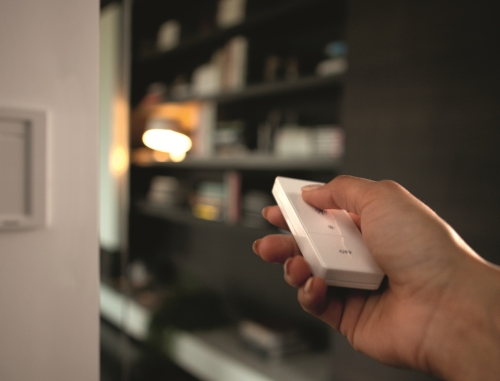 Philips Lighting adds dimmer control for ZigBee-based Hue LED lamps
Moving to a battery allowed Philips to deliver a much more elegant controller that weighs only 67g including both the wall plate and the controller. The controller itself measures 92×35×11 mm. Philips said the controller will last for 50,000 clicks in terms of product life, although the company has not release the expected battery life. The controller can be wirelessly and logically linked to as many as ten Hue lamps or luminaires located within 12m.
The new kit due on shelves in September will sell for $40 and includes the dimmer/controller and the aforementioned 2700K-CCT LED lamp. It appears that the LED lamp is a new addition to the Hue family. It includes a traditional rounded globe as opposed to the upswept form factor originally introduced with the L Prize lamp. Philips had called the company's LED lamp form factor "iconic" and "recognizable" yet has diverged from that unique design in recent years, although the bulk of the Hue A-lamps still use the unique form factor.
Related article: DOE testing of L Prize LED lamp passes 40,000 hours
The new warm-white Hue lamps will sell for $20 separately from the new wireless dimmer kit. The product follows the Lux family of lamps that used the iconic shape that also sell for $20. Today, retailer Home Depot sells the full Hue wireless kit with three color lamps and a ZigBee bridge for $200. The kit with a Tap controller and two Lux bulbs sells for $80.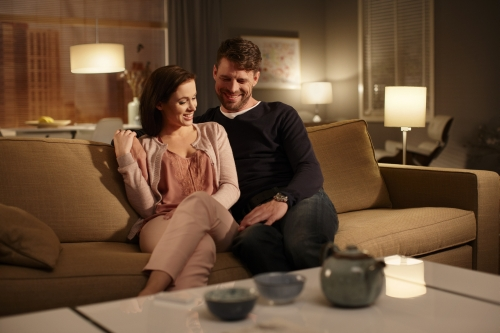 Clearly, Philips hopes the new kit will bring new customers to the Hue technology. "The Philips Hue wireless dimming kit is the light-bulb moment that will spark the natural progression into the modern, connected home," said Leonardo Avezzano, product marketing director of Philips Hue. "Not only does the kit show how simple it is to have clever products in your home, but like all Philips Hue products it is entirely futureproof. With the kit, anyone is able to begin enjoying the simplicity of modern dimming."
The Hue technology will also offer superior dimming performance relative to most LED retrofit lamps that are controlled by legacy triac or phase-cut dimmers. The wireless control and microcontroller-enabled Hue lamps should dim smoothly and uniformly to very low light levels with no audible buzz or hum. Many LED lamps designed for legacy replacement continue to suffer from audible and uniformity issues when dimmed.