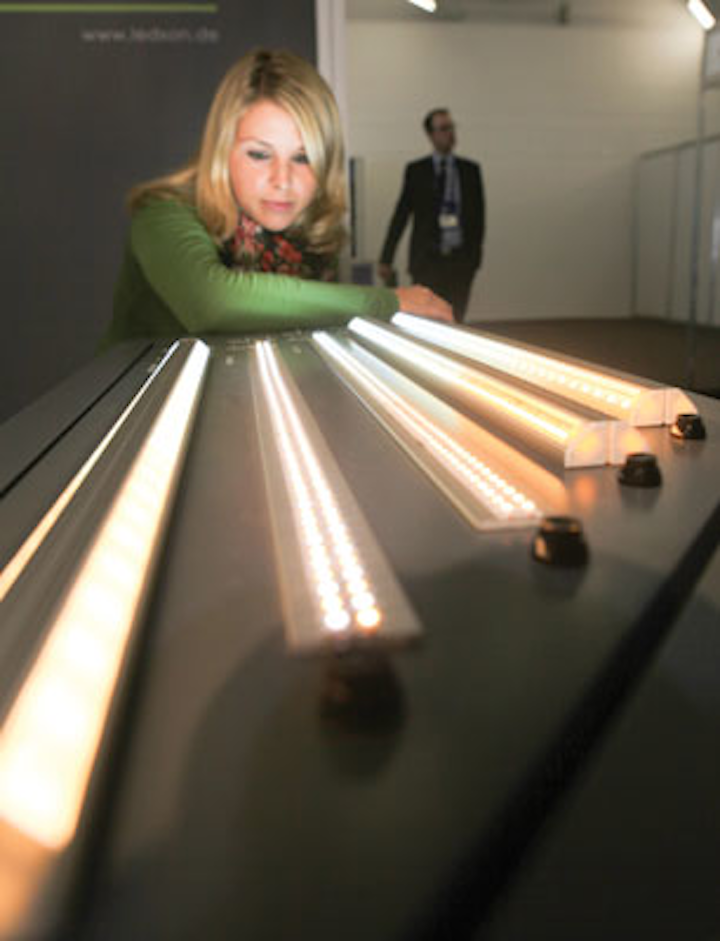 With co-location centered in London, Strategies in Light Europe and LuxLive will bring together LED lighting supply-chain, end-user, designer, and specifier professionals for a breadth of educational content and exhibits. Conference chair BOB STEELE describes how the event will provide attendees a full picture of the state of the SSL industry.
The sixth annual Strategies in Light (SIL) Europe conference, which has been held in Munich for the past three years, will take place at the ExCeL London Exhibition and Convention Center on Nov. 17-19, 2015. In November 2014, PennWell Corporation, the sponsor of SIL Europe, acquired Revo Media Partners, the publisher of Lux Magazine and the organizer of the LuxLive trade show (http://bit.ly/1D2WFXL). Realizing the strong opportunity for synergy between the two events, PennWell made the decision to co-locate them in 2015. Over the past several years, LuxLive has come to be recognized as one of the premier lighting tradeshows in Europe, attracting over 7,000 visitors in 2014.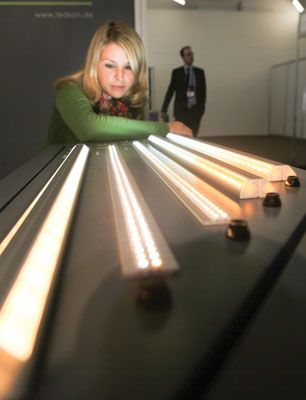 FIG. 1. The co-located Strategies in Light (SIL) Europe and LuxLive events in London will bring together SSL supply chain and end-user, lighting specifier, and design professionals.
The co-location of these two events offers a unique combination of conference content and exhibition platform. While LuxLive focuses on the end-user, specifier, and design end of the lighting industry, SIL Europe has its own distinct focus and purpose. It is aimed at addressing the interests of those associated with the manufacturing, development, and application of solid-state lighting (SSL) technology. The exhibition that was previously associated with SIL Europe will be fully represented in a separate area on the LuxLive exhibit floor. Exhibitors in this area will represent the LED lighting supply chain, from materials, components, and optics to electronics, modules, and test equipment. All delegates to SIL Europe will automatically receive free admission to the LuxLive exhibits, including the show floor seminars and presentations.
Conference overview
Keeping up with the rapid changes affecting Europe and the world's lighting industry can be a challenge (http://bit.ly/1VJCnIJ). To address these changes, the conference chair and advisory board of SIL Europe have curated a world-class lineup of sessions, ranging from markets for LED lighting to networked indoor lighting to smart cities to the health effects of lighting. The conference will focus on cutting-edge topics that affect the lighting industry now and in the future (http://bit.ly/1k5nu2w). Keynote and Plenary sessions will feature top executives from the lighting industry, plus several speakers offering a different perspective from outside the industry. Many sessions will feature panel discussions, allowing the audience to participate more fully with extended Q&A periods.
An integral and important part of the conference is the Investor Forum, which will be held for the fifth year on Nov. 17. Sponsored by investment bank Canaccord Genuity, the forum aims to address some of the principal questions being asked by investors. The forum will cover issues such as the pace of adoption of LEDs in lighting, the longer-term growth potential of the market, profitability analysis, and opportunities to invest in different levels of the lighting value chain. Speakers from publicly-traded companies as well as late-stage private European and global firms that have successfully brought LED lighting products to the market will provide investors with insight into their companies' business operations and market outlook.
Keynote and Plenary sessions
The opening Keynote and Plenary sessions will kick off the conference with high-level speakers from the LED and lighting industries who will address the important issues that affect the future growth of the SSL market in Europe as well as worldwide. Keynote speakers this year include Ulrich Schumacher, CEO of Zumtobel Group; Masimilliano Guzzini, vice president of iGuzzini; and Dominiek Plancke, executive vice president at Philips Lighting. After the keynote presentations, there will be a panel discussion that will bring together the three speakers for an interactive Q&A session with the audience.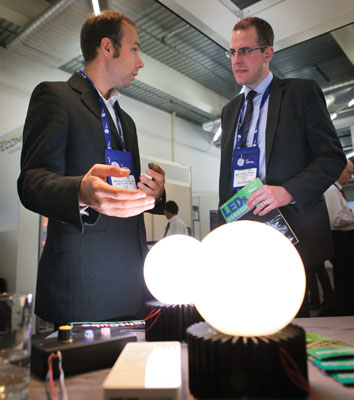 FIG. 2. The exhibits at SIL Europe and LuxLive will represent both LED-based lighting component suppliers and lighting manufacturers.
A key feature of the Plenary session will continue to be a review and forecast of the LED lighting market by Philip Smallwood, Strategies Unlimited's director of LED and Lighting Market Research. Other plenary speakers include Andrew Parker, strategic marketing director - Smart Lighting at Schneider Electric, and Zoltan Koltai, EMEA technology director, GE Lighting. These speakers will address critical issues and opportunities for smart lighting with regard to building integration and cities, respectively.
Market & Applications Track
In the Market & Applications Track, presentations will range from smart lighting and the Internet of Things (IoT) to lighting and health, and from embedded lighting for architecture to the impact of LEDs on luminaire design and SSL market issues for Europe, including Russia. This year's program continues the conference's focus on lighting design from previous years and will feature speakers from several leading lighting design firms. Presenters from design firms Piercy & Company and Billings Jackson, as well as from Philips Lighting, will address the topic of embedded lighting. Speakers from design firms Lumascape and Lichtvision, as well as lighting manufacturer Fagerhult, will address the impact of LEDs on lighting design.
The idea of human-centric lighting (HCL) has attracted increasing attention from LED lighting manufacturers as research has revealed the importance of lighting in regulating circadian rhythms (see the recent LEDs Magazine article on the development of HCL in Europe at http://bit.ly/1euA1vx). The impact of lighting on human health and wellbeing will be addressed from several different perspectives by speakers from the University of Haifa, Munich University of Applied Sciences, and Lumitech.
Smart lighting is one of the most exciting trends in lighting today, and a session will be devoted to that subject. Addressing topics ranging from smartphones and lighting to the IoT to visible light communications, speakers in this session will be from Xicato, Toric, and Echelon. In the session on market trends, European market and policy trends, public acceptance of LED street lighting, and the opportunities in the Russian lighting market will be addressed by speakers from LightingEurope, EDP Energias de Portugal, and Lighting Business Consulting, respectively.
Technology Issues & Trends Track
In the Technology Issues & Trends track, presentations will explore developments in LED component technology, luminaire design challenges and opportunities, outdoor lighting, smart cities, and energy aspects of LED lighting and thermal management of LED systems. In the LED component session, speakers from Lumileds, Nanoco, and Nichia Chemical Europe will address recent advances in chip-scale packaging (CSP), quantum-dot technology, and phosphor technology, respectively.

FIG. 3. Top professionals will deliver a better understanding of evolving SSL markets and application opportunities in a full slate of track presentations.
The design of luminaires with LED sources is continuing to evolve as LED form factors, efficiency, and color capabilities continue to advance. Addressing luminaire design challenges and opportunities will be speakers from Integrated, LED Linear, and LED Professionals. They will address subjects ranging from the impact of LEDs on luminaire design to challenges and applications for linear luminaires to circadian lighting design for offices.
In a session on outdoor lighting and smart cities, speakers will address the emerging opportunities for using the outdoor lighting infrastructure as a platform for connectivity to offer a variety of communications, security and other services for cities (see an article on the Danish Outdoor Lighting Lab for an example of these connected lighting possibilities at http://bit.ly/1EXzwAk). Speakers will be from Telensa Ltd., Sensity Systems, and Paradox Engineering.
As control systems become more widely adopted in LED lighting, the question arises as to how much energy is being consumed by these controls, what is the impact on actual energy savings, and how to optimally power lighting systems. Speakers from Energy Piano, Power Integrations, and Artistic Licence will explore these concerns and offer potential solutions. A session on thermal management that covers new material and techniques for dealing with heat removal in LED lighting systems will include presentations from Havells-Sylvania, Litecool Ltd., and Cambridge Nanotherm.
Additional information on Strategies in Light Europe, including opportunities for exhibiting and registration details, as well as the full conference program, may be found at sileurope.com. Information about LuxLive may be found at luxlive.co.uk.
---
BOB STEELE is chair of Strategies in Light Europe (sileurope.com).