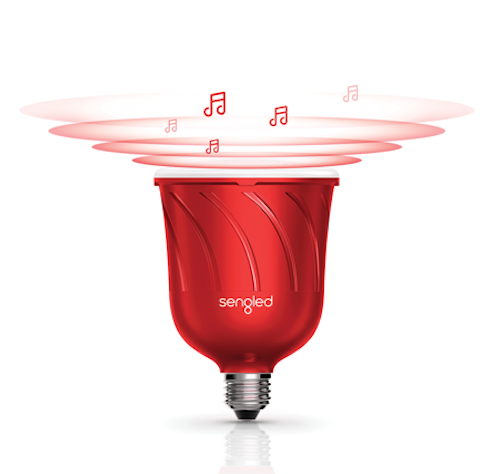 Around the world, visions of brightly colored packages and tantalizing treats run through our minds. But in this case, MAURY WRIGHTand CARRIE MEADOWS look toward the techies, the trend-spotters, and some folks too hip for the average gift - those whose finer sensibilities would appreciate the superior engineering of, say, a luxury vehicle equipped with the latest LED headlamp design, or perhaps a smart solid-state lighting (SSL) lamp with wireless speaker capabilities.
As the November/December issue of LEDs Magazine came around, we turned our thoughts to a holiday frame of mind. From mobile devices to connected lighting to presents for protecting the family pets, we've cruised through a catalog of LED-equipped products and narrowed the wish list down to technology innovations that might please even the one who seems to have everything.
Interested in more articles & announcements on solid-state lighting & other LED applications?
Techie transport
LED headlamps have evolved to serve in automotive applications ranging from low-end sedans to work trucks, but some designs such as ACURA's Jewel Eye stand out in the crowd. The technology is standard on the Acura ILX entry-level luxury sedan and up the automaker's product line. On the ILX, the Jewel Eye implementation includes five clusters of high-output LEDs in an array swept diagonally from the center of the grille. The outer three clusters are only used for low beams and the inner two are added for the high-beam setting. The design is both stylish and functional. Acura says that with the high beams on, the design illuminates objects 200-msec sooner at 60 MPH than conventional lights. That performance equates to 17 ft of additional reaction space. The 5500K-CCT headlamps are intended to match the CCT of sunlight, deliver outstanding contrast, and render the full spectrum of colors - a feature lacking, according to Honda, in high-intensity discharge (HID) and halogen alternatives. The Acura design also uses LEDs and light guides for stylish daytime running lights (DRLs) and for the taillights. The company said the design adds to the aesthetics of the luxury vehicles. Of course, LEDs also deliver energy benefits. Acura said the headlamps use 57% less energy and add to the overall operating efficiency of the ILX. acura.com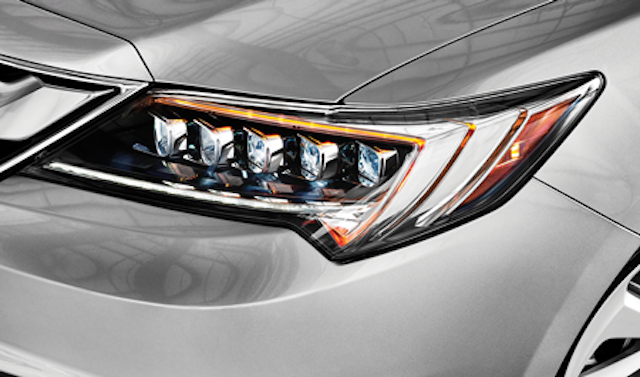 CADILLAC's 2016 Escalade sports utility vehicle (SUV) comes equipped with all-LED lighting for both forward- and rear-facing needs and utilizes LEDs for signature styling. The headlamps use the total-internal reflection (TIR) optics technology that has long been used in products such as LED street-light luminaires to precisely control a beam. Cadillac said the Escalade marks the first use of TIR technology in the auto industry. Five LEDs and crystal lenses create the low beam while four additional LEDs and lenses create the high beam. The LEDs are stacked vertically, creating what Cadillac called "razor-like vertical light signatures." The theme is carried over to the rear of the vehicle where LEDs enable tall, thin vertical taillights. Indeed, LED lighting is utilized from the fascia to the roof of the rear, providing what Cadillac considers signature styling. The company said the twin-light-blade taillights recall the company's design heritage, and the lights feature the brand's crest insignia that illuminates at night. cadillac.com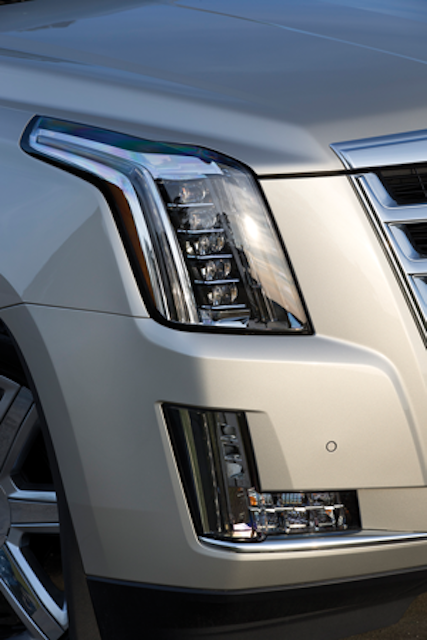 Lighting has been problematic in pleasure power boating on small craft because while lights add convenience and safety for nighttime adventures, they also quickly drain batteries. LED-based lighting has changed all that in boats such as the S-Series from SYLVAN MARINE. Indeed, LEDs are used to achieve both style and safety, providing clearly-visible linear lighting along the water line. The LED lighting isn't mean to supplant the required navigation lighting, although those lights are trending to LEDs as well, but the supplemental LED lighting does make boats far more visible to other captains at night. There have also been reports of passengers accidentally falling overboard on LED-equipped boats at night and being thankful that the LED lighting provided immediate orientation to the water's surface. Inside the cabin, LEDs provide a convenience factor, highlighting cup holders and illuminating storage compartments. Prior to the advent of LED lighting, most boaters had to use restraint in turning on lights to preserve the battery while now even boats equipped with a single battery still start just fine in the morning, even if the lighting is used all night. sylvanmarine.com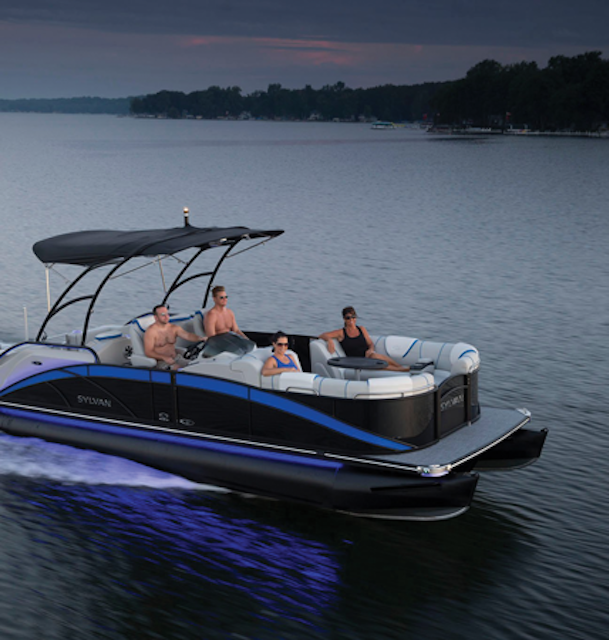 Beyond-basic devices
The original uses for LEDs were exclusively as indicator lights, so it should come as no surprise that the devices can still be used in such roles even as they evolve as the dominant general light source. Still, the latest GOOGLE Nexus smartphones, the Nexus 5X from LG (shown) and the Nexus 6P from Huawei, include an RGB LED hidden in the speaker grille that could prove very functional for users. Control of the LED is available to app developers and the fact that the LED is capable of producing colors should enable customized notifications. Meanwhile, the Nexus phones are state of the art in every way with an AMOLED (active matrix OLED) 4K-pixel display, 8-core Qualcomm Snapdragon processor, and an Adreno graphics processor. Moreover, with Google designing the phone, customers get immediate access to the latest Marshmallow version of Android. The camera on the new Nexus phones is also top notch and with functionality enabled by LEDs. The image sensor features larger 1.5-μm (micrometer) pixels to capture more light. But when the flash is needed, a dual-tone LED implementation improves color tones and enables better contrast in low light. google.com/nexus/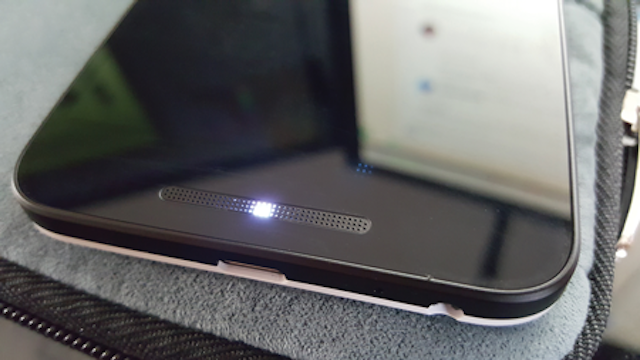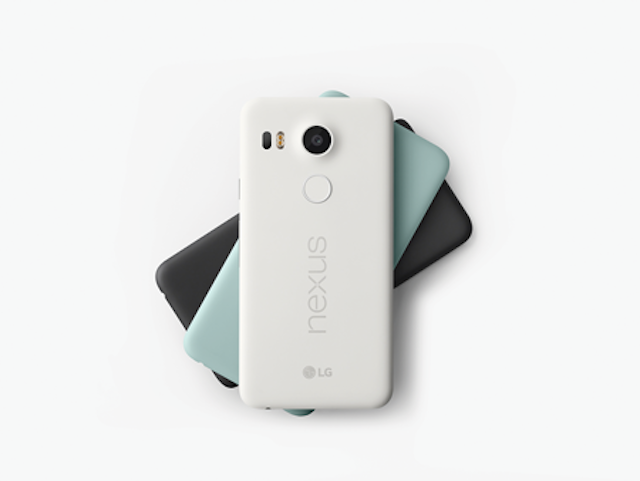 Apple loves to tout the Retina displays on its iPhones and iPads, but we know the company would love access to SAMSUNG's AMOLED that continues to allow devices such as Galaxy smartphones to remain a technology step in front of Apple. Indeed, the screens are phenomenal on the new Galaxy Note 5 and Edge 6+ (shown). Samsung brands the 5.7-in. displays Quad HD Super AMOLED and the products feature 2560×1440-pixel (518 pixels per inch) resolution. Moreover, the Edge leverages the OLED technology to continue the 4K-pixel display around the horizontal edges of the phones, enabling users to see activity such as an incoming call even if the device is lying face down. The Note 5, meanwhile, comes with a pen for precise data input. Both products have integrated support for wireless charging, dual quad-core processors, 4 Gbytes of RAM, and advanced Wi-Fi and Bluetooth wireless capabilities. The smartphones perform more like a PC than a phone from a performance perspective and have the ability to work as a UHD (ultrahigh-definition) video camera. samsung.com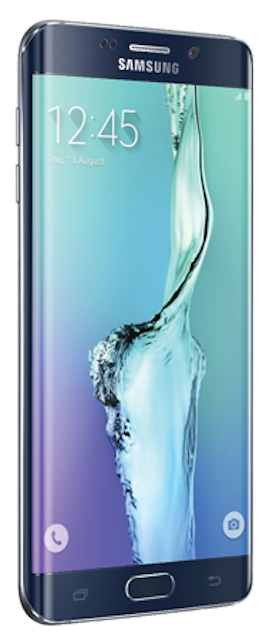 GOOGLE'S sleek and striking OnHub Wi-Fi router (retail about $199.99), originally rolled out in collaboration with networking hardware provider TP-LINK, is designed to be admired out in the open, where it can also achieve its full signal range. Operated via the Google On app, setup is intended to be simple and the router automatically installs security and feature updates. It's Bluetooth Smart-, Weave-, and 802.15.4-ready for linking various smart mobile devices and network-equipped SSL in the home. An ambient light ring on the top of the original model (shown) uses six tri-color LEDs; this doesn't just provide a "cool factor" with subtle illumination but displays the router's status: blue indicates the device is ready for setup; teal shows it is active; and amber indicates a connectivity problem. Google has announced a second-generation development with computer hardware specialist Asus that has a slightly different look and feel, but that product was not available at press time. on.google.com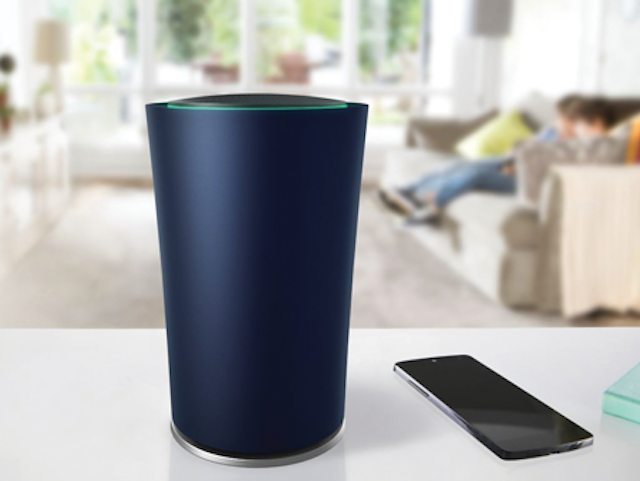 Light of your life
Under a license agreement, JASCO PRODUCTS has developed a suite of GE-branded Bluetooth Smart Controls for scheduling and control of residential LED lighting. The Bluetooth-based devices, built on a wireless mesh platform developed by CSR and enabled by software from Avi-on, provide real-time dimming, simple setup, grouping, schedules, timers, and multi-user control from a smartphone or tablet app powered by Avi-on. CSRmesh technology allows the lineup of plug-in and in-wall smart switches and dimmers, as well as a plug‐in outdoor smart switch (shown), to be operated without a hub or wireless router. Users can take control of lighting and even small appliances with the flick of a finger across their mobile devices. The Bluetooth Smart Control platform comprises plug-and-play firmware, iOS and Android mobile apps, secure cloud service, and a pre-certified module based on the CSR 1012 chipset. The controls are so flexible, the user can set vacation modes, dawn-to-dusk scheduling, and "custom countdowns" that will flash the lights or turn lighting and appliances off after a preset amount of time. Never rush out of the house with the kitchen light and coffee maker on again. ezbluetooth.com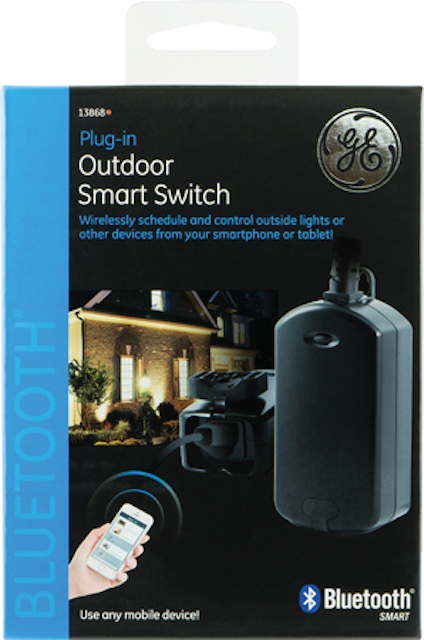 Back in 2012, California-based startup LIFX introduced its first Wi-Fi-enabled, color-tunable smart LED lamp. Among the many available LED smart lamps, this one stands out due to its color tunability not only offered in a white-light version but a color version as well for more versatility and scene-setting in consumer applications. In standard A-lamp bases, LIFX's White 800 smart LED lamp outputs warm- to cool-white light at about 890 lm (a 60W equivalent), and the Color 1000 lamp covers a range of white as well as full color, with 1055-lm output (a 75W equivalent). The company also offers a BR30 white model and a GU10 color version. LIFX lamps are controlled via a proprietary app that is available for iOS and Android devices. What's even more interesting is that LIFX has gone out of its way to ensure that its lamps are compatible and interactive with multiple smart-home offerings, from Amazon's voice-controlled Echo device to Google's Nest controls, Samsung's SmartThings hub, and LogiTech's Harmony remotes, among others. Registration for a LIFX Cloud account will get users up and connected in a short time. lifx.com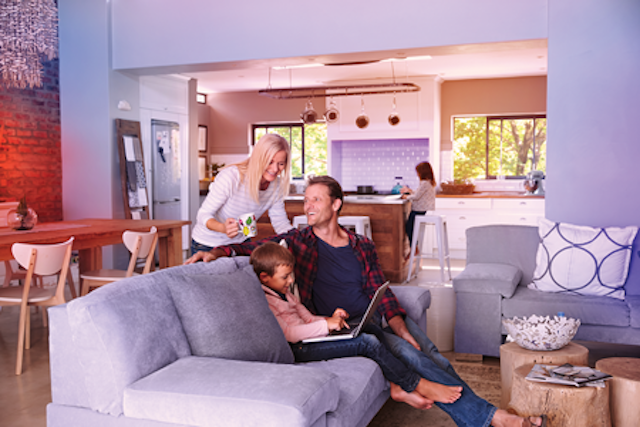 PHILIPS LIGHTING'S Hue family of wireless-enabled SSL products remains the market and technology leader in networked residential lighting, and now the customer base could grow with the company adding compatibility with Apple HomeKit technology. From introduction, Hue users have been able to control the LED-based products through Philips-supplied smartphone apps for both Apple and Android devices. Many third parties have also written apps. Still, the new square-shaped Hue Bridge (being referred to as model 2.0 by the Hue community, although not explicitly by Philips) will add functionality such as voice control via Siri on iPhones and compatibility with other HomeKit accessories. To support HomeKit, Philips had to add hardware authentication technology for secure communications. But all prior Hue lamps and luminaires will work with the new bridge. New versions of the $200 Hue Starter Kit will include the new bridge, or the bridge will sell for $60. meethue.com/en-us/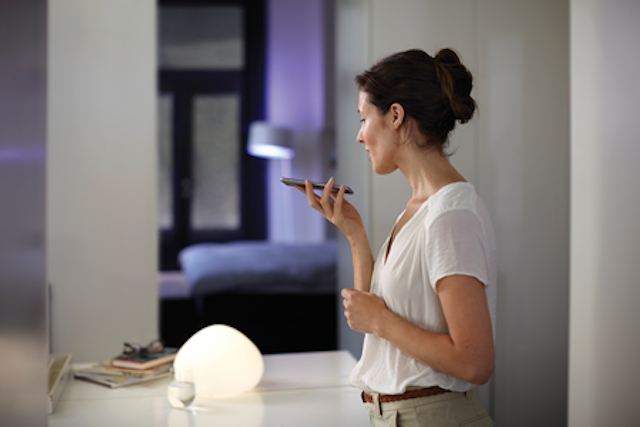 Apple isn't the only computer-centric player moving into lighting, and Google, of course, intends to insert its technology in every facet of our lives. GOOGLE and OSRAM recently struck a deal to make the former's Nest home-control platform compatible with the latter's Lightify residential networked lighting platform. While Nest is best known for its smart thermostat, the company is quickly usurping control of other home systems and may well become the hub of a smart home enabling remote control and monitoring of systems. Lightify, meanwhile, is ZigBee based and includes a variety of white and color-tunable LED-based products. The list includes standard lamp form factors but also includes flexible strips and even the outdoor RGB garden lighting pictured. Osram has also struck other interoperability deals with Lightify, for example, ensuring compatibility with the WeMo home automation platform championed by Belkin.osram.com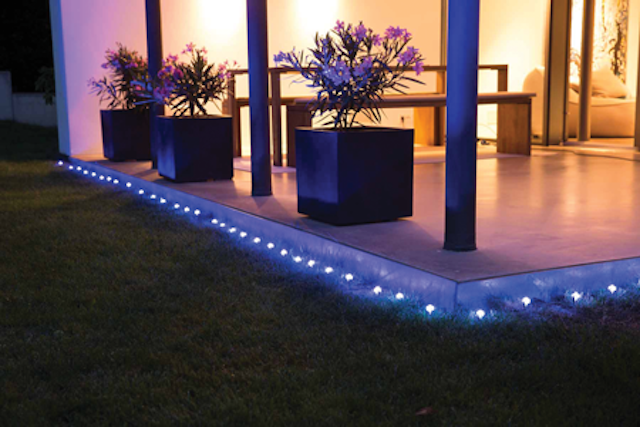 GOAL ZERO'S Torch 250 LED flashlight is sure to come in handy as a part of any essential emergency kit. 4000K warm-white LEDs from Cree provide a total output of 250 lm. Beyond its multiple functional modes as a portable 180-lm spotlight, 70-lm floodlight, or red flashing emergency signal, it comes equipped with a built-in solar charging panel to power up the long-life lithium battery, so there's no excuse to sit in the dark wherever you may roam. Additional solar charging panels are available. A built-in USB charging cable and, in the bleakest of moments, a hand crank will also get your area illuminated in no time. (Charge times vary depending on the charging method used.) Bright and half-brightness modes help to conserve power. The integrated USB port will also keep phones and tablets up and running while you wait for automotive service, or if you happen to take the LED Torch along for a camp-out - even just to keep yourself occupied should the power go out and you simply can't live without the latest version of Candy Crush.goalzero.com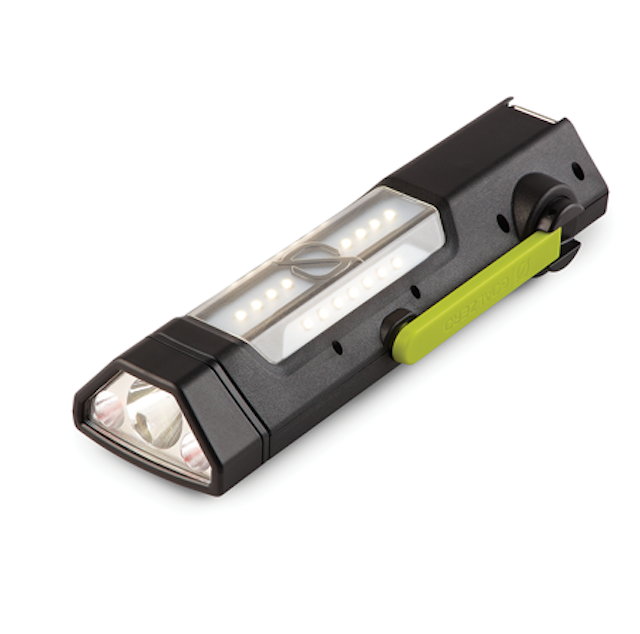 Suitable for both weekend-warrior do-it-yourselfers and trained industrial professionals, LARSON ELECTRONICS offers a heavy-duty droplight (retail about $125.00) equipped with sixty 50,000-hour LEDs. The WAL-DL-60LED-M-GCR50 tasklight itself measures 14 in. and is attached to a 50-ft cord reel for general work-area lighting. The UL listed, weather- and shock-proof light is lightweight, produces less heat than conventional worklights, and emits a 120-lm, 5000K-CCT flood beam. The robust housing and the low-temperature operation provide attractive safety features, and the retractable cord may also reduce your trip-and-fall hazards if you're anything like the average homeowner (thus allowing you to spend the holidays injury-free in your tunably-lit, smartphone-controlled space). larsonelectronics.com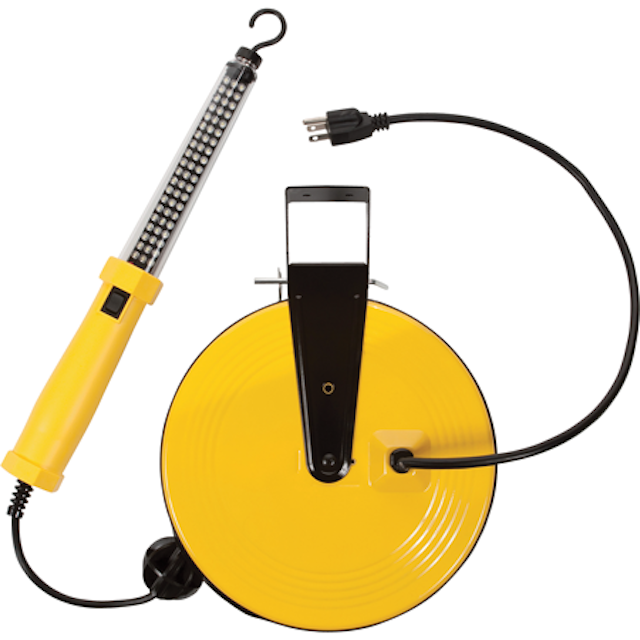 Exciting entertainment
OLED technology has been slow to fulfill its promise in lighting and in displays beyond portable devices, but LG is pushing it out to great effect. If money is no object then you won't find a better TV picture than what TVs like the new 65-in. LG 65EF9500 offer. For just under $5000 you get a 3840×2160-pixel UHD (generically called 4K) display. You may have a tough time finding 4K content for now, but LG includes a feature called a Tru-4K Upscaler to make standard HD content look better on the higher-resolution display. As is increasingly the case with TVs, the LG unit is as much a computer as a TV. It includes a quad-core processor, Wi-Fi, and LG's version of webOS 2.0 as the software basis. Users have multiple ways to control the new TV including voice recognition, a standard remote, and LG's Magic Remote. The latter simplifies tasks such as entering passwords for services such as Netflix and providing other computer-like user interface features. Still, the display is the star. The OLED switches pixels off to produce perfect full black and optimum contrast ratio. Meanwhile, the OLED can also produce a full saturated color palette without the need for technologies such as quantum dots that are used by high-end LCD-based TVs. The TV can operate in 3-D mode and the OLED delivers extremely wide viewing angles from a panel that is the thickness of a pencil. lg.com/us/tvs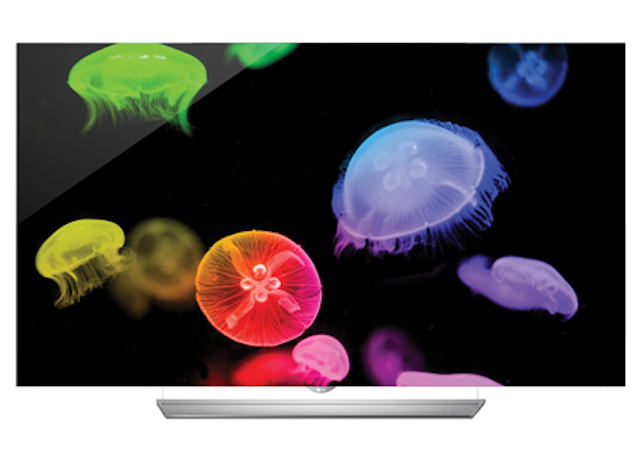 APPLE'S improved LED-based backlight design is the key to the most vivid PC displays. The company recently announced the Retina 4K display on the newest 21.5-in. iMac and updated the 27-in. model with a Retina 5K display. While the model numbers would seem to tout more pixels, it's the backlight implementation that truly differentiates the displays. Apple says the displays use red-green phosphor LEDs. The company would not provide details on the implementation but said the new design includes red, green, and blue light and produces more vivid reds among other benefits. Indeed, high-end LCD TVs have used clusters of red, green, and blue LEDs to deliver similar benefits. If you read our series on color sciences, the author explains that if there is little red energy in the spectral power distribution (SPD) of a light source, then our eyes won't perceive rich reds. Most LCD backlights use blue LEDs with YAG (yttrium aluminum garnet) phosphor that creates white light from a yellow-blue mix and is absent significant energy in the red spectrum. At first we thought Apple was using RGB LED clusters, but apparently Apple has an LED manufacturer making a custom LED with a blue emitter and a mix of red and green phosphor, providing energy peaks in the red, green, and blue bands of the spectrum.apple.com/imac/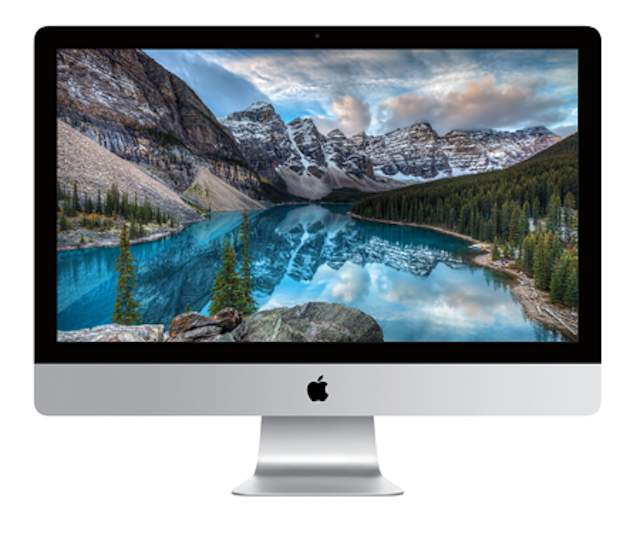 Does the target of your gift buying have some standard recessed downlight cans that could use an LED retrofit and like music? Then SENGLED may have the Tech Toy for you - Pulse Bluetooth-enabled LED downlights with JBL audio. The Pulse starter kit sells for $150 and includes a pair of 600-lm downlights that are in the BR30 form factor. The lamps actually don't have the narrow neck of a BR30 bulb but still fit just fine in most cylindrical cans. Sengled says the SSL products are equivalent to 55W legacy bulbs and consume just 15W to drive both the LED lamps and the integrated Bluetooth speakers - think a portable JBL audio player integrated in the ceiling. The starter kit includes a master and a slave lamp and you can add additional slave lamps that sell for $70. A smartphone app enables control of the light level and the speakers. You can link as many as eight speakers and the wireless link between the speakers is not Bluetooth, so speakers can be as far as 100 ft apart. You can't install the lamps on a circuit connected to a legacy dimmer.sengled.com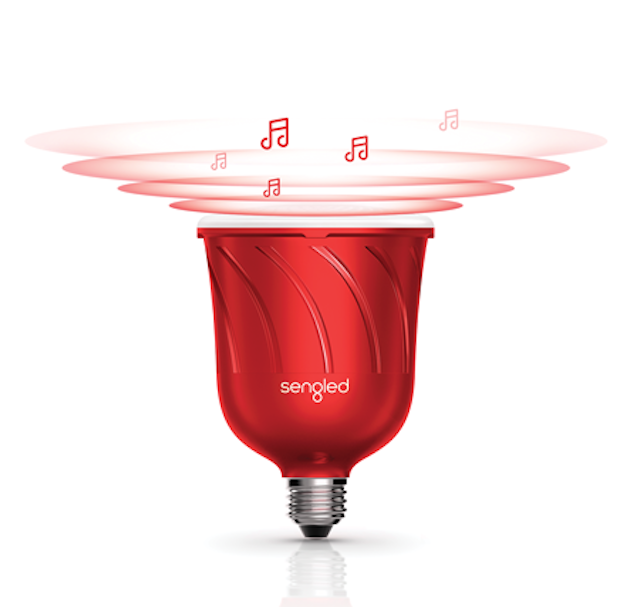 LED- and SSL-centric products shine in a techno-savvy gift list
Animal amenities
SQUEAKER has taken dog safety to a new level with its Poochlight collars, harnesses, and leashes that provide visible protection for man's best friend. The water-resistant (not submersible) products use dual-pair LEDs positioned on each end of optical fiber strips to ensure consistent, bright light all the way around each collar, harness, and leash. A reflective layer of fabric next to the optical fiber enhances the brightness of the LED-based devices. Squeaker's founders indicate that the viewing distance provided by the LEDs is up to a half mile (1 km). Three flashing modes and one static "glow" mode can be selected. The USB-chargeable and CE-certified Poochlights can provide up to 10 hours of full-strength illumination from a one-hour quick charge (and that, according to Squeaker's folks, is conservative since they have tested the lights under various conditions and achieved a range of illumination time results). Poochlights have been selling in more than 40 countries for the past 18 months, with sizes for dogs from your extra-small canine pals (featuring single-strip lighting) to your larger breeds, such as the burly and handsome "Buddy" you see in the photo. squeakerdogs.com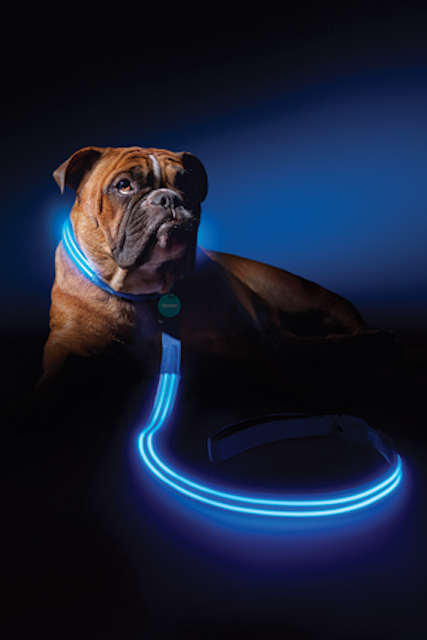 TAIL LIGHTS were born as the positive outcome after a car collision with one of owner Sami Gros's horses during an evening ride. The currently available Tail Lights Pro product features 250 individual LEDs on six strands with programmable decorative color schemes such as RWB (Patriotic), RG (Christmas), and BW (Winter) as well as important safety features such as "flashing hazards" and "directional" indicators, just like those easily recognized on vehicles. Because the lithium-ion rechargeable battery is necessarily large to distribute the amount of power needed for multiple brightness and operation modes (flashing, emergency strobing, and steady-state illumination), this equestrian safety device comes equipped with an AC charger that can also be used with an adapter to be charged within vehicles and horse trailers. Full battery charge can be achieved in about 6 hours. But battery life can be as long as 200 hours depending on the brightness settings and whether flashing modes are being used. A testimonial from a Nova Scotia-based Mounted Patrol user indicates that the weatherproofing stands up to a coastal climate and the LEDs maintain their brightness through several shifts. The Pro model is currently undergoing CSA certification. Now, while this particular product is geared toward professionals, it is certainly available to consumers who make the investment in safety for their animals. And Gros has a smaller wireless product that will include both a front and rear light, the Tail Lights Rider System, under development now and expects it to be commercially available at a lower price point. Tail Lights Pro are manufactured and assembled in the US. tail-lights.com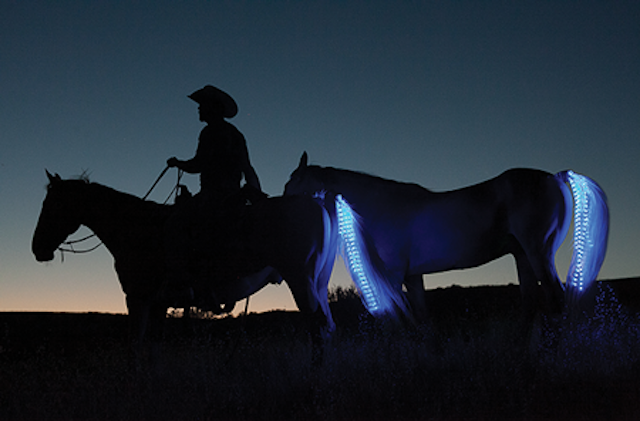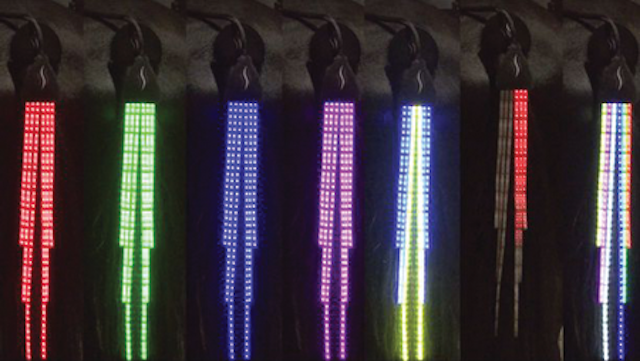 Of course, this is just a sampling of what's available for LED-based gadgets and goodies to light up the holiday season. Keep checking our website at ledsmagazine.com for continuous coverage of the latest LED and SSL products, enabling technologies, design methodologies, and more.