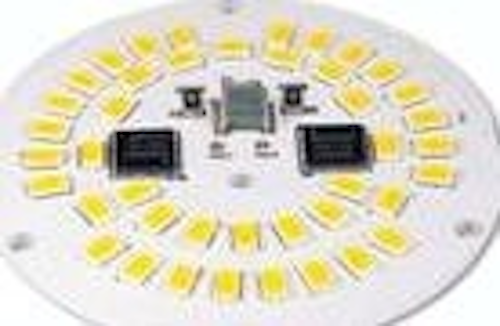 +++ Cover +++
The Lighting Research Center and Osram Sylvania used a DC-powered grid, modular tiles, and wireless controls to implement a cloud-like LED lighting system in a Paramount Pictures conference room (see page 9).
+++ Features +++
ASSEMBLY
AC-LED lighting products find niche, perhaps more
AC-LED assemblies often can produce light output levels and efficacies of DC-LED assemblies, while eliminating the AC-to-DC converter. But can they move beyond niche applications, asks Laura Peters?
PATENTS
Patents compete for priority in the remote-phosphor LED technology space
Remote-phosphor technology for LED lighting applications is a hotbed of innovation, with companies such as Intematix and Cree leading the way, as LILY LI explains.
LIGHTFAIR
Lamp form remains important, SSL takes new shape at LFI
The sentiment at Lightfair this year had moved beyond the idea of LEDs becoming the predominant light source toward consideration of what only can be accomplished with SSL, report Laura Peters and Maury Wright.

COLOR SCIENCE
Understand color science to maximize success with LEDs – part 2
An in depth consideration of the CIE Chromaticity Diagram and the Planckian locus prepares lamp and luminaire designers to best take advantage of the unique properties of LED light sources, explains George Kelly.
STANDARDS
Zhaga writes the book on LED light engine specifications
The Zhaga consortium has now defined six sets of interface specifications for different types of LED light engines, and certified products are expected to be on the market soon, as TIM WHITAKER explains.
THERMAL
Advanced thermal characterization improves LED street-light design
A street light is hot-lumens tested in compliance with JEDEC standards, as ANDRÁS POPPE, ANDRÁS SZALAI and JOHN PARRY explain.
DESIGN FORUM
Fair comparison of white LEDs and remote phosphor guides design choice
Proponents of remote-phosphor technology are claiming a significant efficacy advantage in luminaires and lamps relative to designs that use phosphor-converted white LEDs. But as Michael Leung explains, comparisons must be made in like applications.

+++ Columns/departments +++

COMMENTARY
Judging SSL products reveals a lot about the state of LED lighting
NEWS + VIEWS
Osram and LRC partner on Paramount Pictures SSL project
The LED Show will cover chips to lighting installations
Tower Bridge in London receives Olympic LED makeover
Cooper announces Zhagacertified LED downlight
FUNDING+PROGRAMS
JEDEC publishes four international thermal-testing standards for LEDs
DOE announces $7 million in latest SSL manufacturing funding
Caliper Report 15 compares flood lights
UL opens lighting test center in Burago, Italy