Acuity develops in-room wireless controls and enterprise lighting network
The xCella controls platform targets room-level controls and uses energy harvesting technology that simplifies power distribution in retrofits, while the XPoint mesh networking system can support adaptive SSL on a full building level.
Jun 25th, 2014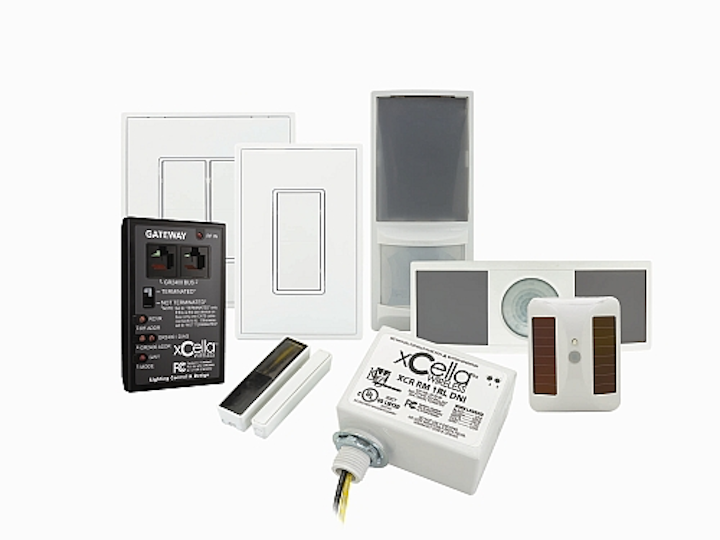 On consecutive days, Acuity Brands has announced the xCella wireless controls platform designed as a simple way of controlling LED and legacy lighting at the room level, and the XPoint system that provides a building-level mesh network for larger installations. The xCella product uses energy-harvesting technology enabling wireless sensors and switches to function without direct access to AC power. Both of the new offerings are being sold under Acuity's Lighting Control & Design brand.
xCella and energy harvesting
The xCella platform includes sensors, switches, and relay-based load controls that can be applied in solid-state lighting (SSL) retrofit or new-building installations. Indeed, the technology can control any lighting, HVAC, or other load. The primary target of the technology is simple control installations within a room, although the platform can be scaled to support larger installations.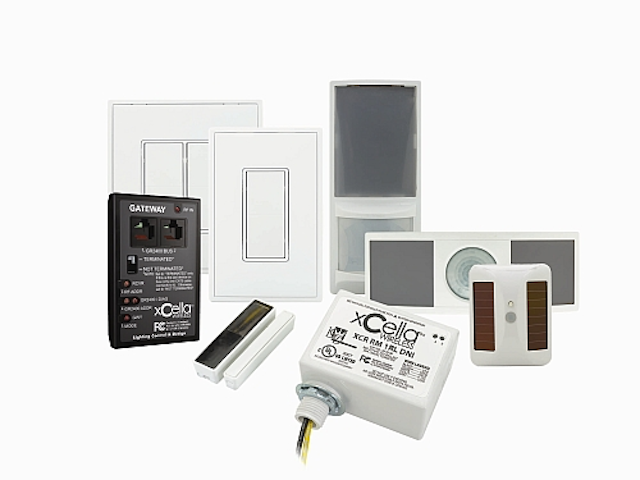 Acuity announces in-room wireless controls and enterprise LED lighting network
While in its press announcement, Acuity didn't specify the source of the underlying technology used in the xCella platform, Lighting Design & Control is identified on the EnOcean Alliance website as using the wireless network scheme promulgated by that organization. Moreover, a number of vendors offer enabling technologies that can be used to develop wireless switches and sensors that support the scheme.
The typical switch operates by harvesting the kinetic energy generated by a person depressing a switch to awaken a low-power microcontroller (MCU) that in turn sends a brief wireless message to a paired node -- for example, a load control relay to which a table lamp is connected or an LED light fixture with integrated EnOcean support.
We covered a demonstration of the energy harvesting technology at last year's The LED Show by Illumra. Moreover, at the Light+Building trade fair earlier this year, Philips Lighting demonstrated the Tap wireless control for its Hue product family that is based on EnOcean technology.

Acuity will deliver a wide variety of modular products in the xCella family. Wireless switches can be installed in junction boxes or surface mounted to walls. The family includes sensors for occupancy and light and window/door sensors. The wireless load-control modules can switch AC power based on a wireless message. There is also a gateway product than can be used to expand the system beyond the room level and connect the system to centralized controllers.
XPoint mesh platform
The XPoint mesh system, meanwhile, is based on the proprietary wireless network original developed by Adura Technologies. Acuity acquired the assets of Adura back in early 2013.


Adura's value proposition from the startup stage was full integration of the control scheme into the light fixture. The mesh network can be used to commission or set programmatic routines in the fixture, but the fixture is then able to operate autonomously based on local light or occupancy sensors, or predetermined sequences based on the clock or calendar.
Indeed, Acuity refers to the XPoint system as fixture-integrated wireless controls. Acuity is specifically targeting applications including covered parking areas, high-bay spaces, corridors, and stairwells with the new platform.
"The XPoint Wireless lighting control system makes wireless fixture-by-fixture or group control of lighting in outdoor spaces simple to deploy," said Lance Hollner, director of Acuity Controls. "Using proven Adura wireless technology, the system brings fixtures and sensors together into a reliable mesh network. This provides high-speed response from control to fixture."
The advantage of fixture integration is presumably reliability and the fact that the design lighting-control scheme can operate without an active gateway or controller present. Once commissioned, fixtures will operate as programmed, including responding to local sensors, even if the network fails.
The XPoint offering initially includes drives enabled with the wireless support, a variety of sensors that can connect with the drivers, load-control modules, and XPoint Wireless Gateways that link the mesh network to a corporate IT network via Ethernet. Such a system would be managed by Acuity's Unity family of lighting management software platforms.