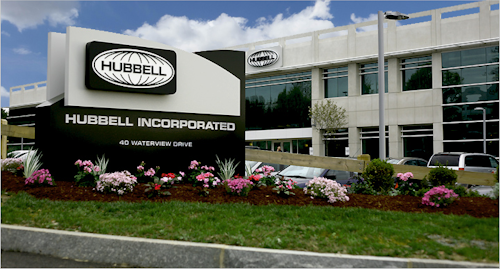 Hubbell Integrated Solutions has announced partnerships with Signify and Point Inside that will allow Hubbell to offer a comprehensive indoor positioning system (IPS) called Hubbell IPS. The system will be able to use visible light communications (VLC) and Bluetooth beacons integrated into LED-based luminaires to communicate with smartphones and to transmit the location data. The Hubbell IPS implementation combined with solid-state lighting (SSL) will fit in applications ranging from retail to guide or entice shoppers to wayfinding in spaces such as airports and museums.
Signify has been one of the pioneers of IPS technology and deployed one of the first commercial trials of IPS back in 2015 at a Carrefour market in France. We have since covered a number of other IPS products and projects with Acuity and Current, powered by GE being prominent players along with Signify. Earlier this year, we published a feature article on the latest in IPS.
Hubbell will rely on Signify for the VLC and Bluetooth technology and for some cloud services technology, and will rely on Point Inside for mapping, mobile device software, and a location analytics platform. Hubbell has regularly partnered with other companies to bring connected lighting products and applications to market more quickly, while competitors such as Acuity and Eaton tend to do such development in house. In our LightFair International 2017 coverage, we described a Hubbell partnership with Igor on the NX Distributed Intelligence Platform — an Internet of Things (IoT) offering.
The Hubbell partnership with Signify is part of the latter's YellowDot program that was quietly launched last year in Europe. Signify is best known as a manufacturer of lighting products but of course also sells LED drivers and other enabling subsystems on an OEM basis, even to Signify competitors. The YellowDot program seems to be centered around the SR (Sensor Ready) intelligent drivers that we have covered as part of a smart driver trend.
At LightFair this past May, Signify issued a broad connected-lighting-centric press release with a brief mention of licensing the YellowDot technology to Hubbell, that relationship being the first instance of the program coming to the US. Signify had already signed a number of European luminaire companies to the program, albeit most were manufacturers operating in niches that were underserved by Signify.
"By joining Signify's YellowDot OEM program, we are able to provide our customers access to the best indoor-positioning solution on the market and obtain a competitive advantage," said Chris Bailey, vice president of Hubbell Integrated Solutions. "The VLC injector enables our fixtures to transmit visible light communication, and the Bluetooth beacon can augment the VLC technology with proximity notifications."
It's also worth noting that it was not Hubbell Lighting that struck the Signify partnership but rather Hubbell Integrated Solutions — a catch-all services group that spans architecture, design, engineering, lighting, and information technology activities. The group does supply all of the Hubbell brands with technologies such as connectivity and, in this case, IPS. We would presume the primary target is for Hubbell to offer the IPS capability in its own lighting products. But Hubbell does sell some enabling technologies to other lighting manufacturers.
The other questions we had asked of the two companies and had not received answers at press time involved details of the implementation and also how a Hubbell IPS system will relate to the Signify Interact platform and the Interact Retail system that Signify offers with IPS capability. The Hubbell press release said Signify would supply VLC and beaconing hardware and the algorithms used on that hardware — essentially, the underlying technologies that can enable an IPS application. But the release also said Signify would supply "cloud services." That sounds a bit like Interact except that Signify does its own smartphone client software, and it sounds as if Hubbell will rely on Point Inside for help with the client software.
Stay tuned for an update.
Back to the basics, meanwhile, lighting-based indoor positioning works by tracking users via their smartphones and gadgets through stores and other locations. The devices' cameras can detect modulation of LEDs to capture transmitted data. It provides maps to help them find specific items or areas. It can also provide information about products, and retailers can tailor it to ping opt-in customers with offers on their favorite products.
In one recent deployment which could expand into a large-scale installation, Utrecht Medical Center is trialing Wirepas radio technology deployed by smart lighting specialist Ingy and IT firm Fujitsu in an effort to help keep track of medical equipment.
*Mark Halper contributed to this report.