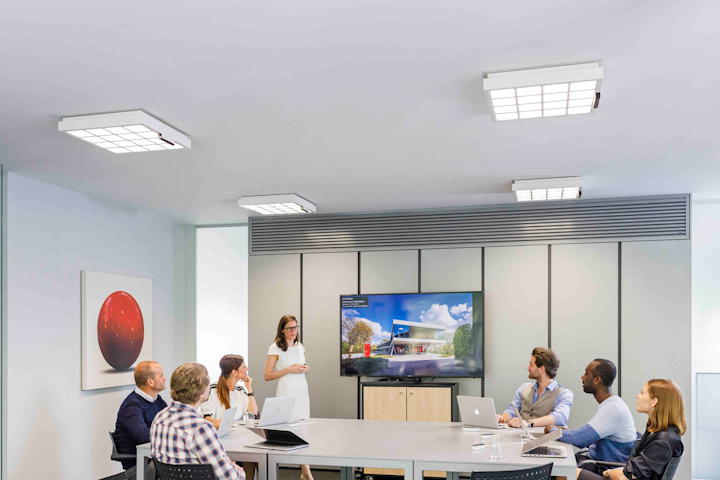 With its baby steps steadying in the Li-Fi business, Signify today set out to take bigger strides, adding two systems that offer wider coverage and faster speeds than its initial product, positioning one as a luminaire setup for commercial office Internet service and the other for machine-to-machine (M2M) factory floor communication using machine-attachable, light-emitting devices.
The company branded the new range as Trulifi and announced two new customers that are using the technology built into Philips LED luminaires, although like with the earlier users, the new installations — one in Warsaw, Poland and the other in Ghent, Belgium — are small in scale. Signify, formerly called Philips, still uses the Philips brand on lighting products.
Li-Fi is a technology that provides Wi-Fi-like data communications but uses the modulations of LED light waves rather Wi-Fi's radio waves.
Signify and the lighting industry in general have been heralding it as a means to offload the world's saturating Wi-Fi spectrum, and for other attributes including security and, potentially, speed. Li-Fi's progress has been stalled by a lack of standards and by the refusal so far among laptop, tablet, and phone makers to embed Li-Fi receivers. End users today must plug dongles into their devices to receive light signals.
"Trulifi underlines our strategy to unlock the potential of light to address new high-growth markets," said Signify chief innovation officer Olivia Qiu. "We'll help existing and new customers to leverage their lighting infrastructures to receive reliable, secure, high-speed wireless communication at a very competitive price point. Wherever there's light, there can now be wireless communication."
While Signify has not overcome the dongle hurdle, it did make other strides.
The new Trulifi 6002 system for office luminaires operates at 150 Mbit/s, which is five times faster than the earlier 30-Mbit/sec product, which now joins the Trulifi line as the model 6001. While the faster rate is a bonus, "speed is not the main driver," Ed Huibers, head of Signify business development for LiFi, told LEDs Magazine, noting that Li-Fi's stability and security compared to Wi-Fi is a big advantage (Li-Fi rival pureLiFi has claimed laboratory speeds of 1 Gbit/sec).
Signify is also promising wider coverage with the 6002 because it can string together multiple new luminaires to cover a greater area when the luminaires are 2m high (about 6.5 ft). While the 2.2-m coverage area of each 6002 LED luminaire is only marginally wider than the 2m of the 6001, a combination of modem technology and optics enables a group of six luminaires to cover 24 m2 (about 75 ft2) without the handover and fallout issues that limit the coverage of the 6001, Huibers explained to LEDs.
"The 6002 is really designed to cover a big area," said Huibers.
One of the differences between the earlier 6001 and the new 6002 is that the 6001 requires one modem per luminaire, whereas a group of 6002 luminaires can work off the same modem.
Two-way infrared
In a technology shift, the 6002 luminaire system does not use visible light for its downlink. Rather, it relies on infrared (IR) light both for its downlink and uplink. Signify and other Li-Fi office systems have typically used visible light to send data out to users and IR for users to send back.
According to Huibers, the choice of IR has little to do with the faster speeds or with the wider coverage. Rather, IR provides a uniformity for LED driver and control systems that does not exist for visible light if luminaires are calibrated for different settings such as color temperature and the like, Huibers said.
At least one other Li-Fi developer, Germany's Fraunhofer Heinrich Hertz Institute, has used IR light for both directions, in one case indoors at a BMW factory and in another case outdoors. But in those cases, Fraunhofer's stated reason was that IR supports faster speeds than does modulating visible light waves, because visible light tends to go through an LED's phosphor coating, which can slow things down.
Signify announced that Romanian institutional investor Globalworth has installed 18 Trulifi-enabled Philips luminaires in three meeting rooms its Warsaw office, and that Belgian marketing and communications firm Clearhout Communication Campus has retrofitted Trulifi into four connected Philips LED luminaires in a large meeting room in Ghent.
The installations echo the relatively small scale of around 60 pilots that Signify has up and running for what's now called the 6001 system, including one at Singapore's Republic Polytechnic.
Factory floor too
While the 6002 uses IR light, the new industrial 6013 Li-Fi system (shown nearby) uses single-color visible light, operating at 250 Mbit/sec. It is designed to facilitate communications between machines and robots on a factory floor, where magnetic interference can make radio frequencies untenable. Likewise, hospitals that ban RF could now turn to the light-based 6013. It communicates using single colors of light transmitted via USB devices.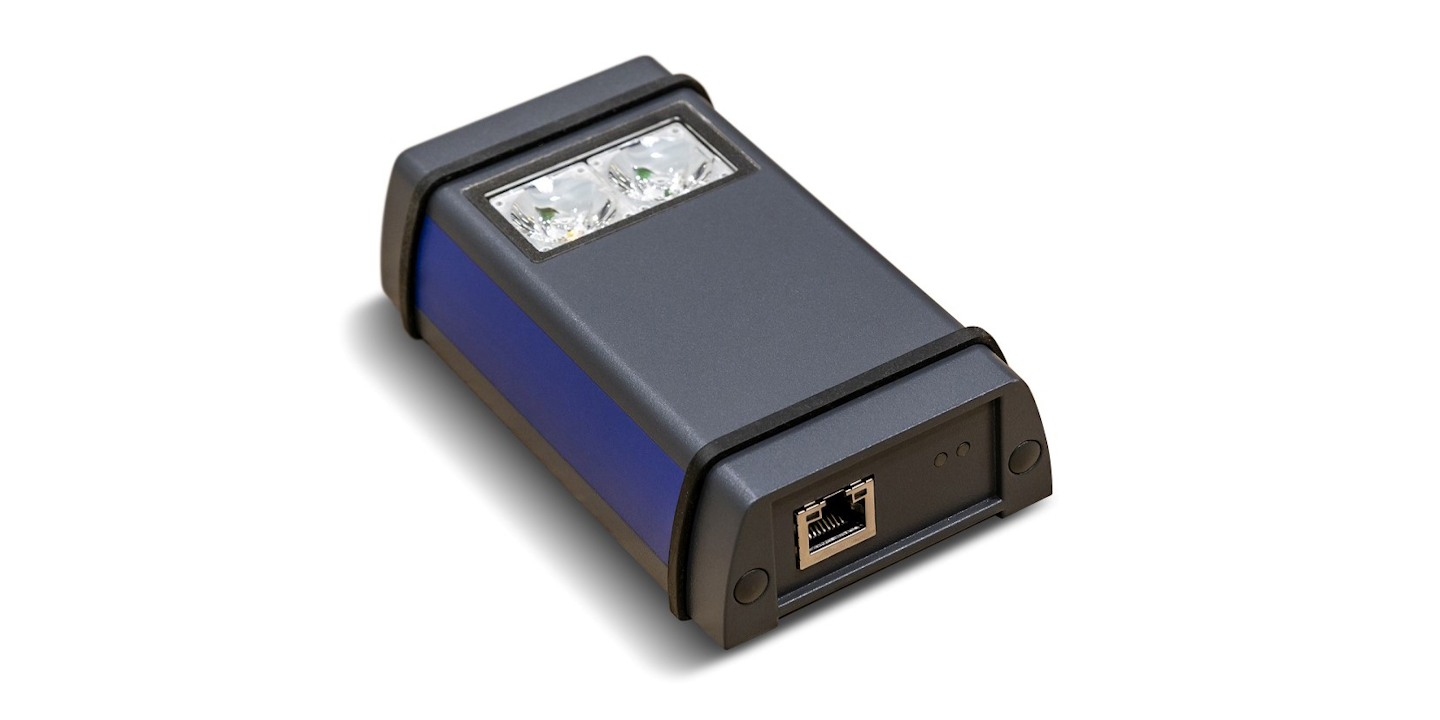 The Trulifi 6013 system connects to factory floor equipment for light-based machine-to-machine (M2M) communication. (Photo credit: Image courtesy of Signify.)
The 6013 can also communicate from a machine to a laptop or other gadget. It is faster than the 6002 technology because it uses a sharper focus of light, as it is not intended to bathe an area with illumination but is purpose-built for point-to-point communication only, Huibers explained. Different colors can be used; a red light might help a user differentiate one connection from, say, a green light or a blue light used for other connections.
Signify said the new Li-Fi systems can be fed either through a combination of standard Ethernet and electricity cables, or via Power over Ethernet, which uses the same cable for both data and electricity.
The company did not reveal pricing for any of the products. Huibers said pricing is "competitive" and "more attractive" than previous prices. The 6002 and 6013 are both available now, with the 6002 scheduled for the US in the autumn.
Meanwhile, on the standards front, Huibers told LEDs that the Trulifi aligns with the ITU 9991 visible light communication standard from the United Nations' Geneva-based International Telecommunication Union.
Much of the industry is awaiting approval of a different standard by the Piscataway, NJ-based IEEE (Institute of Electrical and Electronics Engineers), which is not expected until 2021. It is then that momentum might build for laptop and gadget makers to embed Li-Fi chips in their devices. 
Signify's winding road to Li-Fi has included a few acquisitions, including its pickup of France's Luciom and of San Diego-based FireFly.
MARK HALPER is a contributing editor for LEDs Magazine, and an energy, technology, and business journalist (markhalper@aol.com).