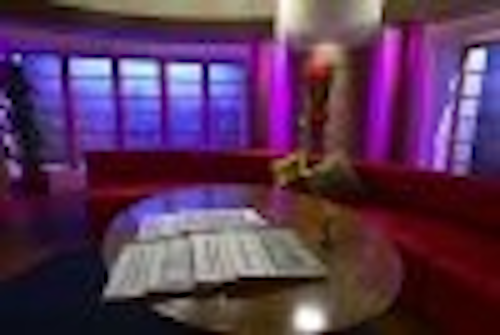 i-Vision has supplied a range of LED downlighters and strips for the set of GMTV, one of the most popular breakfast TV shows in the world. This marks the first time in the UK that architectural LED lighting has be permanently installed into a TV studio to enable colour-changing effects.
The LED lights offer the GMTV lighting team the opportunity to adjust the feel and ambiance of the set to suit the dynamic and ever-changing requirements of a live TV set.
The lighting scheme, specified by the programme's lighting director John Allard, incorporates 51 of i-Vision's Lumos 3 downlighters and 12 Lumos strips. The LED lighting is used to create different colour hints and identities for the three different sections of the show - the News (blue), the main magazine programme (orange) and the women's section, LK Today (purple), which has its own separate set.
GMTV attracts 6 million viewers daily and is the longest live broadcast currently on UK TV - running at three and a half hours.
Allard was keen to utilise LEDs because of their rich colour range and diversity, and their energy efficiency and robustness, as well as because LED technology is a new concept for lighting installed TV sets.
The designer was delighted with the results, "It's meant a vast reduction in the amount of fixtures I need to achieve the same result - a huge asset when working in a small studio like this - and it's a huge leap forward in terms of being able to stretch the imagination and dynamics of the show's lighting," he says.
The lighting scheme is controlled by the Lumos Drive 36, a recent "TV friendly" driver system addition to i-Vision's Lumos range of LED products. Using pulse-width modulation (PWM), LEDs are pulsed at a far greater frequency than previously (2500-4000 Hz as opposed to 50-60Hz). This enhances the smoothness of the RGB colour-change so it interacts with modern TV cameras without flicker.