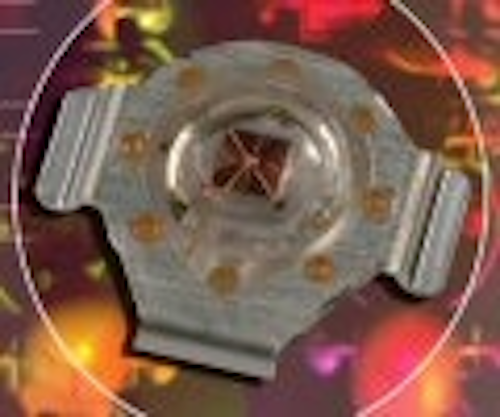 TT Electronics Optek Technology chose Lightair to unveil several new visible LEDs, including an RGB version of its 10W Lednium three-dimensional package. The packages are assembled by first placing individual chips into cups, then mounting the cups onto the 3D leadframe. Optek has now adapted these cups into standalone 1W packages.
Designated the OVTL01LGA Series, the 1W surface mount LEDs offer high luminance (up to 38 lumens), a full 120° viewing angle and are available in amber, blue, green, red and white. They also have a thermal resistance of just 2 °C/W.
Richard Saffa, VP of Optek Technology's Visible LED business unit, says that the OVTL01LGA Series devices each feature one 1W LED chip mounted in a miniature copper surface mountable package. "The robust, energy-efficient design of this LED package provides ultra-low thermal resistance and a long operating lifespan," says Saffa. "As the demand for solid-state lighting continues to grow, we believe that the flexibility provided to lighting designers by these single LED devices will fuel innovative new designs."
The OVTL01LGA Series has a DC forward current of 350 mA, with a peak pulsed forward current of 1A, and the maximum allowable junction temperature is 130 °C. The devices measure just 6.00mm x 5.10mm x 1.56mm, and prices start at $1.30 each in quantities of 10K pieces.
Visible LED assemblies
Optek also exhibited a number of visible LED assemblies, as shown in the image. "By integrating new products into our visible LED line, we have developed a well-rounded LED solution that has extended to additional markets, such as portable devices, entertainment and amusement applications," said Alan Bennett, VP of sales and marketing for Optek Technology. "By adding new capabilities, such as the incorporation of multiple thermally efficient substrates and special optics, we are able to provide customers with a total solution from original concept to end product."
Red, green and blue Lednium 10 W devices
Combining red, green and blue high brightness LEDs in a 10W, thermally-efficient three-dimensional package with a 120° viewing angle, Optek has expanded its Lednium LED assemblies to include an RGB device capable of producing any color light.
"By mixing the red, green and blue colors, it is possible to achieve virtually any color in the visible spectrum, including white, without using phosphor, which may cause a shift in color output over time," said Richard Saffa. "The RGB color combination allows lighting design engineers to utilize a single Lednium device for accent lighting, architectural lighting, and wall wash applications."
Designated the OVTL09LGM Series, the RGB Ledium assembly is composed of three red, three green and three blue LEDs mounted in the patented three-dimensional Lednium surface-mount package. Typical luminous flux for the RGB assembly is 221 lm, with a typical on-axis intensity of 68 cd.
DC forward current is 1.05A, with peak pulsed forward current of 3A. Typical forward voltage is 8.6V and reverse voltage is 15V. Maximum allowable junction temperature is 130°C (average thermal resistance junction-to-board is 5°C/W), and the operating temperature range for the device is -50°C to +80°C.